Painting with a Twist is a local art studio that allows guests to come in and enjoy creating a work of art with the help of their staff.   In their classes you will use acrylic paints, typically on a 16×20 inch canvas and teach the class step by step how to complete the specific painting for the day. Most guests have no painting experience and all of them have great success!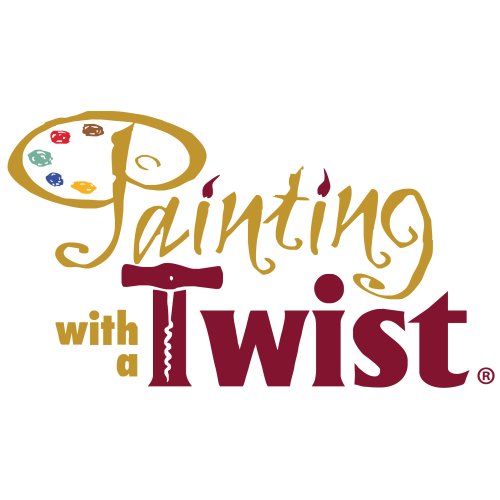 The Lexington location is just off Richmond Road near the Doubletree Suites.
Their studio is large enough for classes, birthday parties while still feeling cozy enough for a date night. If you check out their calendar, it has a wide variety of paintings to choose from!  Their studio is unique because they do not sell alcohol on site which allows them the ability to frequently host kid-friendly classes, as well as "all-ages" classes.
Our Lex Fun 4 Kids Writer, Kelly, recently took her son for an event!  Check out her review!
Review
This was my first painting class with one of my kids, so I was unsure what to expect. My son, however, was so excited he was practically vibrating! For this class, the project was these adorable piggies! (not our paintings! You'll see ours later!) Painting with a Twist is also paired with Disney which means you can paint your favorite Disney character at an upcoming class! It's important to keep a watch out for your favorites! Their kid's classes are slightly cheaper ($25 per person) and a great deal!
I would HIGHLY suggest not wearing anything too nice for this event. Usually, you are ok if it's just you and some friends, but if you are painting with a kid, this is not the time to wear that new cute shirt. Trust me! They have aprons there (nothing kid-sized but we were able to fold it up and use it), but it was the back of my shirt that fell victim to a random paint brush.
As far as ages go, I wouldn't suggest anything below Kindergarten, but as long as you like the subject matter I would recommend this class for any age! The seats are stools that require a certain amount of coordination to sit on, and the class is about 2 hours long. Towards the end, my son was just about at his max attention span.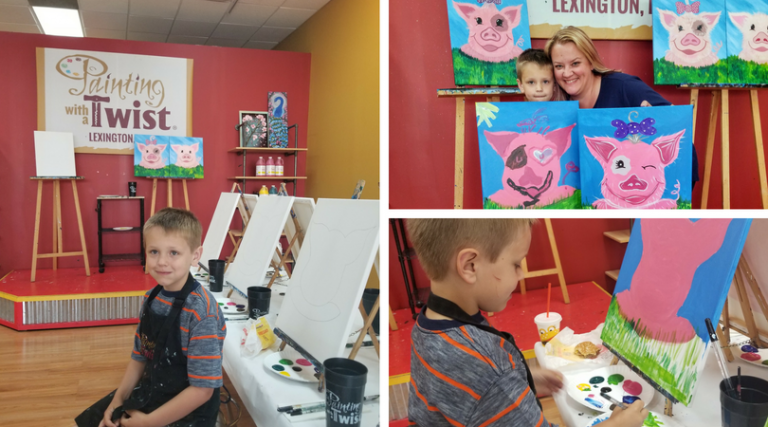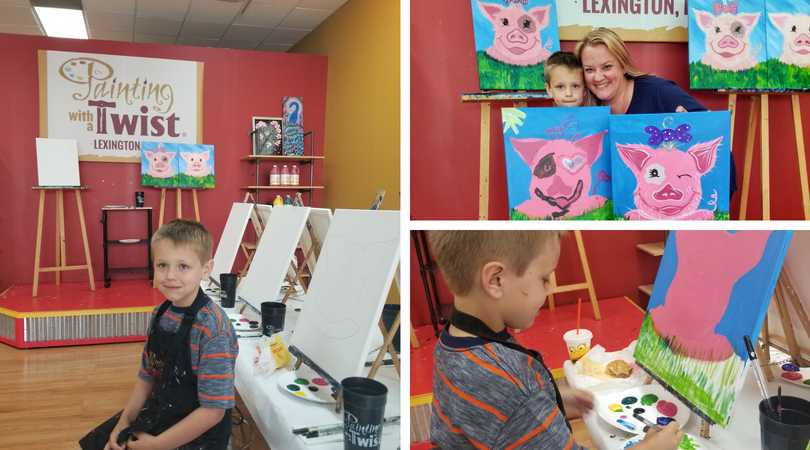 When the class began, I worried they would move too quickly, or explain things in a way that didn't make sense to a 6-year-old. I was also concerned he would get bored. The teacher (Ashley Hanna) was fantastic. She was encouraging, and somehow juggled not going too fast for the younger crowd while going fast enough for the older kids. Be prepared to work as this isn't as relaxing as say a night out with the girls. You are doing your painting and also making sure your kid is getting his done and having a good time. Initially, I was overly concerned with helping my son make his picture look exactly like the teachers but about halfway through I relaxed and realized that for my son it was fun doing the painting and the result wasn't as important as the process. Once I did that I believe we both started having even more fun! There is also at least one assistant there who is more than willing to step in and help your kiddo while you get some of your painting done.
I think I was most impressed with my son's creativity! As the class is taught, they give you guidelines on what to do. For example, they suggested painting a spot over the pig's eye, or a bow on the top of its head. My son took those suggestions and then added his twist to it! Instead of "just" a spot over the eye he made his into a heart-shaped spot! The recommended color of the bow was purple, but my son asked for his favorite color! When it comes to wanting different colors or needing some extra help, they are incredibly accommodating!
Overall, this was a great memory and a fun time! We have our paintings hanging together in his room, and he loves showing them off whenever we have company. You do have the option to not paint a picture and hang out while your kid paints, but I recommend doing it with them!  We laughed and chatted and just had a great time!
Some tips for going:
Wear clothes you are ok with getting paint on and that are comfortable for bending and sitting

Bring a snack, so your kiddo doesn't get hangry!

Relax! Don't worry about being the next Van Gogh!

Take plenty of pics, and remember the assistant and teacher are great for taking snapshots of you and your kiddo!
-Kelly, Reviewed July 2018