Our family recently headed to Indianapolis for our first visit with the kids.  We enjoyed downtown Indy, the Indianapolis Children's Museum, and even had fun at our hotel, the Omni Severin in downtown Indianapolis.
The Omni Severin Hotel offered a great downtown location, Sensational Kidz Club perks, and was a beautiful and comfortable place to stay for a weekend of fun!
Indianapolis has great fun for families all around the city and the downtown area is host to a number of family fun events including sporting events, concerts, and the children's museum.
There are numerous hotels in the downtown area and many connect to the mall and convention center via walkways.  The Omni Severin Hotel is one of those hotels and this was a great perk during our winter visit.  We could stay warm and dry going from our hotel to many downtown attractions.  The kids thought it was fun to sneak through on secret passageways!
The Omni Severin Hotel was a departure from our usual hotel picks and we enjoyed the perks offered by a higher end hotel.  The great thing about the Omni is that you get these perks and the feel of a luxury hotel but for a more affordable price!  Omni stays start at around $185.00 which is great for a downtown hotel!  There are special family packages available with tickets for 4 to the Children's Museum or the Zoo plus breakfast for 4 in the hotel, turndown service, milk and cookies upon check-in, and of course the Omni Sensational Kidz Pack that start at around $250.00.  When you check prices for the Children's Museum you'll find that it is an awesome deal!
Upon arrival you can valet your car or self-park at the mall downtown and use the walkways to connect to the hotel.  The lobby has a great roaring twenties feel and had lots of fun spots to sit as well as a restaurant that offers breakfast, lunch, and dinner.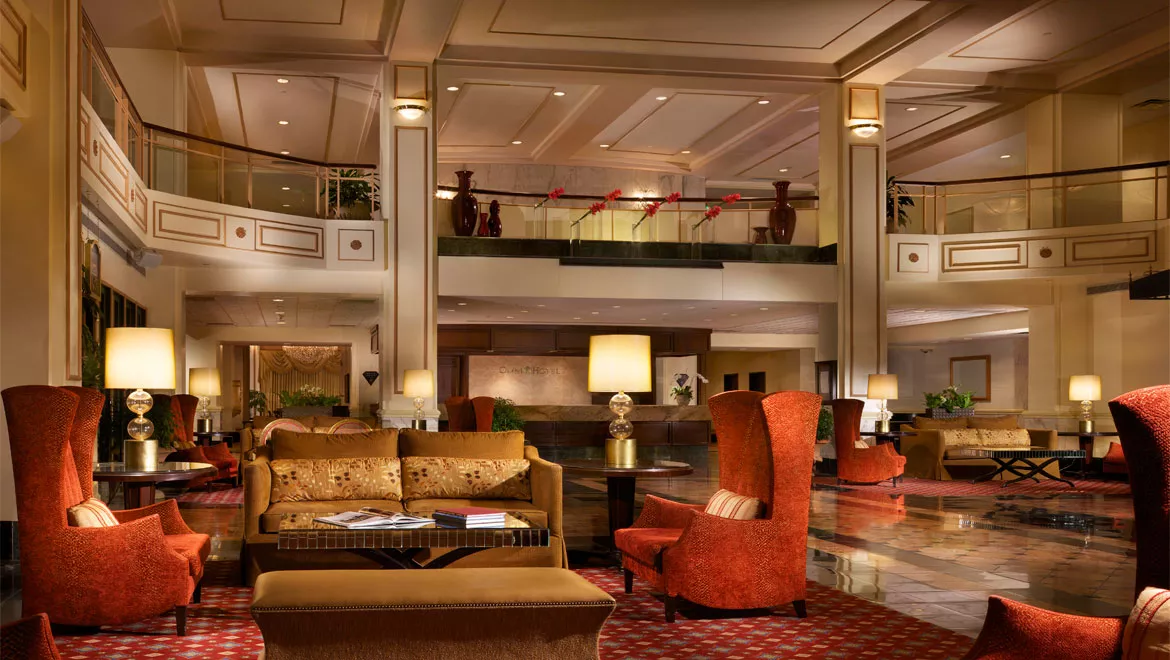 When we headed to the check in desk it didn't take my kids long to notice the special 'fancy' water.  There are two self-serve water dispensers with various slices of 'produce' inside like lemons, oranges, or cucumbers.  I'd never tried cucumber water but it was a fun treat! They loved coming in each day and seeing which water they got to taste.  There was also a basket of fresh fruit for a quick snack to take on our way.
Upon check in my kids were given their special Omni Sensational Kidz Packs which was a fun way of welcoming them to the hotel.  They got a small backpack with crayons, a card game, fun kids straw, and activity book.  These all centered around a healthy kids/cooking theme.  It was great for them to have a little something to occupy them while we unpacked and got things ready for our evening. We got milk and cookies when we arrived and you can also check out a rolling bag with more fun things!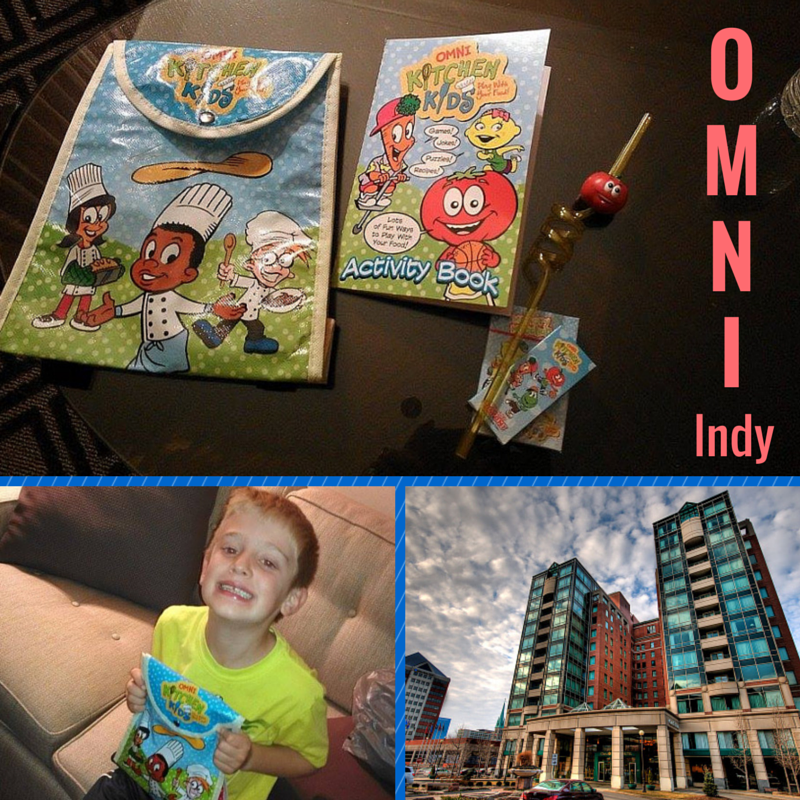 Our room was up pretty high and we had fun looking out over the city below.  We had a room with two double beds and a large sitting area.  There was a couch, coffee table, desk with chair, entry table, closet and bathroom.
The beds were very comfortable and the towels were seriously the best I've ever had at a hotel.  I was shocked that they did not exfoliate while drying like most hotel towels do!  It was a very pleasant surprise!  The kids loved seeing my husband walking around in the complimentary hotel robe.  Quite fun!
The hotel staff was great.  The hotel hair dryer wasn't working and they quickly brought up a different one when I called housekeeping.  Our room was tidied up perfectly after our first night and all the staff we saw were friendly and kind.
Along with being close to the downtown area attractions the Indianapolis Children's Museum is a quick 5 minute drive down the street from the hotel.  Navigating a new city can be crazy with kids in tow but the convenient location of the Omni helped cut down on the crazy.
If you're headed to the Indianapolis area the Omni Hotel is great hotel with a central location and I recommend checking it out!