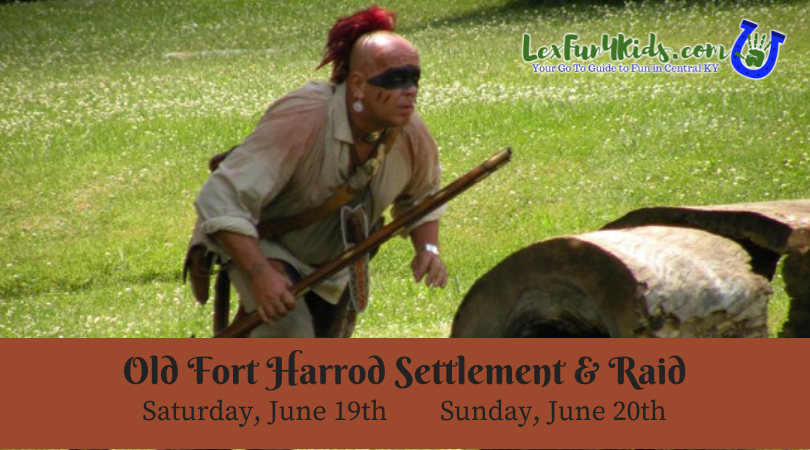 Many re-enactors and volunteers work hard to re-create the actual look and feel of a real Shawnee attack upon Fort Harrod which might have occurred in March 1777. It began a year long seige on the Fort during which many settlers would die violent deaths. The Shawnee killed or stole all of the settlers livestock and burn their crops. The year of 1777 became known as the "Year of Despair" and one can only imagine the terror and hardships the settlers in the Fort had to endure. But, the Fort held, attack after attack. Had it not, there would have been no Harrods Town, no Harrodsburg and no State of Kentucky!
Fort Harrod was never overrun. At one point they nearly ran out of gun powder which gave rise to the famous "Powder Run" by George Rogers Clark, James Harrod and others to obtain the much needed powder. They were successful and the Fort was saved!
DATES & TIMES:
Jun 19, 2021 – June 20, 2021  /  8:00 A.M. – 5:00 P.M.
Raids at 2 pm daily
Rates
Adults

: $7.00

Seniors

: $6.00

Children

: $4.0
Hours of Operation:
Wed. – Sun. until end of Nov. 2020;
Thurs. – Sat. for Dec. 2020;
Thurs. & Fri. for Jan. & Feb. 2021 (by appointment only other days).
Grounds are open to the public 8:00 until dusk, 7 days a week.