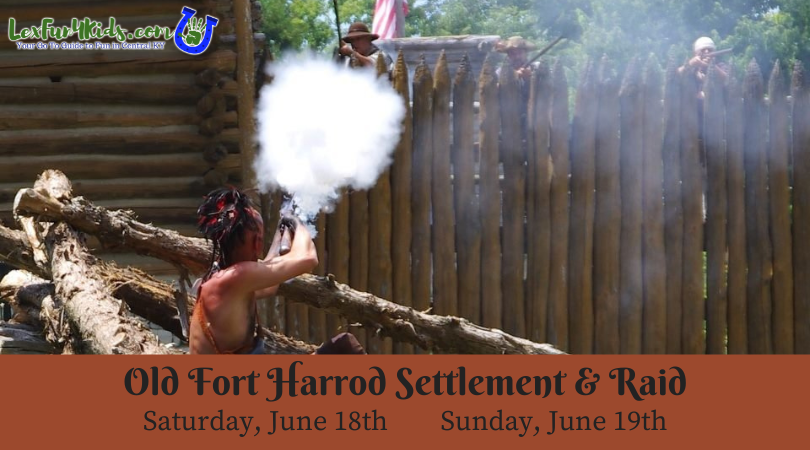 Many re-enactors and volunteers work hard to re-create the actual look and feel of a real Shawnee attack upon Fort Harrod which might have occurred in March 1777. It began a year long siege on the Fort during which many settlers would die violent deaths. The Shawnee killed or stole all of the settlers livestock and burn their crops. The year of 1777 became known as the "Year of Despair" and one can only imagine the terror and hardships the settlers in the Fort had to endure. But, the Fort held, attack after attack. Had it not, there would have been no Harrods Town, no Harrodsburg and no State of Kentucky!
Fort Harrod was never overrun. At one point they nearly ran out of gun powder which gave rise to the famous "Powder Run" by George Rogers Clark, James Harrod and others to obtain the much needed powder. They were successful and the Fort was saved!
DATES & TIMES:
Jun 18, 2022 – June 19, 2022  /  10:00 A.M. – 5:00 P.M.
Raids at 2 pm daily
Saturday:
10:00 am Plants of the time period and how they were used.
11:00 Horses on the Frontier; "There were no gas stations on the Wilderness Road".
12:00 Native Story Telling.
1:00 Cooking in a primitive Mud Oven
2:00 Native and British loyalist attack the fort.
2:30 The "Native Experience"
3:00 History of Butler's Rangers and their impact on KY
4:00 Cemetery Dedication and Memorial
8:00 Tavern Night in McGinty's Ordinary.
Sunday:
10:00 Divine Church Service at the "big Spring" on Factory Street
12:00 Native Story Telling
2:00 Native attack on the fort
2:30 The "Native Experience.
4:00 Event Closes.
Rates
Adults

: $7.00

Seniors

: $6.00

Children (6-12)

: $4.00

Military & Veterans

: $6.00
Hours of Operation:
Fort, Gift Shop & Lincoln Marriage Temple
January & February- Thursday and Friday 9-4:30 ;
March – November Wednesday – Saturday 9-5 and Sunday noon-5 ;
December Thursday-Saturday 9-4:30 ; our historical interpreters work in the cabins April 16-October 31.
Mansion Museum April – October Wednesday – Saturday 10-5 and Sunday noon-5
Grounds are open to the public 8:00 until dusk, 7 days a week.