Nashville is a wonderful spot for a family getaway and it's just a few hours from Central KY.  My family and I recently spent a weekend enjoying the family fun at Opry Mills and the Gaylord Opryland Resort.  If you need fall break plans or just a quick weekend away there are so many ways to have fun!
The trip down the Bluegrass Parkway and onto I-65 is just over 3 hours and a pretty easy drive.  Along the way you pass through Bowling Green, Cave City and Horse Cave so there are always fun thing to do on the way or way back if you have more time to pack in the fun.
Nashville is Music City and features honky tonks, the Country Music Hall of Fame, music festivals, and the Grand Ole Opry but there are other unique family friendly things to enjoy like a replica of the Parthenon (Athens, Greece), Centennial Park, Adventure Science Center, Fritz Art Museum, the General Jackson Showboat and more!
The Gaylord Opryland Resort is on the East side of Nashville and about 15 – 20 minutes from downtown so it's all very close to the city if you want to add in some Music City fun.  Opry Mills and Gaylord Opryland provide days of fun so you may need a few days or even multiple trips to check out all that Nashville has to offer.
The Gaylord Opryland Resort and Opry Mills hosted our family for a special weekend of tours and fun at the Opry Mills Mall.  The Opry Mills Mall features not just shopping but entertainment like Madame Tussaud's Wax Museum and live entertainment on stage in the mall as well as lots of fun dining options like Rainforest Café, Aquarium Restaurant, and Bavarian Bierhaus that are more than just food!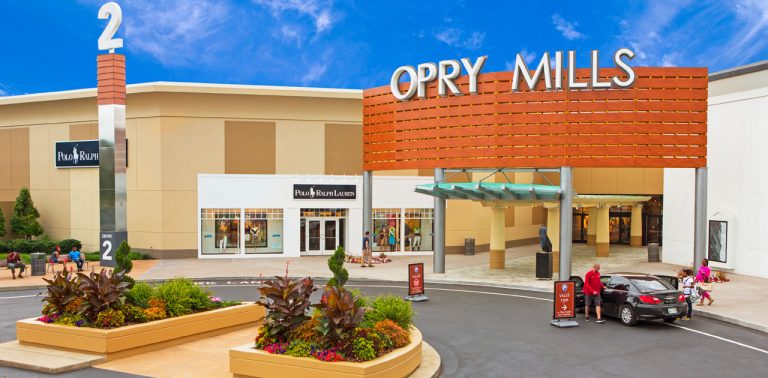 Opry Mills has it all!  With over 200 shops, multiple restaurants, entertainment in over a million square feet of space there's so much to see and do.  Opry Mills is just a short walk from the Gaylord Opryland Resort so if you're staying at the hotel you can walk over or enjoy the complimentary shuttle bus that runs throughout the day.  We did have to wait around 20-25 minutes one afternoon for the bus back so it could be quicker to walk if the weather is nice and you're not carrying too many shopping bags!
Shopping
There is a mix of outlet shopping like Nike, Under Armour, and Polo Ralph Lauren and great kid shopping stops like LEGO, Build-a-Bear, Carter's, GameStop, Disney, Bass Pro Shops and more.  The mall makes one big loop and it's a BIG mall so wear comfy shoes.  There are places to stop along the way for snacks like Woops! for macaroons, Rocky Mountain Chocolate Factory and Doc Popcorn as well as a fun kid play area.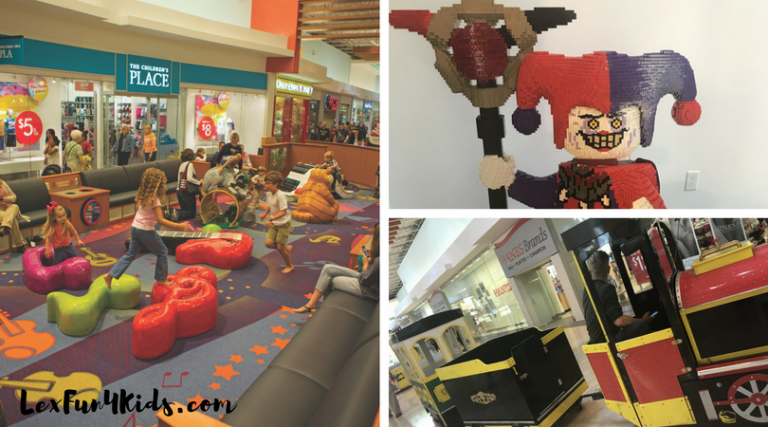 Check out the fun kids play area, LEGO fun and even an indoor train ride.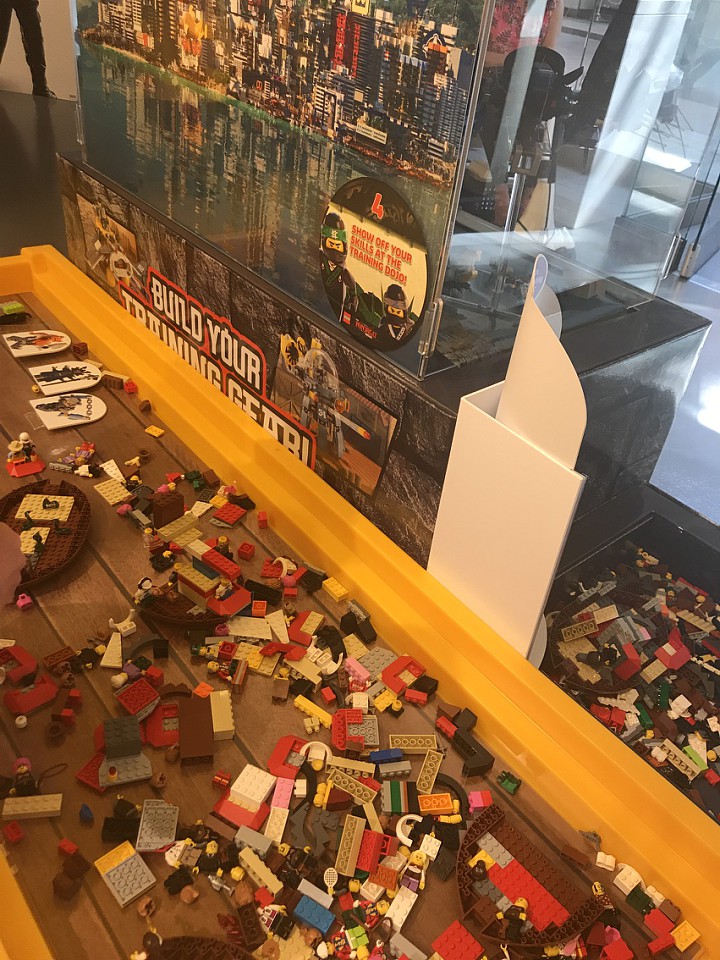 If you stop by the LEGO store you can shop but kids can also enjoy playing with LEGO bricks!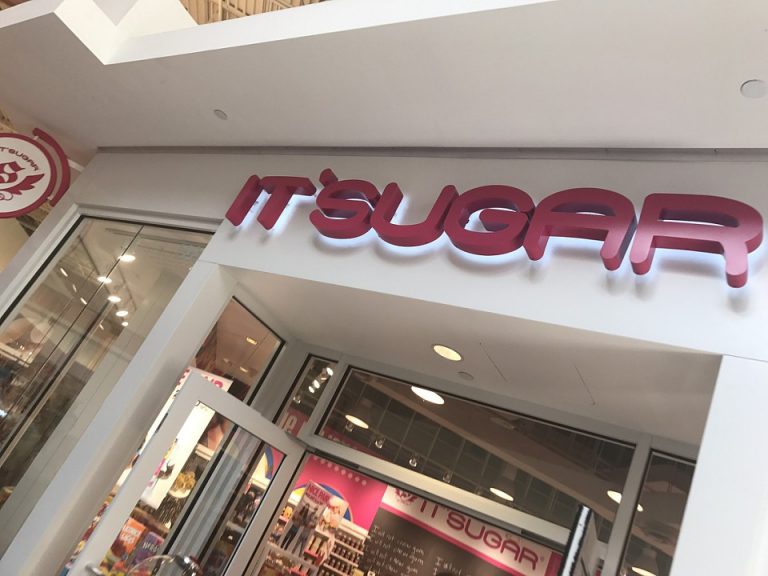 If you need a sugar fix you can stop by It'Sugar.
I was lucky enough to find a special European candy bar I fell in love with on my trip to Italy back in 1998!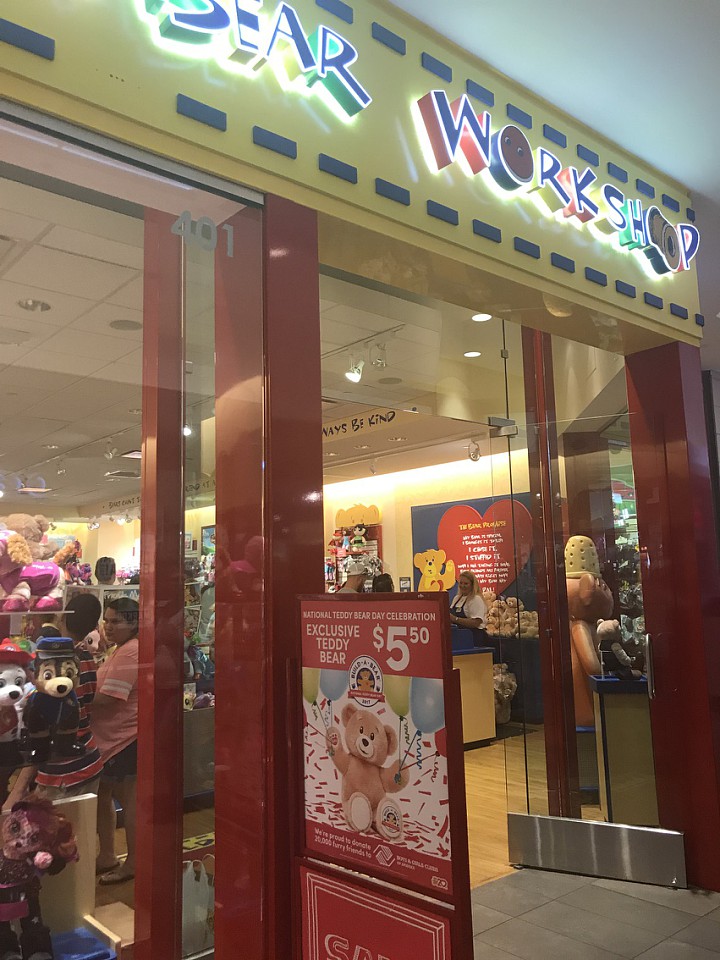 If your little one hasn't been to a Build a Bear yet it's a fun experience for kids of all ages.
They can choose their animal, stuff it, dress it and take it home to love!
Dining
There are unique dining experiences like Rainforest Café, Aquarium Restaurant, and Bavarian Beirhaus as well as a food court and familiar spots like Moe's and TGI Friday's.  While you're shopping there is definitely a spot to stop for a snack or a meal that everyone will enjoy!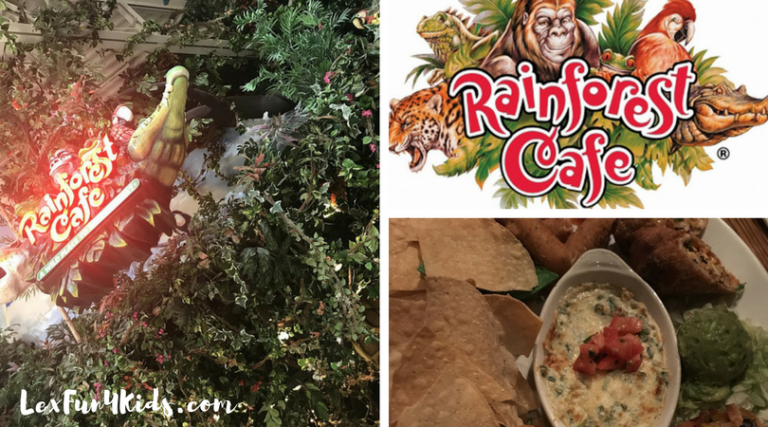 Rainforest Cafe features an awesome atmosphere, an extensive menu and a thunderstorm every 3o minutes!
The Rainforest Café features animatronic animals that come to life throughout the time you're there for a visit.  From chimps and tigers to fluttering butterflies there's so much to look at and enjoy.  Kids will enjoy hearing all the sounds of the forest and watching for the thunderstorm that happens every thirty minutes.  It can be a bit scary at first so be sure to walk around and take it all in with your little ones to be sure they understand the animals are just for fun and not real.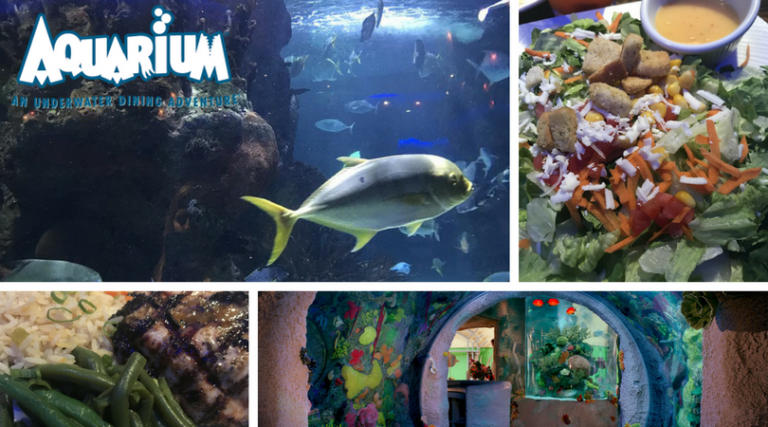 Aquarium Restaurant features multiple tanks to observe, special dive shows and lots of food and drinks!
Aquarium Restaurant has three huge tanks full of a variety of fish to mesmerize all ages.  As you walk through the mall you can see the large tank at the front of the restaurant and even stop by the gift shop for some fishy souvenirs.  As you enter the restaurant you walk through a giant tunnel aquarium where the fish are swimming right over your head and all around you.  The center of the restaurant features a 200,000 gallon tank with hundreds of fish.  There is a team of marine specialists that work for the restaurant who keep the fish monitored.  Throughout the year they have special events including special dive shows where divers or even mermaids will jump into the tanks to entertain diners.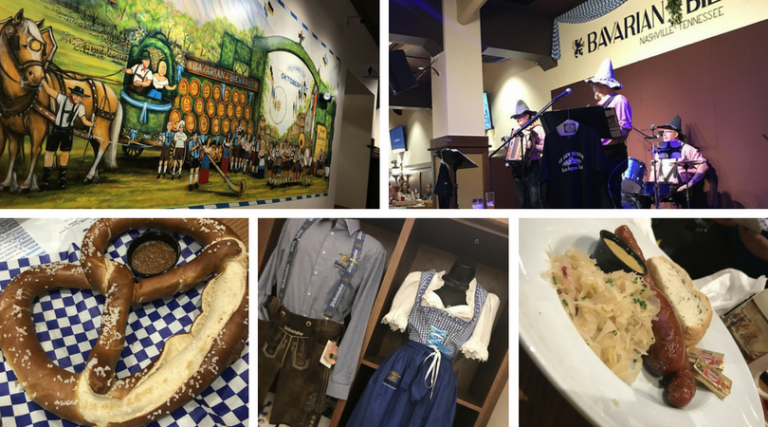 From giant pretzels and sausages to the live polka music the Bavarian Bierhaus is fun for all ages!
The Bavarian Beirhaus is a great stop to enjoy something a little different as well as live entertainment!  We had fun listening to a live polka band and some 'ziggy zaggy oi oi oi' cheers while we dined on fresh baked pretzels, brats in a blanket (the best thing on the menu!), spätzle, and schnitzels.  There are so many sausages on the menu you'll have fun picking a few and sharing like we did!  Our table tried so many things on the menu since traditional German food isn't something we were familiar with.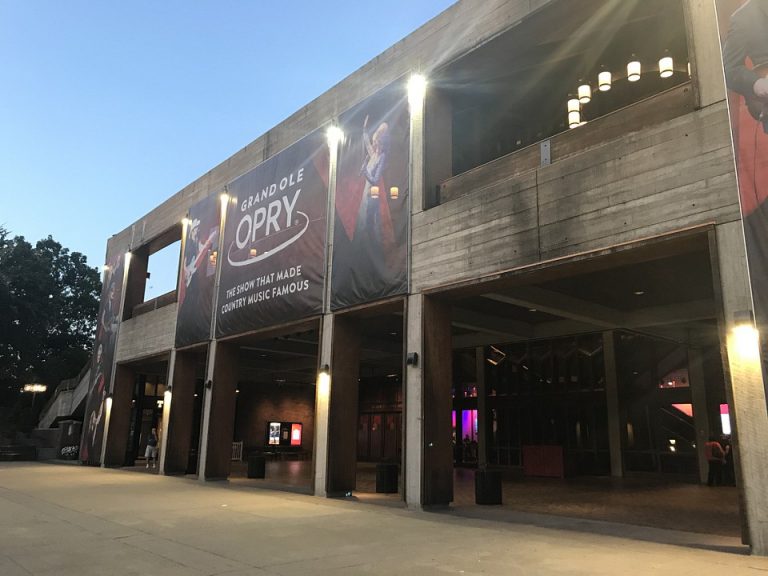 Entertainment
Along with shopping there are some great entertainment options right there at Opry Mills including the world famous Grand Ole Opry.  The Grand Ole Opry features live entertainment along with special radio shows.  The Opry started as a radio show in 1925 and is still heard on AM 650 WSM radio (the radio has it's station right inside the Gaylord Opryland Resort where you can walk right by and see the hosts and guests on air!).  If you stay at the hotel the Opry is a quick walk from the hotel or there are complimentary shuttle buses that run before and after each show.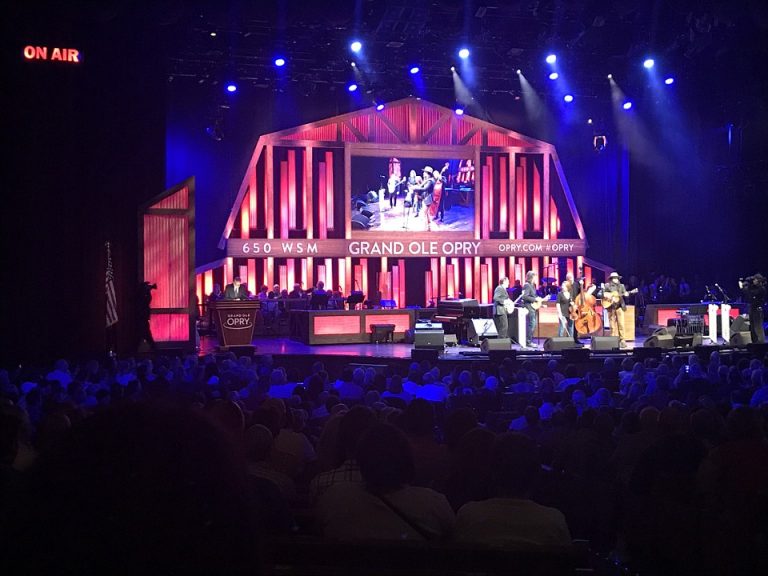 A visit to the Mother Church is a must do on a trip to the Nashville area
We had tickets for the Friday night 7 pm show and had hours of musical entertainment for the evening.  The show features a 'star' during each 30 minute segment along with a line up of local and national stars.  If artists are members of the Opry they must perform a certain number of times each year so there are always great performances happening.  The schedule is available a few weeks out and you can view it online.  The Opry is known as country music's mother church so the seats are pews.  There is a lower level as well as a balcony.  You can see the circle on the stage which is a section taken from the original Opry floor and placed center stage at the new Opry building.  I'm not a huge traditional country music fan but I did understand the significance of getting to enjoy a show at the Opry.  You could see how special each performer felt just taking the stage.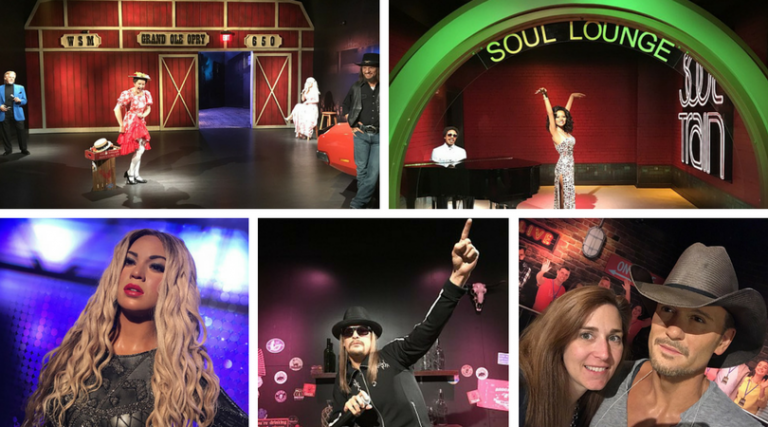 Take all the selfies you want and get up close and personal with music icons at Madame Tussauds
Madame Tussauds has a special Music City Wax Museum at Opry Mills as well.  Madame Tussauds has 7 wax museums across the world with the original being in London, England.  This location features 45 music icons following the history of music in America so visitors of all ages will enjoy.  I didn't realize until I was there for a visit that you can pose with the statues, touch them, and interact with them.  It's fun to take selfies with the stars and even perform with them!  There are guitars, working pianos, and microphones to try out while you're there.  You can enter Madame Tussauds from right inside the mall.
Opry Mills also features a Regal 20 Theater,  IMAX Theatre and Dave and Buster's for even more fun.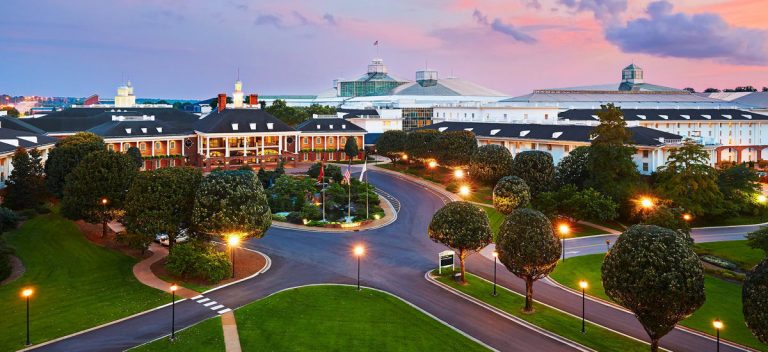 Gaylord Opryland Resort and Conference Center
The Gaylord Opryland Resort is the most amazing hotel I've ever seen.  I'm so glad it's not far from Central KY so I can get a chance to enjoy a stay!  I had a hard time explaining to my family how BIG the resort actually is – it's nothing my kids could even imagine since their idea of hotel is your regular rooms, hotel pool, and maybe a breakfast area.  This is so much more!  With over 2800 room and 9 acres of amazing space your family could spend a weekend or more just exploring all that the resort has to offer!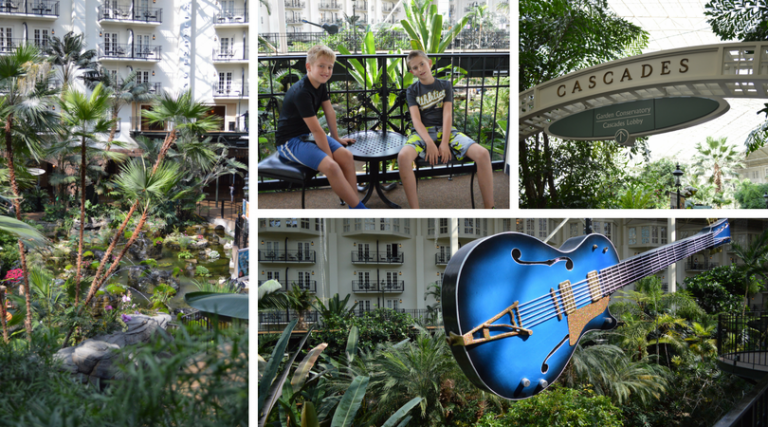 There are many different areas of the hotel – Cascades, Delta, the Garden Conservatory, and more.  We enjoyed an amazing view of the Garden Conservatory from our hotel room.  It was so relaxing to sit out on the balcony or just open the doors to enjoy hearing the sounds of the waterfalls.  The hotel has so much natural light and even in the winter you can enjoy lush gardens and a walk around the hotel away from the cold!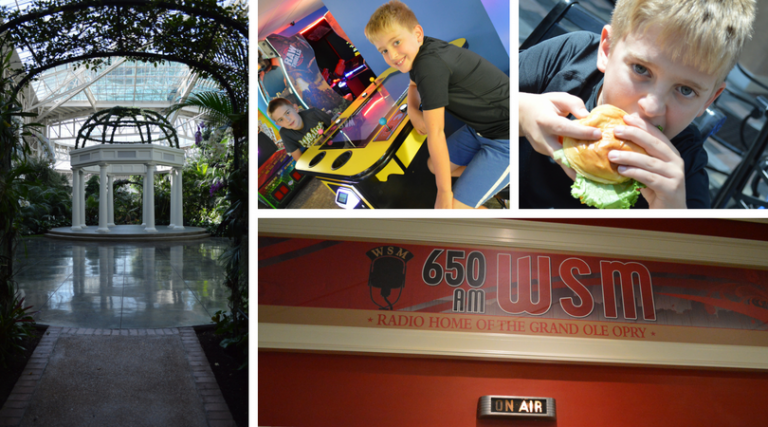 Along with the amazing gardens there is an arcade (the Pac Man game for four was a HIT!), an indoor 1/4 mile 15 minute boat ride, shopping and loads of great dining.  Another favorite were the evening fountain shows!  Grab a spot at a restaurant overlooking the fountains or head down to watch from the front row!  These beautiful shows are timed to music and a must do during your stay.
There are over 15 restaurants, a spa, golf nearby, a fitness center and multiple pools (indoor and outdoor).  The hotel has a complimentary shuttle to and from Opry Mills as well as shows at the Grand Ole Opry so making a special weekend of the hotel and the fun at Opry Mills is easy!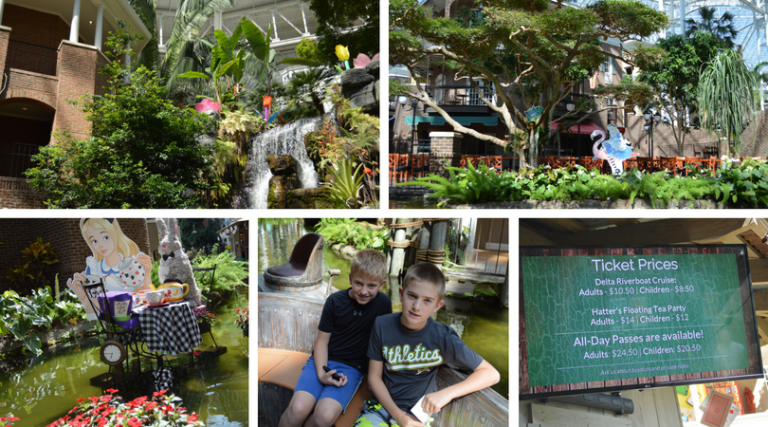 Enjoy a boat ride through the Delta at the Gaylord Opryland Resort
We ended our stay with a boat ride through the Delta.  Yes.  A boat ride.  IN the hotel!  It's about a 1/4 mile loop on a track with a guide but it was a fun way to learn more about the hotel and get a closer view of the fish in the water and a new view of the gorgeous Delta area.
They feature special events year round and we enjoyed the last weekend of SummerFest with all the Alice in Wonderland decorations.  They are gearing up for the holidays already and put on a HUGE event called A Country Christmas.  Featuring more than 3 million twinkling lights, exciting live shows, plus ICE! featuring A Charlie Brown Christmas! it is an extra special time to visit.
---
We had an amazing time and we will definitely head back to Nashville for more Music City fun as well as the Opry area to do more shopping, dining and have some more fun!
Facebook: www.facebook.com/OpryMills
Twitter: @sh0pryMills
Instagram: @sh0pryMillys