Buzzzzzzz! Buzzzzzzz! How did the mosquito come to be so… well… annoying? It all starts late one day when our friend Mosquito makes one choice that has many consequences! Discover how Mosquito got his signature sound in this colorful, puppet-ful story based on an African folktale and written by LCT's Jeremy Kisling.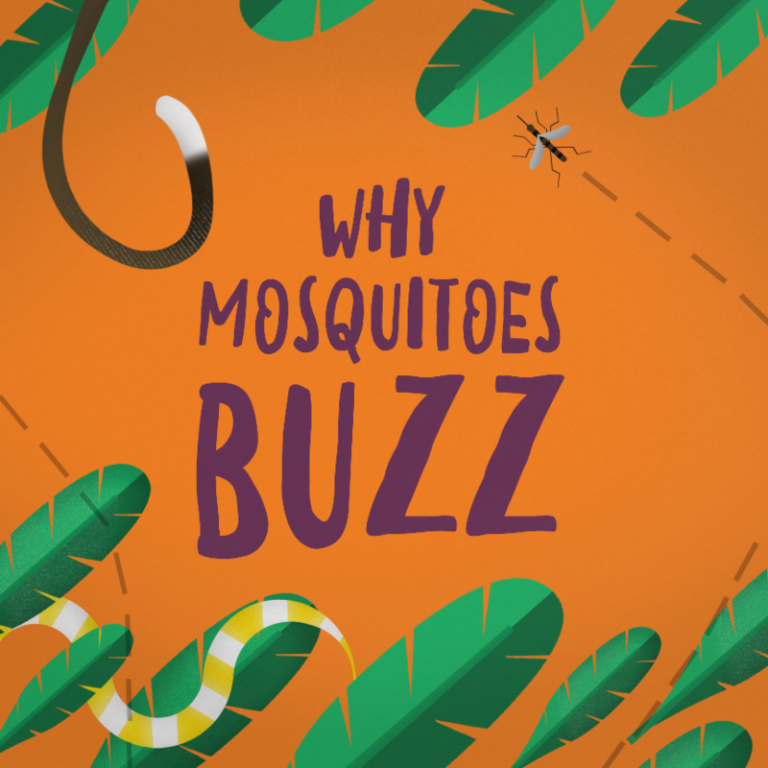 PUBLIC PERFORMANCES:
Saturday, April 28 – 2:00 & 7:00pm
Sunday, April 29 – 2:00pm
SENSORY FRIENDLY PERFORMANCE:
Sunday, April 29 – 4:30pm
Sensory Friendly Performance Tickets
Sensory Friendly production sponsored by the Brown family in honor of Kelsey Rose Brown
SCHOOL MATINEES:
April 26-27 & May 1-2 at 10:00 & 11:45am
Recommended for ages 4+
Recommended for grades PreK+
Performed on the LCT Main Stage
By Jeremy Kisling. Adapted from the folktale.
Curricular ties: African Folktales, African Proverbs, Social Responsibility
You'll like this play if you like stories about: cause and effect, ecosystems, puppetry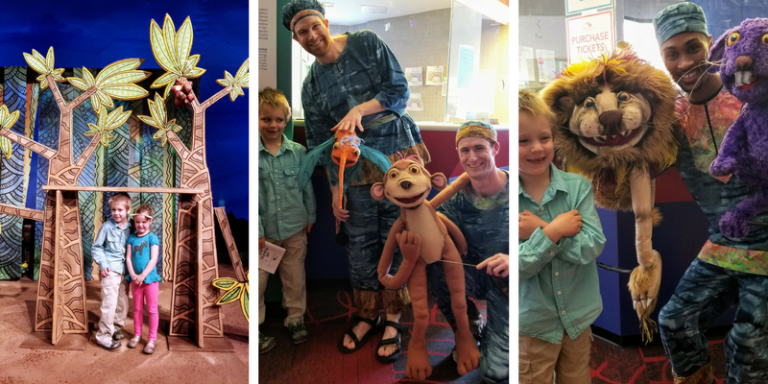 Review!
Why do mosquitoes buzz?
That's what my son said when I told him the title. That led us down a google wormhole where we learned the play comes from an old African legend and a book of the same name. To quote the director Jeremy Kisling:  "The tale of Why Mosquitoes Buzz reminds us that we are responsible for our actions whether those actions were intentional or not."
The play starts out with the cast of 4 introducing the story and cleverly asking that no photos be taken, and all phones be silenced. Throughout the play, my kids (ages 4 and 6) laughed, clapped and were even startled (thanks to that nasty mosquito!) The actors did a fantastic job of making each character unique. I was genuinely impressed that such a small cast could so eloquently pull off so many characters and that the actors didn't just use the puppets, they worked in conjunction with them. I wondered if my kids would be confused about who they should be watching, but it was clear later that they were utterly entranced and not confused at all!
I'm always amazed by how beautiful the scenery and costumes are at LCT. So much work goes into these performances, and it shows. We all loved their use of light to represent night and day (it felt like the sun was rising!) and I loved the beautifully painted sun and moon (can I get a smaller version to hang in my home??). The actor's costumes were coordinated without being the same and beautifully represented the story's locale. I found myself answering some questions about Africa and their clothing on the way home and promising we would look up more information when we got there!
I thoroughly enjoyed the play as did my 6-year-old son. He didn't move at all once the show started and he was so into it that when at one point the mosquito startles one of the characters and it also startled him! My daughter is four years old and admittedly, not the greatest at sitting still. She enjoyed the play, but as is her norm, she seems confused and often asks if the actors or the story is "real." When asked, my kids were torn between the monkey or the rabbit being their favorite character and I have to say I agree! The actors did a fantastic job with the puppets by moving their arms or faces in ways that make them almost seem real.
Before coming to the play, it isn't vital to read up on the story, but it certainly doesn't hurt. I think my kids would have enjoyed it either way! The story itself sends a great message to the audience that being kind and responsible for your actions is important. If you go to tonight's Pay What You Can show (at 7 PM) be sure to head to the theatre a few minutes early (and in your comfiest pajamas) for some sweet treats and a puppet pajama parade with the actors (and their puppets!) right before the performance. And don't forget to stick around after! The actors are always willing to pose for pics (they make great mementos!) and my kiddos love getting autographs!