Malibu Jack's is a great place in Lexington for family fun!  They have recently opened a Louisville location as well.  They have indoor go karts, indoor mini-golf, laser tag, arcade games, motion 4D theatre and a basketball shootout area.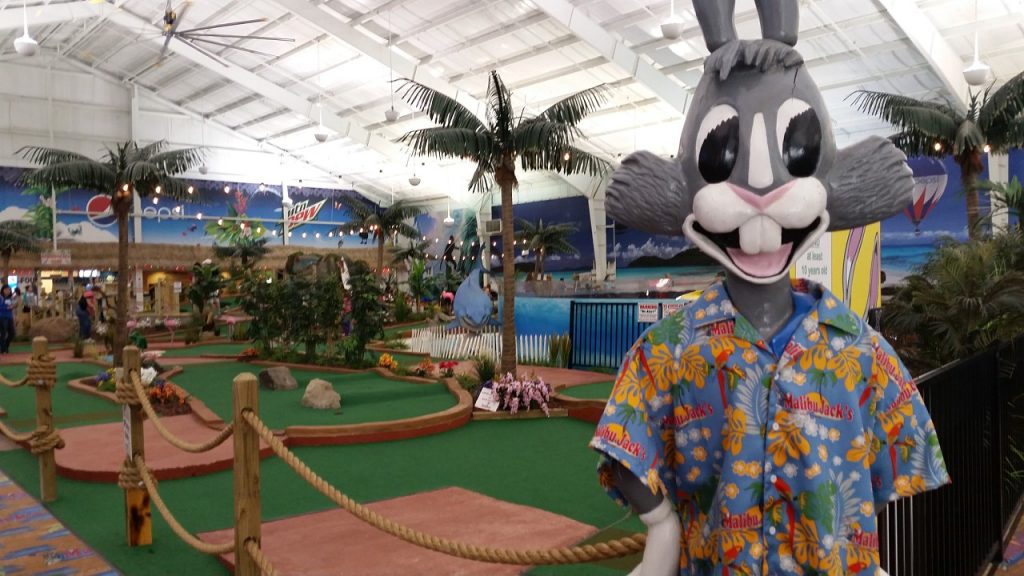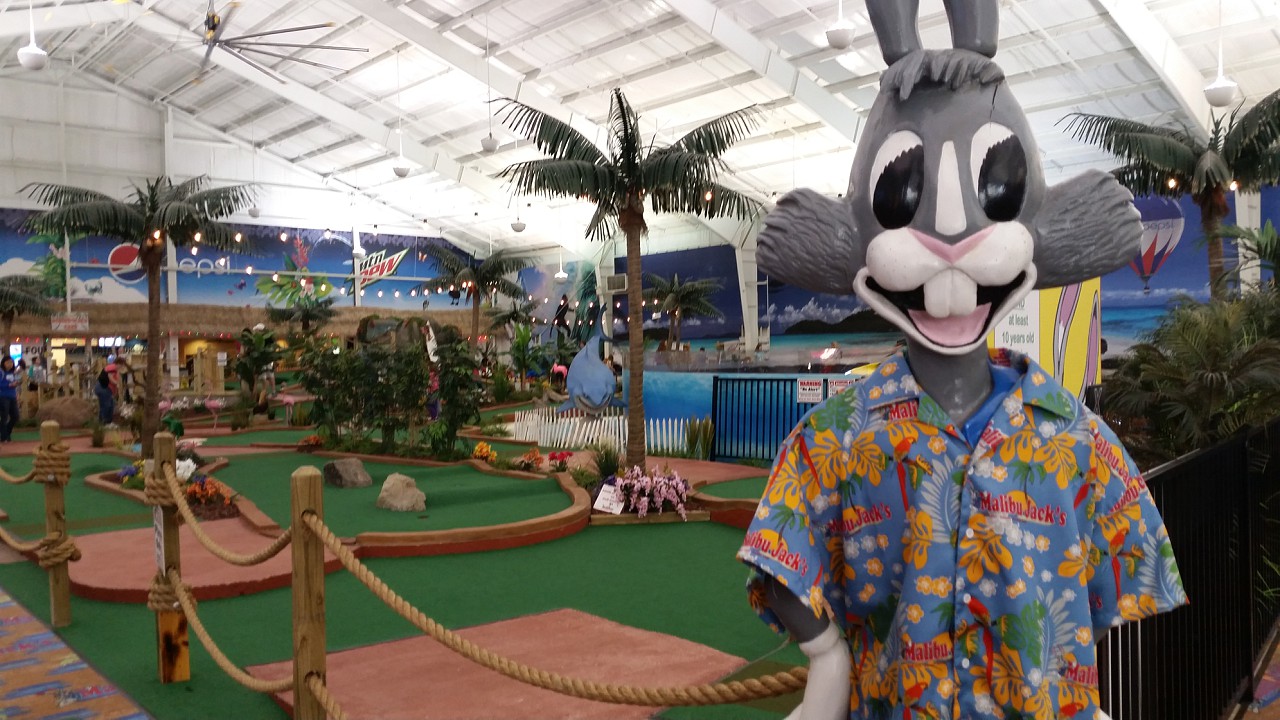 Malibu Jack's has two locations, one in Lexington and a new one in Louisville.  The Lexington location is just off Man O War and Palumbo Drive.  Parking is always easy and the facility is all on one level.
When you walk in you're right in front of the go kart track so it's very exciting for kids on their first visit to be met with speeding karts whizzing past!
Head just to the left and you'll see a desk where you can get a special card that you'll use at all the attractions.  Cards can be reloaded at the desk or at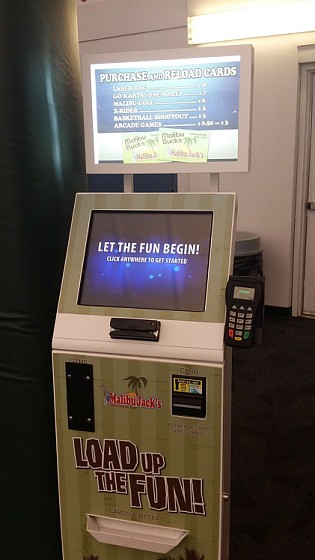 kiosks throughout the building.  You can purchase a certain number of rides or you can load a set amount of money on your card.  The workers at each station will deduct a set amount from your card with each game you play.  The arcade game fees are listed on the game where you swipe you card.
My boys love going and laser tag and go karts are their favorites.  It's fun for adults to join in as well – that's what makes this a great place for families.  You can play along with your kids and have some fun being a kid again (it's not as easy for me to get through the Kids Place tunnels or bounce on a trampoline for too long now that I've hit 40!)
There can be crowds at times but early mornings or mid afternoon it's usually less busy.  They sometimes have snow days specials and will sometimes open on holidays and schools out days.  Check their Facebook page for updates or call.
They offer parties and specials for groups.  You can also have a school fundraiser at Malibu Jack's where your school gets a portion of the sales during the time your school event is scheduled.
Go Karts
Go Karts are electric so they aren't too noisy and actually are pretty smooth.  The track isn't too long but it has some good turns and a stretch where you can use your 'turbo boost' and go fast.  My kids love to see who can 'win' and it's fun to try to pass a friend.  The rides last a few minutes and there are track crew there to help you if you get stuck somehow.  My kids like to drive solo but if you ride together they only charge you for one ride.  (Not per rider).  Great way to save some money and still have fun.
Standard Race:  At least 10 years old AND 56″  (to drive your own kart)
Passengers are free:  Must be age 4 or older AND 38″, Must ride with someone 18 or older
Other Restrictions:  Height – 6′ 10″, Weight – 320 lbs.
Note:  Children ages 7-9 AND 46″ can drive their own kart, only if they are together in a party/event package.
Mini-Golf
The mini golf course if great because unlike outdoor courses it's always clear of leaves and sticks that can get in the way.  There are simple holes as well as some with humps, obstacles and even a waterfall to go through.  I always love playing putt putt so this is a fun way to do it no matter the weather.  Once you scan your card at the front desk you can pick up a ball, putter, and score card.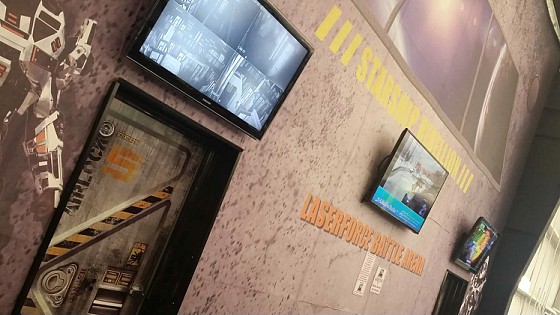 Laser Tag
This is the newest attraction at Malibu Jack's.  If you want to play you need to check in at the desk and you'll scan your card and get a card indicating you've paid for your round.  You'll wait until the tag area opens up – only one group goes in to play at a time.  As you enter you are separated into two or three teams depending on how many players there are.  You'll watch a brief video telling you how the laser tag game works and some rules to follow to keep everyone safe.  Then you'll suit up!  Everyone gets a code name (be sure to remember yours because you will get to see your score and rank after you exit).  You'll get a vest and gun and they are divided by color based on your team.  The goal is to tag your opponents but you can also get points by shooting the main target for the opponent which is inside the laser tag area.  Once everyone is ready you're set free – there are numerous hiding spots, multiple levels to explore and it's lots of fun!  Each game lasts for maybe 10 minutes and it's fun to see your score when you exit.  It's fun to try it and kids love the competition!
X Rider 4D Motion Theater
The X Rider is a small 'ride' that seats around 8 – 10 people.  There are a couple of rows and riders will wear a seat belt and special 3D glasses.  The group can pick from 7 different movies. The experience is about 5 minutes long with effects like wind, bubbles and snow.  It was fun to watch my son participate – you can see in if they sit near the entrance but there is also a video screen where you can see everyone as they experience the fun.
Arcade
There are some arcade games to play as well.  They have a few skee ball lanes, some pop a shots (bigger and smaller ones), some easy little kid games, air hockey, as well as some shooting games with guns, riding games with motorcycles to sit on or steering wheels, and more.  Games are priced as you see on the card scanner and start at .50 for an easy kid game.  You can earn 'credits' from playing games (like tickets from other arcades you may know).  Those are loaded back onto the card you scanned when you paid to play.  You can take your card to the ticket counter and spend it on prizes.
3 Point Basketball Shootout
They have a basketball contest area as well.  Kids can use their card to purchase a game.  They get a timed period to shoot a series of basketballs.  If they make a certain amount they get a free Mountain Dew.  If they make more they get a free small basketball.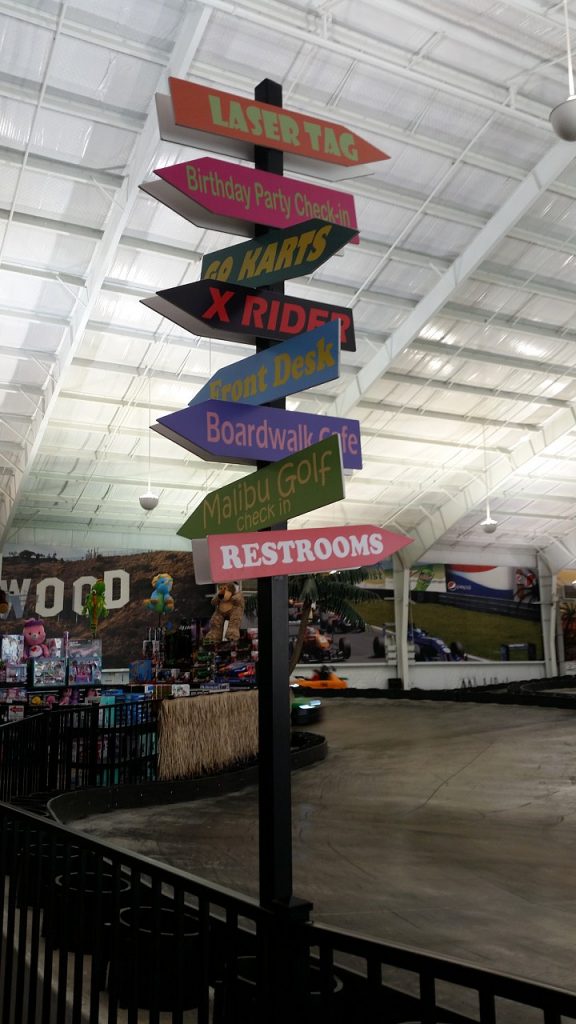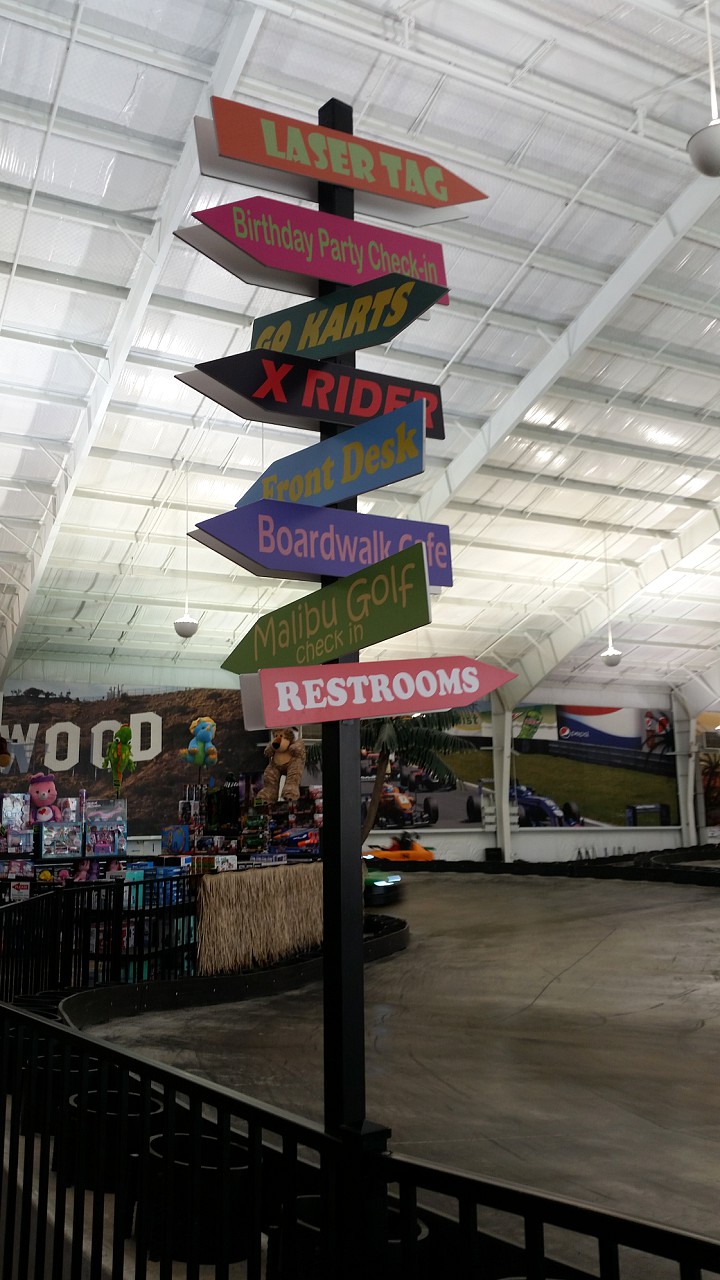 Hours (Summer 2016)
Monday – Thursday  11 am – 10 pm
Friday                          11 am – 11 pm
Saturday                     11 am – 11 pm
Sunday                        Noon – 9 pm
*Hours may change once school is back in session
*They will occasionally have extended hours for holidays and during school breaks.
Prices
Admission …………………….. FREE
Laser Tag …………………….. $8.00
Go Karts ………………………. $7.00
Miniature Golf  ………………. $6.00
X-Rider ………………………… $5.00
Spin Zone Bumper Cars …….$4.00

Basketball Shootout  ……….. $3.00
Malibu Bucks – Spend more, get more!
   – Add $20, receive $2 bonus
   – Add $40, receive $6 bonus
   – Add $50, receive $10 bonus
   – Add $100, receive $30 bonus
*Malibu Bucks are for attractions and games
It can be a bit pricey if you participate in all the things they offer but they do offer discounts if you purchase a reloadable card with certain amounts.  The cards don't expire so you can save the bucks on your card for a visit at a later time.  We have a discount card for our baseball team that has a special deal on it – you may be able to find a deal around on a package or a buy one get one free!  Watch for specials on Facebook as well – sometimes they have family deals with pizza or hot dog specials.