Little Sprouts (Ages: 3-5 years), Wednesdays in March (March 2, 9, 16, 23, 30) PRE-REGISTRATION REQUIRED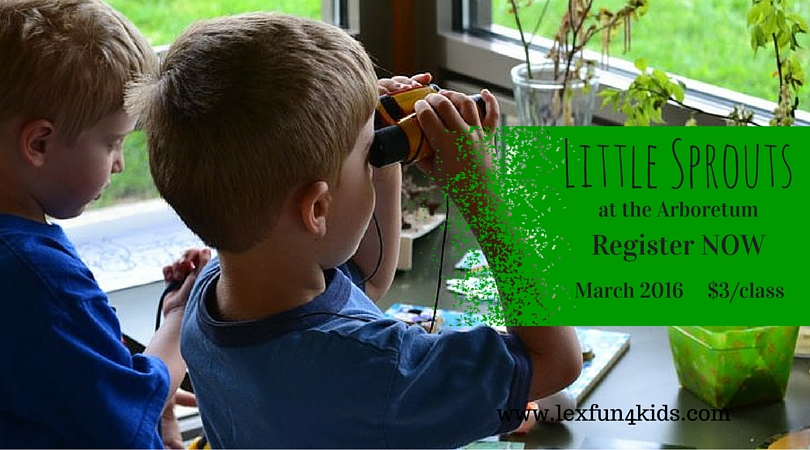 Session One: 10:00-10:45 a.m. (maximum 30 children)
Session Two: 11:00-11:45 a.m. (maximum 30 children)
Cost: $3 per child per session  (Cash only)
March 2, Seeds and Sprouts:  Spring is around the corner! Join us to start seeds indoors and observe the magic of plant growth at home. Create seed art and go on a hike looking for buds on trees at The Arboretum.*
  March 9, Animal Friends:  It may be cold outside but our animal friends are getting ready for spring. Decorate a craft that will help the critters in your backyard, and go on a hike looking for animal homes in The Arboretum.*
  March 16, Flower Power:  Spring bulbs and spring ephemerals are starting to peak out of the ground. Make a flower out of re-used materials and join us for a hike to see what's in bloom.*
March 23, Trees for Me: Join us to explore the Trees of The Arboretum! Learn the differences between evergreen and deciduous trees, go on a tree hike, create a tree craft, and help us plant a tree in the Kentucky Children's Garden.*
  March 30, Get Ready to Garden: It is officially spring! Help us plant veggies in the Kentucky Children's Garden, get muddy, and make a mud pie to take home.*
*Please dress appropriately for the weather. Hikes are weather dependent.
For questions about these or other children's programming or to register, please contact
The Arboretum @ 859-257-6955.
The Kentucky Children's Garden is CLOSED for the season but will REOPEN in March!
2016 Kentucky Children's Garden Memberships Now Available. They make great gifts!!
2016_membership_forms.pdf
Children's Garden Fees
Season Pass:
     $75 (good for up to five(5) guests) ($70, Friends of The Arboretum)

Daily Fees:
     $3/person
     $10/family of five