The Lexington Children's Theatre is a wonderful part of our local community.  The theatre offers up it's 75th season this year and presents yet another wonderful slate of shows.
When my boys were about 2 1/2 they got to each attend their first shows at the theatre.  We've attended dozens of shows since.  We love the feel of the theatre, there's not a bad seat in the house!  Shows are engaging, actors are energetic, and the whole experience becomes a forever memory for you and your family.
My boys and I had the fun of attending their current show this past weekend and we created another forever memory with the help of the Lexington Children's Theatre.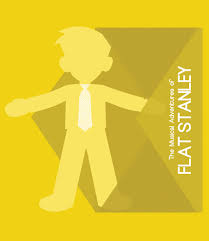 The Musical Adventures of Flat Stanley runs through March 2nd and is great for all ages!  My boys are 5 and 7 now and both loved it.  Even preschoolers would enjoy this show because the music, lively characters, and ever changing set keeps even little wigglers engaged.  Older kids will understand the humor, enjoy the storyline, and will hopefully get excited about a new book series!
The musical is based on the book by Jeff Brown but don't worry if you haven't read the book just yet.  If you have read the book with your kids be sure to explain how sometimes musicals and plays add a little more to the book to make the show more exciting.  There were a few things that didn't match up completely but it's all done to make the show an hour of fun and laughs.  (Jeff Brown wrote 5 books in the series and since his death and the surge in popularity of the books other authors have continued the series with chapter books as well as leveled readers for younger children)
Stanley's family includes his mother and father and a brother, Arthur.  The story begins by introducing us all to each character and to the relationship between Arthur and Stanley.  There are lightsabers… and magic wands.  Awesome!  Any little boys in your family will enjoy this relationship and the fun that the brothers have just like my two guys did!  The exciting thing about musicals is that you never know when the characters will break out in song and from the start to finish this show is filled with songs and dancing.
Once we meet the family, tragedy strikes!  Stanley Lambchop gets flattened.  A lesson to us all – watch where you hang your bulletin board!  I'm still hearing the laughs in my head at how the theatre managed to make something as obviously unfunny as a bulletin board quite funny indeed.  Once flat, Stanley's ensuing adventures as he gets mailed around the world introduce us to more great characters – all played by the core cast of 5.  From a very silly doctor to an audience favorite mail carrier, the travels of our flattened fellow create fun ways of bringing in all these new folks.
Not only do the characters keep your child's attention the set for this show was pretty cool.  We begin in Stanley's bedroom but travel around the world with the flip of a wall, the rolling in of a surfboard, or the addition of some talkative famous works of art!  The theatre did a great job of inventing ways to make a world adventure come to life!
Stanley gets to save the day and gets to teach us that we can wish on a star and reach our dreams…. and we don't have to flatten ourselves and travel the world to do it.  We all walked out with smiles on our faces and even enjoyed getting our program autographed by Flat Stanley himself!  Be sure to stop by the lobby and take pictures and meet the cast.  Refreshments are sold after the show in the lobby so you can enjoy a treat together and talk about your favorite parts!
We're already excited about finishing this season with Jack and the Wonder Beans and Gossamer.   The theatre is also planning their Celebrity Curtain Call fundraiser show now as well!  The curtain call features food, drinks, a silent and live auction, as well as a show featuring local celebrities!  (I'm SUPER excited because this year one of these local celebs this year is ME!!)  I'd love for you to come check out my attempt at doing what the cast of shows like Flat Stanley does all season long!
I hope you and your family do get a chance to check out a show this season as well as watch for information on the next season.  LCT offers spring break camps, summer camps (which, like the shows, are based on popular children's books – and are AWESOME – both my boys love them!), and a summer family musical!
For information on tickets click here