la ofrenda at Lexington Children's Theatre *Review
PUBLIC PERFORMANCES:
Sunday, September 22 @ 2:00pm
Saturday, September 28 @ 7:00pm (Pay What You Can)
"You can't know where you're goin' if you don't know where you been… sabes?
History is something Alex doesn't get. There's no use trying to teach him about where he comes from because to be honest, he doesn't care – caring is hard and caring makes him think about losing his parents, which he would rather not do. Try as she might, not even his abuela, a strong-willed Chicana named Marta Torres, can help him to understand the beauty and magic of Día de los Muertos. But with a little thunder and a lot of magic, a fast-talking skeleton might just give Alex the courage and compassion he needs to connect.
By José Casas
Best enjoyed by ages 9 and u

Performed on the LCT Main Stage 
---
Review
La Ofrenda is a powerful and moving play depicting a young man's struggle with the loss of his parents in the wake of 9/11.
 The play begins on September 11th, and it does a fantastic job of depicting the emotions of the day and the aftermath that follows. After losing his parents, Alejandro (played by Thomas Costello) moves in with his Abuelita: Marta Torres (played by Hanna Hernandez).  Alex has to deal with not only the loss of his parents but leaving behind his home, his friends, and everything he knows. As the play progresses, you also see Marta's struggles. She is mourning the loss of her daughter as well as adjusting to living with Grandson she doesn't know.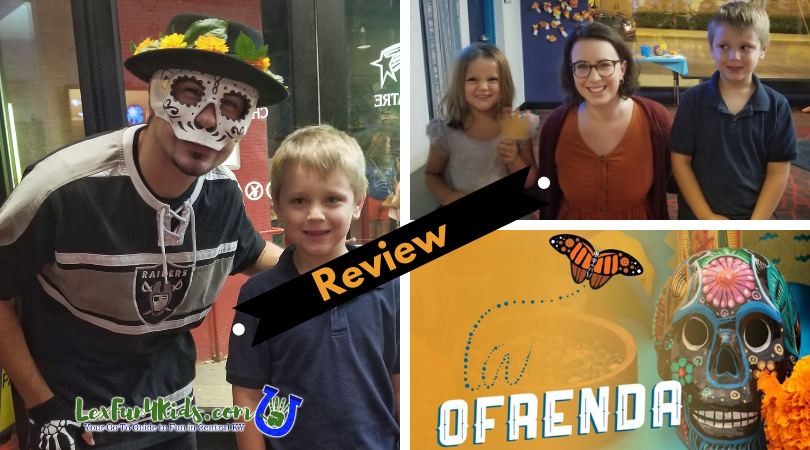 Throughout the play, our oldest (7+ years) quietly whispered questions to us. He was intrigued by all the Spanish words we heard. I loved how the play cleverly manages to incorporate both Spanish and English by often saying it in one language and repeating it in the other. He also was curious about the events happening, 9/11 and when the ofrenda (offering usually displayed in conjunction with the Day of the Dead) appeared.  Having so many questions meant that he was as interested as we were! This play is recommended for ages nine and up. However, tonight, we had also to bring our 5-year-old, and she loved the play as well!
One of our favorite parts of this performance involved the Calavera named Califas (played by Darren Vance). His initial entrance is startling. Throughout the play, he is full of hilarious quips, comical antics, and otherworldly wisdom. Interestingly, as the story progresses, his appearance changes. Gradually he appears more human as his skull-like features fade. In the end, he is fully human in appearance with a striking resemblance to a photograph on their ofrenda. 
This play so moved us. The connection to 9/11 is beautifully made. The audience can relate to both the struggles of Alex as well as the struggles of Marta.  I felt that the story was not just moving but educational. My kids left here asking questions about Spanish, about Mexico and the Day of the Dead and we are excited to learn more! 
This particular play also happens to be a touring production so if you missed seeing this here in Lexington, be sure to look up the other performances. This play is worth seeing!
-Kelly, Lex Fun 4 Kids Writer
Things to Know Before You Go
About LCT's Touring Productions
la ofrenda is one of our touring productions, which means it doesn't just perform here in Lexington! Our three professional actors travel with this and our production of Aesop's Fables On Stage from September through early December to schools, libraries, and theatres all over the Commonwealth and beyond!
About your trip to the theatre
Be sure to arrive early to find a place to park – options include metered parking surrounding the theatre and the parking garage on the corner of Broadway and Short Street. LCT unfortunately cannot validate garage parking.
To offset the heat generated by stage lighting, the Main Stage theatre can get pretty cold. It's a good idea to bring a sweater with you!
It's also a good idea to bring some cash. You might need to pay for parking, and we will have books and LCT merchandise for sale in the lobby if you want to buy something before or after the show. If you forget your cash, though, no worries! Both the Box Office and the retail store accept credit and debit cards (excluding American Express).
For more on planning your visit to LCT, click here.
About la ofrenda
The story of la ofrenda (Spanish for "the offering") is all about the love of family and the courage it takes to be vulnerable and connect, all centered around the Mexican holiday Día de los Muertos. After losing his parents in the 9/11 tragedy, eleven-year-old Alex moves to Los Angeles to live with his abuelita, Marta, a Chicana woman whom he doesn't have much in common with – or so he thinks. Alex struggles with understanding his grief, but when the papier-mâché skeleton in his room comes to life, he begins to re-connect with his heritage and ultimately learns to heal through honoring and dedicating his life to his family, both alive and departed.
For the first half of the play, Alex and Marta struggle to understand and connect to one another. Alex is sullen, barely speaks to his abuelita, and fights with her at almost every turn. Marta is wrestling with the loss of her daughter (Alex's mother) and her disappointment that Alex was not taught Spanish and seems to know almost nothing about his family's culture. As the conflict of the story progresses, both characters do things that hurt the other. Alex fights with his grandmother using language such as "I hate you," and "leave me alone!" In one scene, he gets angry when Marta tries to get him to talk about his parents, and he destroys the altar she has prepared for Día de los Muertos. There is another scene where Alex is being incredibly difficult, refusing to go to school and making Marta late for work. In an emotionally desperate moment Alex blurts, "You can't tell me want to do! You aren't my mother!" and Marta slaps him. This is not because she is a violent person or an abusive guardian, but because it is a visceral expression of her grief. She instantly regrets her actions, admits that she was wrong, and tries to apologize to Alex. She also does not do anything else like this when Alex acts out in other moments in the play.
When Califas, the papier-mâché skeleton, first comes to life, we use special effects to create an eerie mood. This scene takes place on a stormy night – tree branches scratch Alex's bedroom window, the power goes out, and lightning flashes, highlighting Califas in Alex's room.
Califas is a wise-cracking jokester who adds a lot of humor to the play, but he also does not shy away from talking to Alex about complex issues. Throughout the story, he serves as Alex's confidant and spirit guide, pushing him to reconcile with his abuelita and helping him find ways to handle the large emotions he is experiencing. There is dialogue about the tragedy of 9/11, his parents' death, and "los tres muertos" (the three deaths), an important pillar of Día de los Muertos. Even with Califas's help, Alex is still faced with very adult situations and feelings of grief. Sometimes these feelings can be difficult for children to communicate, and Alex expresses his emotions in different ways, such as drawing a picture of the planes crashing into the twin towers and flying and crashing a toy airplane.
Día de los Muertos is inspired by ancient Mexican and Aztec cultures, as well as practices of the Roman Catholic faith. People who participate prepare intricate altars to welcome the departed back to the world of the living for this three-day celebration. These altars usually include food, traditional candy sugar skulls, and pictures of their late loved ones as well as more religious items like incense, a rosary, candles, and a statue of "Our Lady of Guadalupe." The altar Marta and Alex build includes these and other items that have significant meaning to them, representing their family members who have died. During the creation of the altar, one stick of incense is burned on stage, so audience members with scent sensitivities might wish to sit further back from the stage.
This play is a great way to spark conversations about reflection and remembrance of the past, expressing emotions such as loss and grief, and familial values and beliefs. For young people and adults alike, navigating complex emotions can be difficult, but it is an important part of life that everyone goes through. Tying a compelling story to a holiday that celebrates reflection and remembrance is a great way to begin talking to your young person about loss. Our audiences will have a range of religions and beliefs that may or may not be reflected in the play, but we feel this story is a great stepping stone for teaching your young person how your family interprets death, afterlife, and loss.
We love this story because it highlights the beauty of life, celebrates our cultural differences, and addresses the importance of family. Alex and Marta come from very different worlds, but they learn to love and accept each other as they remember their loved ones and keep their legacies alive. We love this story because it is funny and thoughtful and heartbreaking and beautiful, sometimes all at the same time. Just as Día de los Muertos celebrates death as a natural part of life's cycle, la ofrenda is a beautiful way for your family to remember, to celebrate, and to talk about loved ones in your life who have passed away.