Mark Your Calendars!
The 2024 Her Knight father/daughter dances will be: Friday, February 2, 2024 and Saturday, February 3, 2024 at Keeneland's Keene Barn & Entertainment Center.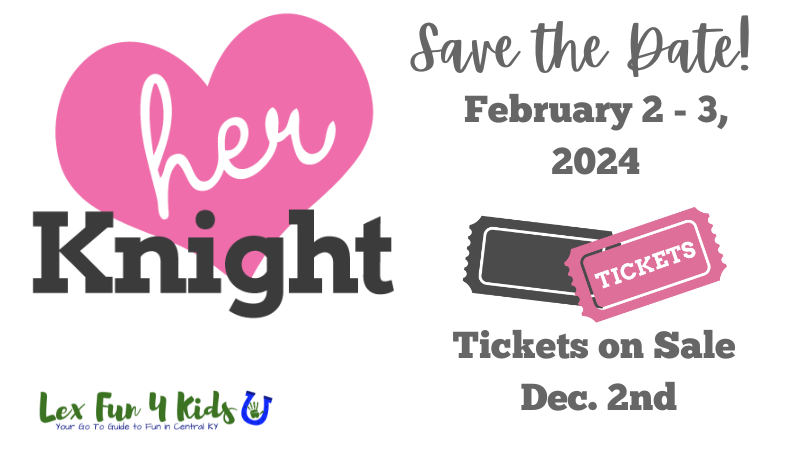 Ticket sales for the 2024 Her Knight Dance will begin at 10 AM on PINK SATURDAY – Saturday, Dec. 2, 2023! Be sure to mark your calendar for Pink Saturday, Dec. 2nd, and grab your tickets quickly! Once they're gone, they're gone! Tickets will be sold exclusively on our website.
5 Dance Sessions to Choose From!
2024 Her Knight Dance Sessions:
Friday, Feb. 2 from 4:30-6:30 PM
Friday, Feb. 2 from 7:30-9:30 PM
Saturday, Feb. 3 from 1:30-3:30 PM
Saturday, Feb. 3 from 4:30-6:30 PM
Saturday, Feb. 3 from 7:30-9:30 PM
The early sessions are recommended for younger girls, but all sessions are open to girls age 4-12. If your daughter would have "aged out" last year, but still wants to attend, we encourage you to purchase a ticket and make for a special evening of celebration!
Ticket prices are $75 for one dad/knight and up to 2 daughters/princesses and $20 for each additional daughter/princess. We can't wait to see you there!
---
Pearls of Wisdom for PINK SATURDAY
We've put together a few tips that may be helpful in preparation for purchasing your tickets to the dance. You can read our full tips article here.
If you end up missing your chance for this year, you can join our mailing list and we'll let you know when tickets for the 2025 dance are available, and about future Her Knight events.
Please remember, Her Knight is run solely by volunteers. Thanks in advance for your patience!
Cart Smart: Extra Daughter Ticket Add-ons
Are you bringing more than 2 daughters to the dance? Our standard ticket includes one knight and up to two daughters/princesses, but the more the merrier! When you check out, you'll just need to add an Extra Daughter Dance Ticket ($20 each) for each additional princess to your cart (i.e. 4 daughters, add TWO Extra Daughter Dance Tickets).