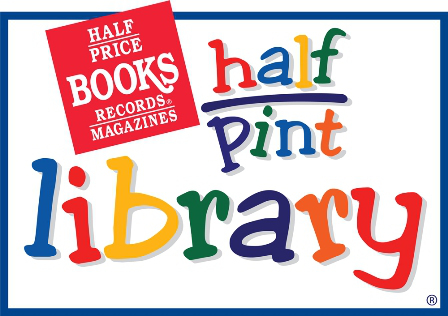 The Half Pint Library book drive is hosted each year by Half Price Books to collect and distribute children's books to those in need. From April 1 – 30, stop by any of our locations to donate new and gently used children's books, and Half Price Books will match each book donated! The books will be distributed to non-profit organizations and schools at giveaway events in May.
501(c)(3) nonprofits and schools are invited to attend any Half Pint Library book giveaway event.
Supplies may be limited. Events are first-come, first-served.
Get there early, the books are going fast!
ONLINE REGISTRATION WILL CLOSE 24 HOURS PRIOR TO EACH EVENT, HOWEVER YOU MAY REGISTER IN PERSON THE DAY OF THE EVENT.*
RULES: It is our goal to distribute books to as many different nonprofit community organizations as possible and to be safe
and fair at all times. Please observe the following Half Pint Library giveaway rules:
Books donated through the Half Pint Library program are not to be sold at any time for any reason.
Depending on the number of books collected and the number of agencies coming for pick up, quantities may be limited. Books will be given out on a first come, first served basis to qualifying nonprofit organizations & schools while supplies last. Online registration does not guarantee that you will receive books.
Agencies must arrive with their own transportation to pick up books.
Books will be an assortment of children's and young adult books in manageable boxes ready to be loaded. Agencies will not be able to sift through boxes to pick and choose books.
We reserve the right to request identification of your nonprofit or education status at any time.