Map Unavailable
Date/Time
Date(s) - 07/31/2021
9:00 am - 1:00 pm
Cost: Free
NOTE THIS EVENT HAS ALREADY OCCURRED
Categories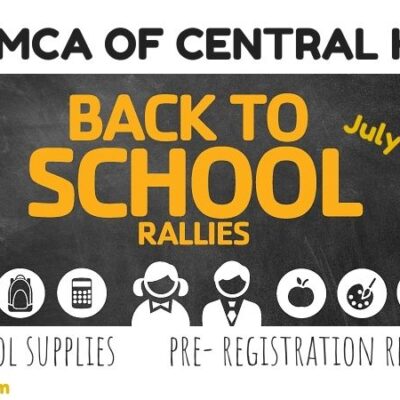 Each year, the YMCA of Central Kentucky, in partnership with Fayette County Public Schools, sponsors and community partners, hosts the annual neighborhood Back to School Rallies.
The rallies provide elementary, middle and high school students with free full-size backpacks and school supplies. Each site distributes supplies for all grade levels. The Back to School Rallies is an initiative of the Y, which has served as the central coordinator of this event since 2011. Since that time, more than 47,000 backpacks have been given out to children in Central Kentucky communities.
This year's event will be held on Saturday, July 31, 2021 from 9 a.m. – 1 p.m.
Sites are drive thru pick up only.
Event will run from 9 a.m. – 1 p.m. Families must register for a pick up time for this event.
Registration opens July 9
LOCATIONS
Booker T. Washington Elementary
707 Howard Street
Lexington, KY 40508
Coventry Oak Elementary
2441 Huntly Place
Lexington, KY 40511
Dixie Elementary
1940 Eastland Parkway
Lexington, KY 40505
Winburn Middle School
1060 Winburn Drive
Lexington, KY 40511
Shiloh Baptist Church
37 E Fifth Street
Lexington, KY 40508
Cardinal Valley Elementary
218 Mandalay Road
Lexington, KY 40504
Woodhill Community Center
422 Codell Drive
Lexington, KY 40509
Valvoline
3475 Blazer Parkway
Lexington, KY 40509
Gainesway Community Center
3460 Campus Drive
Lexington, KY 40517
Event Website
Event Website:
https://www.ymcacky.org/events/back-school-rallies
Download the event (.ics format) to your event calendar at this link: iCal
Add this event to your Google Calendar at this link:
Disclaimer: Please double check event information with the event organizer as events can be cancelled, details can change after they are added to our calendar, or we can make mistakes.