Many organizations and churches in Lexington and the Bluegrass offer Egg Hunts and other Easter events!  If you have one to add please email lexfun4kids@gmail.com
Check back in frequently as more events are added!  Click on an event for more information and it will link to their website.
Easter 2019 is on Sunday, April 21st.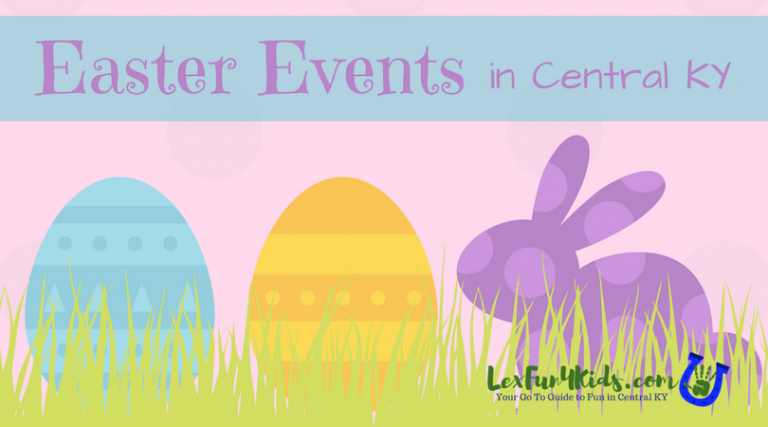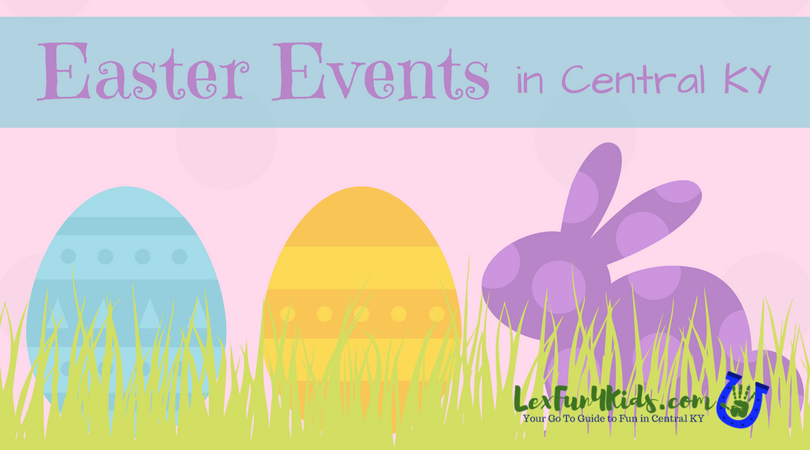 Visit the Easter Bunny
Fayette Mall
March 30 – April 20, 2019
Bunny's Hours:
Monday – Saturday: 10am – 9pm
Sunday: 12pm – 6pm
We all know bunnies are fast, but sometimes you need to be faster. Click here to purchase your FAST PASS today!
Bunny Arrival Party
March 30, 2019   9 am –  11 am

Put on your bunny ears and hop over to Fayette Mall to welcome the Easter Bunny in the Dillard's Court!  At 9:00am, enjoy a special storytime with the Bunny and special guest princesses, including Snow White & Rapunzel!  At 9:30am, kids will learn how to do the "Bunny Hop" along with the Bunny and other special guests.  Enjoy treats and activities as we welcome the Bunny to his home at Fayette Mall! It will be a sweet and special morning for kids and parents to celebrate together. We hope to see you there!
Pet Photos with the Bunny
April 1, 8, 15, 2019
6 pm – 9 pm
Four-legged family members want to see the Easter Bunny too!  Pets must be on a leash or in a carrier, and pet owners are responsible for cleaning up after their pets.  Please enter through the mall entrance next to Talbots. Pets will not be allowed in any area of the mall other than the designated Easter Bunny photo area. We appreciate your understanding.
Big Blue Bunny
April 11, 2019
6 pm – 9 pm
The Bunny loves the Big Blue Nation!  Get your picture taken with the Easter Bunny and the Kentucky Wildcat and Scratch mascots during Big Blue Bunny Night.
April 7, 2019  – Sensory Friendly Event – Easter Bunny Cares 
9 am – 11 am
Join us Sunday, April 7th, from 9am – 11am for Bunny Cares, a special sensory-friendly event for children with special needs and their families to enjoy a visit and photos with the Easter Bunny in a calming environment. Families will enjoy activity stations, beverages, and breakfast foods. Lights and music will be muted where possible.  Please RSVP in advance by reserving ONE TICKET PER GROUP/FAMILY. Photo packages are available for purchase during the event.
For more information and to RSVP, click here: https://www.eventbrite.com/e/bunny-cares-an-easter-sensory-friendly-event-at-fayette-mall-tickets-56811891898
---
Travis Clark Photograhpy offers Easter Bunny pictures and real live rabbits!  This year they are setup inside Joseph-Beth at The Mall at Lexington Green.  Look for them in the kids section on the lower level.
April 11 – 20, 2019
11: 1-7
12: 11-7
13: 10-8
14: 11-6
15: 11-7
16: 10-8
17: 3-8
18: 10-8
19: 10-8
20: 10-8
21: Closed for Easter
You can book your appointment online CLICK HERE

Special Easter Events
Easter Train Rides
Bluegrass Railway Museum
Easter Bunny Train Rides
April 20, 2019  2 pm
Everyone enjoys taking turns getting bunny hugs and handshakes.
Kentucky Railroad Museum
Easter Eggspress Train Ride
April 20, 2019  1 pm
Ride along with the Easter Bunny as you enjoy a 90 minute train excursion.   Train departs at 1:00 pm.

Bunny Visits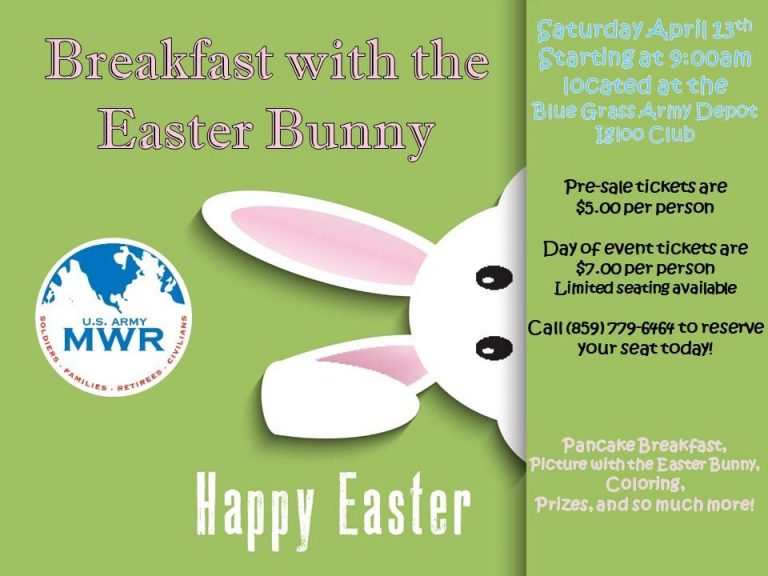 Breakfast with the Easter Bunny at the Bluegrass Army Depot
Saturday, April 11, 2019  9 am – 11 am
Come to the Blue Grass Army Depot Igloo Club and enjoy a pancake breakfast, a picture and story with the Easter Bunny, coloring pages, PRIZES, and so much more! Make sure you RSVP because seats are limited!
$5.00 advance tickets
$7.00 day of tickets
Easter Family Fun Day at Commonwealth Smiles
Sunday, April 14th 1 – 3 pm 
We'll have kid friendly games, prizes, and a photographer to capture one FREE digital image of you and your sweet family if you want to bring them!

Egg Hunts
March 30, 2019
Aquatic Easter Egg Hunt 10 am
Georgetown Pavilion
Come dive for Easter Eggs and receive a goody bag.  Winners in each category will receive a prize basket.
$10 Day of Event

April 12 – 14, 2019
Fort Boonesborough State Park
"Eggciting" Easter Fest
Join us for our Easter celebration with lots of activities.  We will have scheduled times for bingo, Easter crafts, an Easter Egg Hunt with the Easter Bunny, free putt-putt and tours, camper decoration contest, and a whole lot more.  There is a free continental breakfast on Sunday.  This event is for registered campers only.  For more information please call (859) 527-3454 or email jack.winburn@ky.gov

April 13, 2019
NorthEast Christian Church Easter Treasure Hunt 10 am
990 Star Shoot Parkway, Lexington 
Join NCC Kidz for our annual Easter Treasure Hunt with Birth-3rd Grade kids!
Easter Egg Hunt at Joseph Beth Booksellers  11 am  (Ages 1 – 5)
We will be having our annual Easter Egg Hunt following our Saturday Story Time! This date is specially for kid's ages 1-5 years old. There will be hidden eggs to find filled with candy and prizes.
Egg Hunt and Bunny Visit at Morning Pointe  1:30 pm  – 3 pm
233 Ruccio Way, Lexington, KY 40503
Enjoy special food, music and a hunt for more than 1,500 Easter eggs! Win a prize by finding the special Golden Easter egg, and take pictures with the Easter Bunny!
Passport Radio Easter Egg Roll and Egg Hunt 1:30 pm – 4 pm
Join Passport Radio and the Frankfort Youth Football League for the first ever Easter Eggstravaganza!
The first 300 kids will receive a free goody bag thanks to the Capital Plaza Hotel
The Frankfort Youth Football League will be giving out free hot dogs, chips, and cookies.
*The Egg Roll will be split into age groups: 1-4, 5-8, 9 and up. The Egg Roll races will start at 1:30 and end at 2:30
*The Egg Hunt will also be split into age groups: 1-4, 5-8, 9 and up. The Egg Hunt will start at 3 and end at 4.
Vendor Activities
*Capital Plaza Hotel will have a Jelly Bean contest. Guess the number of Jelly beans in the jar for a chance to win 2 passes to their buffet.
*Thorn Hill Education Center the FLIP (Families Learning through Interaction Program) will have a bunny toss.
*Franklin County Humane Society will have a coloring station and adoptable pets.

April 14, 2019
Second Presbyterian Church Egg Hunt
460 E Main St, Lexington, Kentucky 40507
This is a free event open to the community!
Schedule:
12:00 PM – Kids' Snack
12:30 PM – Preschool Egg Hunt
12:45 PM – Elementary Egg Hunt
Join us on Palm Sunday after the 11 AM service for our annual Easter Egg Hunt! Bring the kids and invite all of your friends!
Check out our website: https://www.2preslex.org/events/
Centenary United Methodist Church   12:15 pm
Join us for our annual Resurrection Egg Hunt on the grounds at Centenary!
Easter at the Trace – REGISTRATION CLOSED
Be sure to register for this egg-citing event for children and parents! Search for thousands of treat-filled eggs plus enjoy refreshments and pictures with the Easter Bunny. All activities are complimentary.
Hunt times
Ages 0-2: 12:00pm
Ages 3-4: 12:15pm
Ages 5-8: 12:45pm
Ages 9-11: 1:00pm
Event concludes at 2:00pm. Register online starting March 14. No pets allowed, aside from service animals.

April 20, 2019
Crestwood Christian Pancake Breakfast and Easter Egg Hunt 9 am
Breakfast at 9 am, Egg Hunt begins at 9:30.  Please bring a bag or basket to collect eggs. Ages 18 months to grade 5.
Capital City Christian Church Egg Hunt 9:30 am
Egg hunt times are as follows:
Registration: 9:30am
Birth-3 year old: 10am
4 year old – kindergarten: 10:30am
1st-5th grade: 11am
The event is free and open to the community. There will be egg hunts, pictures with the Easter bunny, inflatables, games and a painting project for all ages.
Easter Egg Hunt at Shaker Village of Pleasant Hill, Harrodsburg  10 am – 2 pm
Celebrate spring with this egg-citing family event! Kids of all ages are invited to hunt for eggs, meet the newest additions to the Farm family, make a craft and much more! Return your eggs to candy stations to receive treats! In addition to our regular egg hunts, your family is invited to participate in the Village-wide golden egg hunt to win a fantastic gift basket!
Food trucks will provide a variety of meal options and the Shaker Village bar will be open for adults in attendance.
Tickets are limited per hunt time to ensure a good experience for all. The egg hunt field will be divided by age groups during each time.
Please bring your own basket. Adult supervision required.
Pricing:
Free – Ages 2 and Under
$7 – Ages 3-12
$14 – Ages 13-61
$10 – Ages 62+
Louisville Zoo Eggstravaganza  10 am – 2 pm 
Hop on over for a special day filled with EGGciting fun! Meet and greet the Easter Bunny, enjoy some EGGcellent games and watch as our Zoo animals take part in some EGGstraordinary fun. Bring your own baskets and join us for free egg hunts for children 11 and under. This event is FREE with Zoo admission or membership.  Want for an EGGstra special to start the day?  Try our Easter Brunch (reservation and ticket required).
Crosswoods Kids Egg Hunt 10:30 am *Rain or shine
5th Grade and Under
Fun, Games, Food
4991 Harrodsburg Rd. Nicholasville, KY
Resurrection Rally at Ashland Avenue Baptist Church 10:30 – 11:30 am
Join this celebration of Jesus' resurrection for children and families. The event begins indoors at 10:30 with a music-filled gospel rally for kids. The celebration then moves outside where there will be three simultaneous age-graded egg hunts with over 6,000 candy-filled eggs
Richmond Parks and Rec Eggstravaganza at Lake Reba  11 am –  1 pm
We are thrilled to once again host the Easter EGGSTRAVAGANZA!!! This year promises to be better than ever. With a day of fun and games planned we hope you make it out. Festivities began at 11 AM and go to 1 PM.
There will be games, vendors, activities, inflatables, a petting zoo, and egg hunts.
Please be sure to like and follow us on Facebook to stay up-to-date on the Easter Eggstravaganza and our other spring happenings. Also share this event with your friends and family so that they know whats going on.
Fort Harrod State Park    11 am – 1 pm
Community Egg and Candy Hunt
Everyone is invited out to attend this celebration on the front lawn here at Old Fort Harrod State Park!  Sponsored by the Harrodsburg Kiwanis Club this event brings out hundreds of youngsters of all ages.  Games and booths and the Easter Bunny too.
Easter Egg Hunt at Joseph Beth Booksellers  2 pm  (Ages 6 – 12)
We will be having our annual Easter Egg Hunt following our Saturday Story Time! This date is specially for kid's ages 6-12 years old. There will be hidden eggs to find filled with candy and prizes.
Easter Egg-stravaganza 3 pm – 5 pm
371 Hill N Dale Rd, Lexington KY, 40503
We are so excited for our upcoming Easter Egg-stravaganza! We will have the Easter Bunny, snacks, raffles, a petting zoo, face painting, and more! Join us and tell your friends! With questions or to volunteer, contact Jennifer Fouch (jenniferfouch@hillndale.com).
Immanuel Baptist Church Celebration and Egg Hunt 4 pm
Tates Creek Road and 2261 Armstrong Mill Road, Lexington 
Enjoy egg hunts at both church campuses.