Peep! Peep!  All Aboard for some Thomas fun!!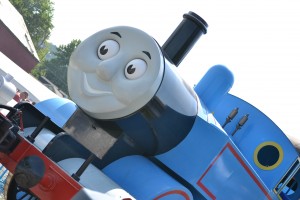 Check out the Review and Tips shared from our 2012 Visit!!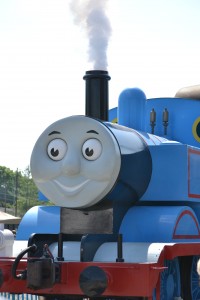 My family and I headed down to New Haven (1 hr 15 min drive from Lex) for a day with Thomas!  When we arrived we headed to the Putt Putt area for a few minutes while I got a chance to look around and some of the new fun they had this year.
When you arrive if you still need tickets proceed to the back platform up by the building.  Will call tickets are on the platform at the front of the building.  Inside the building is a small gift shop and the area to see Sir Topham Hat.  He appears every hour so grab your schedule when you arrive and get in line early to see him!
Around the museum there is a putt putt course (very simple but my kids love it), face painting (longer lines – be prepared), Furry Friends ride ons – adults can ride these with the kids (lines look long but it moves pretty quick – they do take a lunch break so be mindful of when you get in line), Mr. Magic and Storytelling (in the railcar over to the left of the station), puppet show, imagination station, and tattoos across the tracks.  There is also a merchandise tent out front.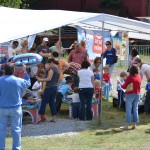 *
*
*
My son loved the puppet show and Mr. Magic cracked them up!!  That's a great place to cool off in the shade.  Be sure to discuss sharing before heading into the Imagination Station – there are lots of trains but also lots of friends 🙂
*
It's fun to watch Thomas pull into the station every 40 minutes or so.  You can stand right up beside him when he's coming in – what a neat experience for anyone!  My little guy even had to give him a hug!
For those of you first timers here's a few tips to help you through your Day Out With Thomas Experience.  These are based on the past few years as well as new things this year.
We like to go early.  Typically the weather is hot –  If you go early before your train ride you have time to see what's going on before and hit a few things then go back to things after your ride.
The Railway Museum has a large tent out front with things to purchase.  They have a 'scavenger hunt'  where you get some stamps at each of the many stations around the event.  Then redeem that in that big merchandise tent.  I didn't want to take my boys through that the first year so I just did it at the end. You get a small package of Mega Bloks and a Thomas poster.
Inside the building are the bathrooms.  One in one out.  Not fun.  Don't wait until the last minute to potty.   HOWEVER!!! This year I found more bathrooms over in a building behind the storytelling/video viewing railcar!  Three stalls in the women's! GREAT new find 🙂
They are switching up the storytelling and videos with Mr. Magic – the kids really like seeing him each year.
*
For your train ride… they line you up beside the train # that is on your ticket.  I didn't see a lot of benefit in getting in line and standing there for a while.  There are enough seats.  We always have seats by the window.  You will go down the track a piece very slowly then stop.  Then the train reverses and comes back so no matter which way you face you will go 'forward' for part of the ride.  You get a certificate from the conductor so you may want to plan on bringing a backpack or a way to keep it 'neat' and not get crumpled.
You can plan to take pics in front of Thomas – when he is in the station there is a line you can wait it to sit right at the front and the Thomas photographers will take a picture that you can purchase (you can also take your own pics).  We don't wait in line – we just stand beside him and take our own with no wait.
For lunch – they have food trucks like what you would find at a fair.  Mainly typical fair food.  We pack a picnic.  Tables are limited and we've eaten out by our car before.  Saves us $ and time (the wait is sometimes long).  There is one tent set up that offers burgers, hot dogs, and bbq sandwiches.
If you have questions feel free to leave a comment and I will get back to you.