Each year Thomas the Train visits the Kentucky Railway Museum in New Haven, KY!  It's a great event for little ones and a great chance to spend a day having lots of family fun!  Recently, Lex Fun 4 Kids writer Jennifer and her son visited and have some tips for you!
Top 10 "Day Out With Thomas" Tips!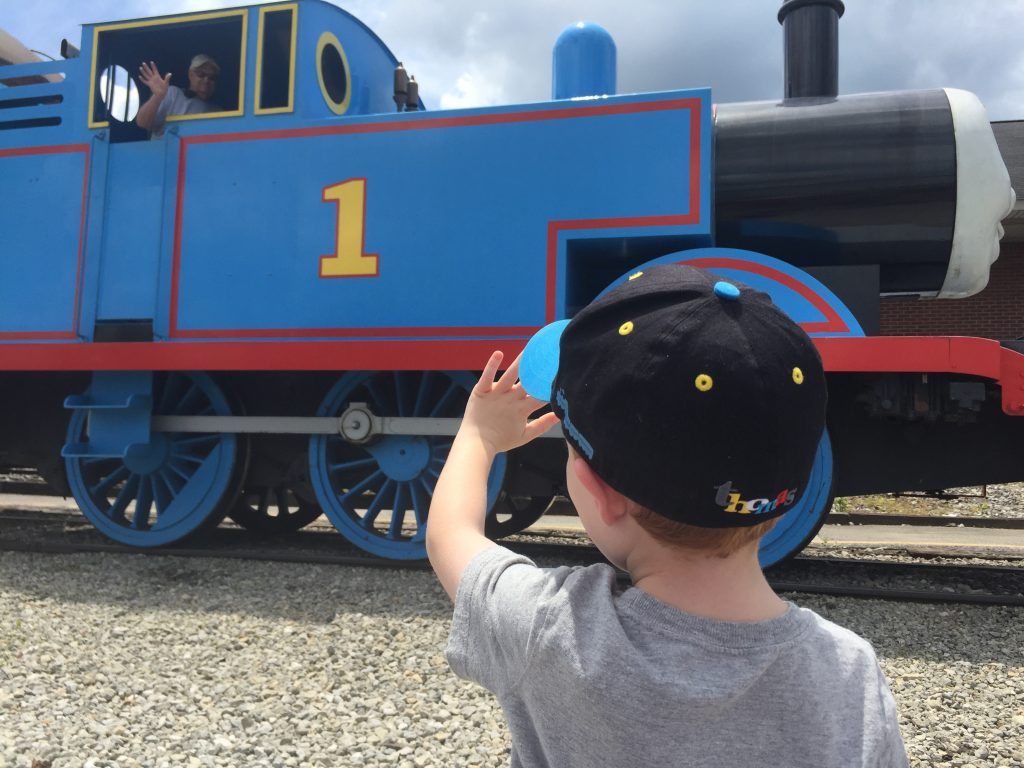 My 5 year-old son and I recently went to "Day Out with Thomas!" and had a great time but I wanted to share some tips! For those who aren't familiar with this event, it's held at the Kentucky Railway Museum in June and includes a train ride with Thomas the Tank Engine, as well as a variety of Thomas & Friends themed entertainment, including Storytelling and Video Viewing, Temporary Tattoos of Island of Sodor friends, and an Imagination Station with Arts & Crafts and more. Guests will also have the opportunity to meet Sir Topham Hatt, the Controller of the Railway on the Island of Sodor.  We visited Thomas in New Haven, KY.
1. Age: My son is 5 and a huge lover of all things train, which is why we went, but he was definitely one of the oldest children there. I'd say it's best suited for the 2-4 age range, with lots of activities to keep them entertained like train tables with wooden trains, a craft, animal petting zoo, mini train ride, Thomas the Train movie and of course the main event…a Thomas train ride!
2. Train-ride: Your tickets will have a particular time for your train ride and I'd recommend lining up on the platform at least 20 minutes early. Be sure you're standing in the right line for your train car! We chose to go early and did most of the activities before our train ride (petting zoo, meet Sir Topham Hatt, play with the train tables, Mini Golf, Bounce House, mini-train ride, lunch) and then after our train ride we hit the Gift shop and did a few more things and left for home. But if you were on an earlier train you could always ride the train first and do the activities after! In total, we spent about 4 hours there doing our train ride and the activities.
3. Food: If you find yourself there at lunchtime or need something to eat, there are a few food trucks available to buy food and picnic tables under a tent to give you some shade and take a break from the activities. The food prices and selection weren't too bad but you could always bring some food with you if you wanted too.
4. Photos: They have professional photographers that will take you picture in front of Thomas and on the train ride, etc but the lines are long (and didn't even look to see what the prices are). I found I was able to get pretty good photos on my own. To get a great photo of Thomas, walk down the track a little right before he pulls into the station for one of the other train-rides! You can stand right next to the track and there are a lot less crowds!
5. Strollers: Many of the activities are outside around the train station grounds and it's pretty crowded so unless absolutely necessary, I'd say skip the stroller. Plus you won't be able to bring it on the train-ride anyway.
6. Gift Shop: Inside the train station there is a model train display, but it's mostly set up as a Thomas gift shop and gift shop for the Kentucky Railway Museum. Be prepared for lots of toys! Once I set some limits on what we could and could not buy we were fine. But of course my son saw the Thomas balloons they were selling outside and had to have one…and they were $10 each!
7. Drive: For those who haven't been there before, it's a bit of a drive from Lexington so be prepared and leave early enough to get there so you don't miss your train time!
8. Parking: Plenty of parking at the Kentucky Railway Museum and they take a donation that goes to a local charity who helps! When we went, there was a local football team helping and taking donations so I was glad to donate!
9. Stay cool! It's hot out there and most of the activities are outside but there are a couple of things inside like the Gift shop and the Video. Duck into those when you need a break from the sun and heat!
10. Have fun! I was really glad we went and my son had a blast!
-Lex Fun Contributor, Jen
For current ticket information click HERE!