The 2020 Reds Caravan presented by the Cincinnati Regional Tourism Network kicks off Thursday, Jan. 16 with four tours that will make stops in five states over three days.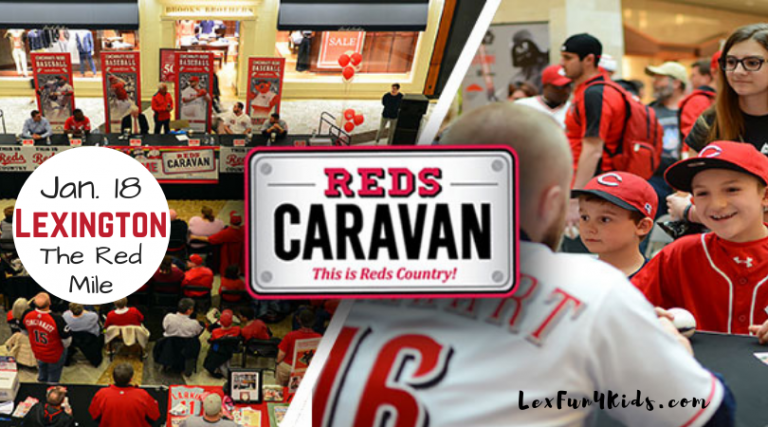 The Reds Caravan provides fans of all ages with the opportunity to interact with current and former players, top minor leaguers, broadcasters, members of the Reds front office and mascots. At each of the stops, the groups will field questions and sign autographs while time allows.
Among the attendees expected for the 2020 Caravan are Reds Manager David Bell, 2019 All-Star pitcher Luis Castillo, catcher Tucker Barnhart, outfielder Aristides Aquino, pitchers Lucas Sims and Amir Garrett infielder Josh VanMeter and more.
The full list of attendees for each tour group and times of the stops will be announced in early January.
North Tour
Thursday, Jan. 16 – Columbus, OH (Polaris Fashion Place)
Friday, Jan. 17 – Lima, OH (Apollo Career Center)
Saturday, Jan. 18 – Dayton, OH (National Museum of the U.S. Air Force) & Hamilton, OH (Parrish Auditorium)
South Tour
Thursday, Jan. 16 – Louisville, KY (Louisville Slugger Field)
Friday, Jan. 17 – Bowling Green, KY (Greenwood Mall) & Nashville, TN (CoolSprings Galleria)
Saturday, Jan. 18 – Lexington, KY (The Red Mile)
East Tour
Thursday, Jan. 16 – Athens, OH (Athens Community Center)
Friday, Jan. 17 – Charleston, WV (Charleston Town Center)
Saturday, Jan. 18 – Parkersburg/Vienna, WV (Grand Central Mall) & Huntington, WV (Huntington Mall)
West Tour
Thursday, Jan. 16 – Muncie, IN (Stoops Automotive)
Friday, Jan. 17 – Evansville, IN (Eastland Mall)
Saturday, Jan. 18 – Indianapolis, IN (Castleton Square Mall) & Batesville, IN (Southeastern Indiana YMCA)
Representing the Reds farm system on the Caravan will include Jonathan India, Michael Siani, Narciso Crook & José Garcia.
All Caravan locations, times and participants are subject to change.
The Reds Caravan will also visit over 20 Reds on Radio affiliates as well as schools, businesses and hospitals throughout Reds Country.