Experience the Magic and Wonder of Christmas at the Galt House Hotel 2016!
---
MONDAY – SATURDAY 10:00 a.m. – 8:00 p.m.
November 18, 19, 25, 26
December 2, 3, 5 – 10, 12 – 17, 19 – 23
---
MONDAY – SATURDAY 11:00 a.m. – 7:00 p.m.
November 17, 28 – 30
December 1
---
SUNDAY 12:00 p.m.- 6:00 p.m.
---
Christmas Eve 12:00 p.m.- 6:00 p.m.
CLOSED Thanksgiving Day & Christmas Day
CLOSED November 21-24
---
2016  brings a complete transformation of Christmas at the Galt House Hotel that will delight all the senses!
Guests will be greeted with an ALL NEW Larger-than-life luminary show KaLightoscope, the spectacular Winter WonderLane, the Holly Jolly Elf Show, an English Village highlighting animated figurines, Gingerbread House Contest, Dancing Bellmen, shopping and much more!
Highlights Include:
KaLightoscope Luminaries
Christmas at the Galt House Hotel is celebrating its 7th magical year with a brand new highlighted attraction KaLightoscope: 12 Days of Christmas. Starting with a partridge in a pear tree, past turtle doves and French hens, through golden rings, over a bridge of swans a swimming, with the last stop being 12 drummers drumming. All 12 days will be featured with the larger-than-life silk luminaries handcrafted by Chinese artists from Zigong, China.
Holly Jolly Elf Show
Join Santa's Elves as they rock around the Christmas tree! Kids will have a Holly Jolly good time as they sing and dance to traditional Christmas songs.
Winter WonderLane
Take an enchanted stroll down the Winter WonderLane! Whimsical trees and sparkling lights will dance above as you wind down the Winter WonderLane to a fairy-tale gazebo, where you'll find a magical mistletoe. Make your Christmas wish and seal it with a kiss (or a selfie) underneath the mistletoe.
Watch as our magician Don Baggett dazzles you with tricks, but they're not up his sleeve! Maybe you can be his assistant as he shows the audience all the fun that Christmas magic brings!
Gingerbread House Contest
Christmas at the Galt House Hotel Gingerbread Contest is back with opportunities to win big money by showing off your creativity. Amateurs and professionals alike should put their baking hats on—there are cash prizes on the line. Click for specific rules and regulations. Click to register online or download an entry form. The deadline to enter is November 6, 2016 at 5 p.m. Completed Gingerbread Houses must be dropped off on November 7 – 11, 2016, from 9 am to 5 pm.
Christmas Village
Explore the village where kids will have an opportunity to mail their letters to Santa at the new post office and take part in many other activities.
Dancing Bellmen
A favorite of hotel guests and community members alike, the Dancing Toy Soldier Bellmen will be back to show off their new dance moves. The bellmen will perform the Countdown to Christmas Dance every night at 5:00 to keep Santa and his elves on track making their presents so the Jolly Old Elf can deliver them to all the good little boys and girls on Christmas Eve.
Snow Fairy Princess & the Snow Fairy Castle
A perennial favorite, the Snow Fairy Princess is back. You'll find an activity for all ages—Make a Flake.
Santa's Sleigh Green Screen Experience
Jump in the sleigh and help Santa deliver presents with the magic of a green screen. You will receive video of your family inside Santa's sleigh in your email and can share it on social media. Learn more.
Snow Play- Create your Own Snowman
Build, dress, and decorate your own snowman and take pictures with him! Then, move into the snow play area and enjoy the white stuff without having to go outside in the cold.
Peppermint Express Kiddie Train
The Engineer greets all the kiddos who are always eager to jump on the train and ride through the Candy Cane Forest, a playful area full of enchantment that will fascinate guests from young to old.
Light Up Louisville
Christmas at the Galt House Hotel is proud to be a partner of Light Up Louisville. Light Up Louisville features a day full of fun holiday activities on November 25, 2016, including the parade and lighting of the city Christmas Tree. For more information, on Light Up Louisville, please visit www.lightuplouisville.org
Lex Fun 4 Kids Review
My family made the short drive from Lexington to Louisville to see the Christmas at the Galt House attraction. What a fun event! There are so many attractions to see with lots of hands-on activities to keep the little ones active and entertained.
We started with the Peppermint Express. Children under 54" can ride a fun, miniature train ride through the North Pole. My daughters are nine and although they both almost exceeded the height limit, they thoroughly enjoyed ringing the train's bell and waving as they passed by others waiting in line.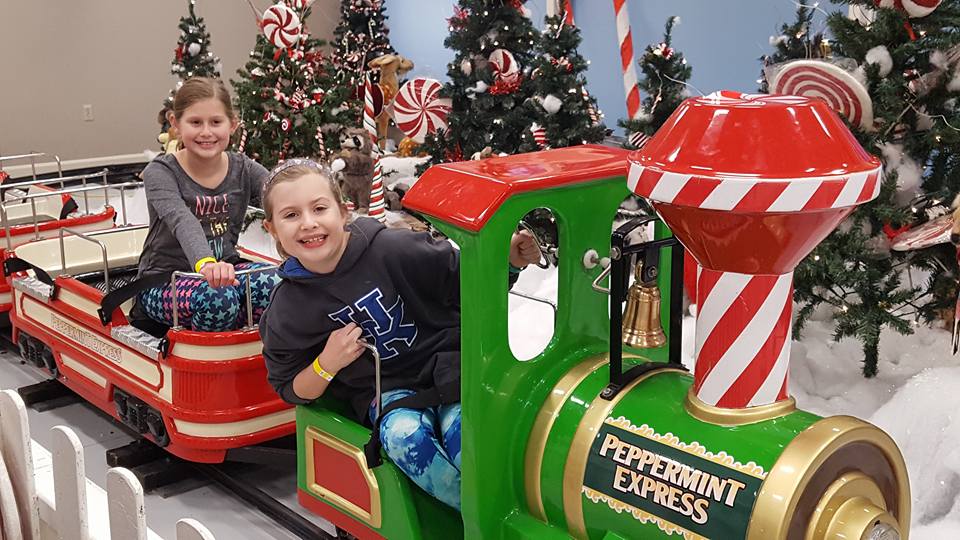 Next was the Holly Jolly Elf Show where four of Santa's elves sing and dance and get everyone in the holiday spirit. The show only lasts about 10 minutes and was super entertaining for adults and children, alike.
Our next stop was to admire the Gingerbread Village, with all kinds of amazing (and edible!) creations from a fairy village, a treehouse, church and even a life-sized gingerbread home. I can only imagine the number of hours it took to create these beautiful displays and the details were so intricate and realistic. For a nominal fee, you can also decorate holiday cookies and make your own hot chocolate with all types of sweet treats.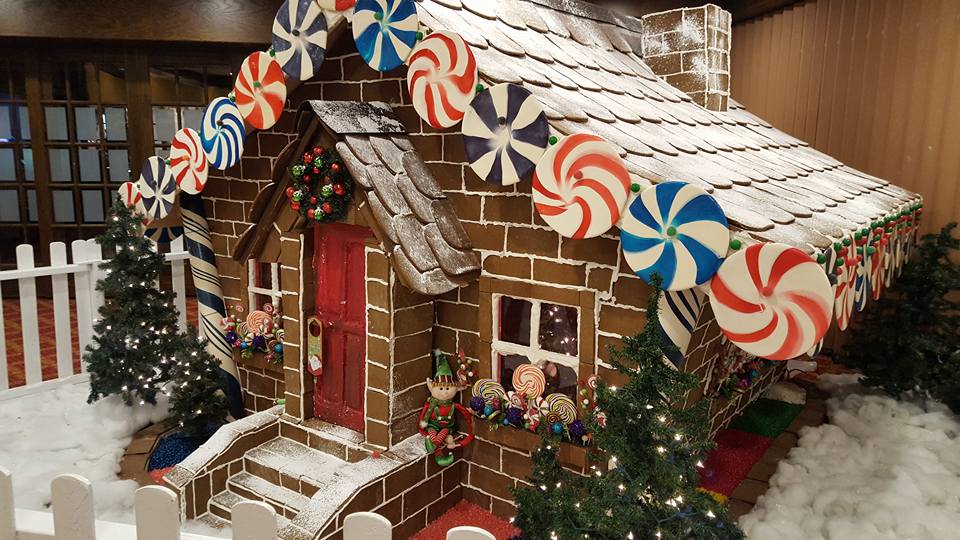 Then it was on to the KaLightoscope display, which takes place outdoors, but is 100% covered from the weather. A light jacket might be a good idea, just in case the weather is chilly. The display featured huge, brightly colored displays of the holiday classic, The 12 Days of Christmas. From 12 swans-a- swimming to a partridge in a pair tree, this section was filled with all the parts of the song, complete with music at each section you're viewing. My kids wanted to run through to keep seeing each section had in store, but it was great for adults to quietly wander and view all the two-story balloon-type displays.
Next you'll enter back into the hotel and view the Winter Wonderlane, where children can build a snowman, create snowflakes or write letters to Santa and draw pictures for him on the walls. Santa's mailbox was already filled with holiday orders! As you continued down the walk viewed the Christmas Village, similar to giant dollhouses, were homes that have doors you can open and windows you can peek into to see cute holiday vignettes. We also met a beautiful Snow Queen at the Snow Fairy Castle and were thrilled to take our picture with her.  There were also games you could play called Pick-A-Present and the Reindeer Ring Toss, along with a face painting station, all for an additional fee.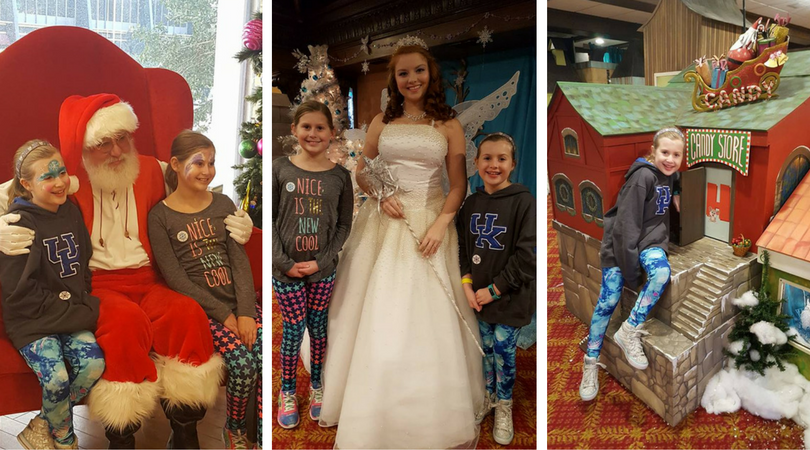 The last event we enjoyed was on Santa's Sleigh Green Screen where you get to ride in Santa's sleigh and can see yourself on the screen flying throughout downtown Louisville. There are props to put on and the kids had a great time seeing themselves on camera.
Although you can meet Santa at the very beginning of the displays, we decided to save the jolly old elf until last. Lines were very short and the kids were able to hop right up and share their holiday wish list. Professional pictures are taken for purchase, but you can also take photos with your cell phone.
It was a fun afternoon adventure for our family and a great day trip if you want to get out of town. There were other shows that took place including the Dancing Bellman and Mint's Dance-a-Long, along with the Strolling Carolers. Take a trip over to Louisville and see some fun sights at The Galt House for yourself.
Lex Fun 4 Kids writer, Mandy