Announcing Celebrity Curtain Call ALL STARS –
Celebrating ten years of Lexington Children's Theatre's beloved one-night-only event!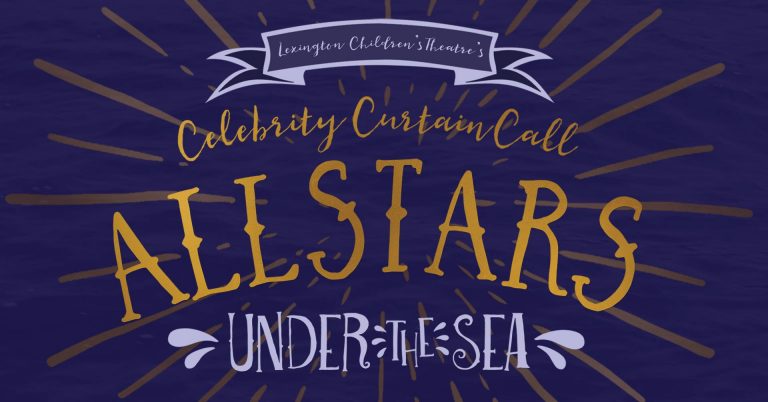 Saturday, April 14th at 6:30pm at Lexington Children's Theatre
Take a trip under the sea and enjoy a reception with a delicious spread from Azur, Brasabana, and Puccini's, desserts from Crank & Boom Craft Ice Cream, and drinks from Kentucky Ale, Ale-8-One, and Blanton's Single Barrel Bourbon. Your ticket includes unlimited munchies as well as two drink tickets and two bourbon tasting tickets. Don't miss our live and silent auctions featuring trips to New York City, the Bahamas, and much more!
Not your typical LCT show, Celebrity Curtain Call features local celebrities performing The Little Mermaid! And in celebration of the 10thanniversary of this amazing event you'll see our ALL STAR CAST packed with Celebrity Curtain Call alums take the stage for one night only!
Your contribution to LCT will help bring the magic of theatre arts to over 130,000 children per year throughout the Commonwealth and beyond.

Meet the ALL STARS:
Jay Alexander – 107.9 The Beat Radio Station
Peter Baniak – Lexington Herald-Leader
Amy Carrington – Commerce Lexington Inc.
Clark Davis – University of Kentucky Opera Program
Colmon Elridge III – International Coach Federation
Ken Gish – Stites & Harbison PLLC
Linda Gorton – Former Lexington Vice Mayor
Toa Green – Crank & Boom Craft Ice Cream
Kate Horning – A Healthy Passion
Lori Houlihan – Office of the Mayor
Stuart Hurt – House
Ann-Phillips Mayfield – The Urban Groupe
Allen McDaniel – Lexington Clinic Foundation
David O'Neill – Fayette County PVA
Kelli Parmley – Lexington Public Library
Carrie Patterson – Carpet One Floor and Home
Nan Plummer – LexArts, Inc.
Susan Rayer – Transylvania University
Randolph Tucker Richardson III – Baldani, Rowland & Richardson
Jim Richardson – The Richardson Salsman Group at Morgan Stanley
Andy Shea – Lexington Legends
Kim Sweazy – Toyota Motor Manufacturing, Kentucky
Betsy Waters – LexFun4Kids.com
$85 per ticket or $510 per table.