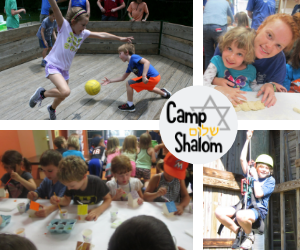 Camp Shalom is the only Jewish summer day camp in the central Kentucky area. Our non-denominational program provides a safe and comfortable setting for children from all backgrounds and streams of Judaism to come together and learn about Jewish culture, history, and identity regardless of their individual background or level of observance. Camp is open to children of all faiths.
3775 Newman Rd / Info: 268-0672
Boys & Girls / Ages 4-12
     Activities are geared to encourage unity, fun, and learning. Each day is filled with arts and crafts, sports, music, water play, storytelling, games, teva (nature), and other special projects. Judaism is woven throughout the program which, among other Jewish concepts, focuses on three main ideas: Torah (Jewish text); Avodah (work); and Gemilut Chasidim (acts of loving kindness).
     Campers entering grades 2 through 6 also have the option to add an extra mini-overnight session week in August! This was a big hit last year and we are excited to do it again.
     NEW this year:  Swim afternoons, twice per week of day camp. We'll take the kids out for some swim time.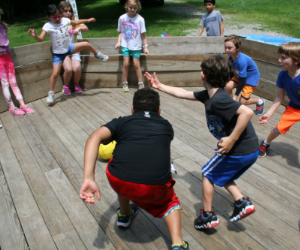 Camp Units by Entering Grade Level (in August 2019):
Ofarim (The Deer) – Pre-K, Kindergarten
Soussim (The Horses) – Kindergarten, 1st Grade
Tsofim (The Scouts) – 2nd and 3rd Grade
Chalutzim (The Pioneers) – 4th and 5th Grade
Gesher (The Bridge) – 6th and 7th Grade
CITs (Counselors in Training) – entering 8th and 9th Grade
CITs and other staff positions are available and require applications. Contact camp@jewishlexington.org for more information about being on our staff.
All Units:
9:00 a.m. – 3:00 p.m., M-F
Bus leaves in town at 8:30 a.m., returns all campers by 3:45 p.m.
Extended day program until 5:30 p.m., M-F (requires min. number of campers)
Session 1 – July 22-26
Session 2 – July 29- Aug 2
Overnight – Aug 5-9
$259/week if registered by March 31
$279/week if registering after March 31
$50/week for extended day program
$400 for overnight
Amy Faust Mayer, Camp Director
Tamara Ohayon, Executive Director
(859) 268-0672
Camp Shalom is sponsored by the Jewish Federation of the Bluegrass, Inc.