My family had a great time riding the rails with Santa Claus at the Bluegrass Scenic Railroad and Museum!  This annual train ride is a great way to experience a unique visit with Santa!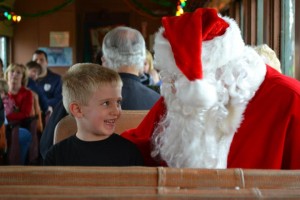 Click HERE for more information on tickets and the current schedule!

We arrived about 30 minutes before our train departed.  They suggest arriving at least 20 minutes prior.  We boarded the train (no assigned seats but they will fill up from one end to the next so they'll let you know where to sit) and had a chance to see the lights and decorations in the train as well as people watch.  So many folks are dressed up in their best Christmas sweaters and even pajamas!
We waited for Santa to arrive and he arrived in style!  He came in on a big red fire engine waving to everyone on board.  He got on the train and made his way through all the train cars to say hi.
The train started moving and then Santa started making his visits with everyone in the first class train.  He made his way into our car and took his seat.  The conductors help everyone get a turn to visit and tell Santa what they want for Christmas and take pictures.  Then he made his way to all the other friends.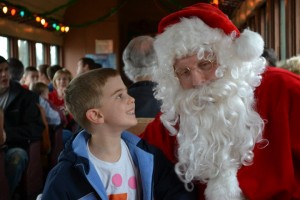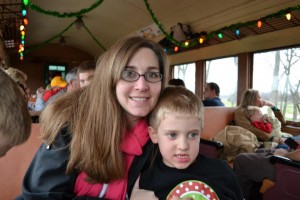 The train ride takes you though scenic horse farms, along rolling hills of bluegrass and it's not at all fast or scary for even the youngest kids.  The other great thing is that the train station is located in Versailles so it's a super quick and easy trip from Lexington or Central KY.
We had a wonderful time and we can't wait to go out again next year.  My 4 year old's reaction to Santa coming into our train is priceless and made for an amazing memory for myself and our family!
-Reviewed by Betsy, 2012