Lexington Children's Theatre has done it again! The cast and crew of "The Little Mermaid" are outstanding and present a show that won't quickly be forgotten. My five-year-old daughter and I attended the opening performance, and we were enthralled. She leaned in a few times and whispered, "Are we really under the sea?" It sure seemed like it!



This version of "The Little Mermaid" is based on the Disney animated film which makes it familiar to many children and less scary than Hans Christian Andersen's original tale. Long adored characters like Flounder, Sebastian, and King Triton join the story and really make the show endearing. There is a slight change in how Prince Eric chooses his bride, but other than that, it's very true to the movie.
Many of the songs are not from the original movie, but not to worry, you'll hear "Part of Your World", "Under the Sea", and "Kiss the Girl" as the night progresses. The voices of the young cast are beautiful and truly impressive.
The costumes must be seen to be believed! They are colorful, creative, and bring such fun to the stage. Jellyfish made of clear umbrellas, Ursula's huge dress, and Aerial's many costumes are delightful. When the entire cast fills the stage for "Under the Sea," we couldn't wipe the smiles from our faces. My daughter kept pointing, "Look, Mommy! A seahorse! A stingray!" I was so impressed by the creativity of the costume designer, Kyle Schellinger. Ursula's electric eels even light up!
Anne-Marie Swisher, a rising senior at SCAPA Lafayette, plays Ariel. Her talent is truly remarkable. She brings Ariel to life and is so charming. She even makes it believable when she becomes human and has trouble using her new legs. Ursula (Kelile Sherwood) and Sebastian (Josiah Howlett) almost steal the show with their voices, talent, and humor. My favorite character was probably Scuttle (Carson Robinson) who performs and adorable seagull tap routine with three other gulls, and my daughter adored Flounder (Joshua Bylund). The cast is packed with talent, humor, and energy that keeps the showing moving and engaging
.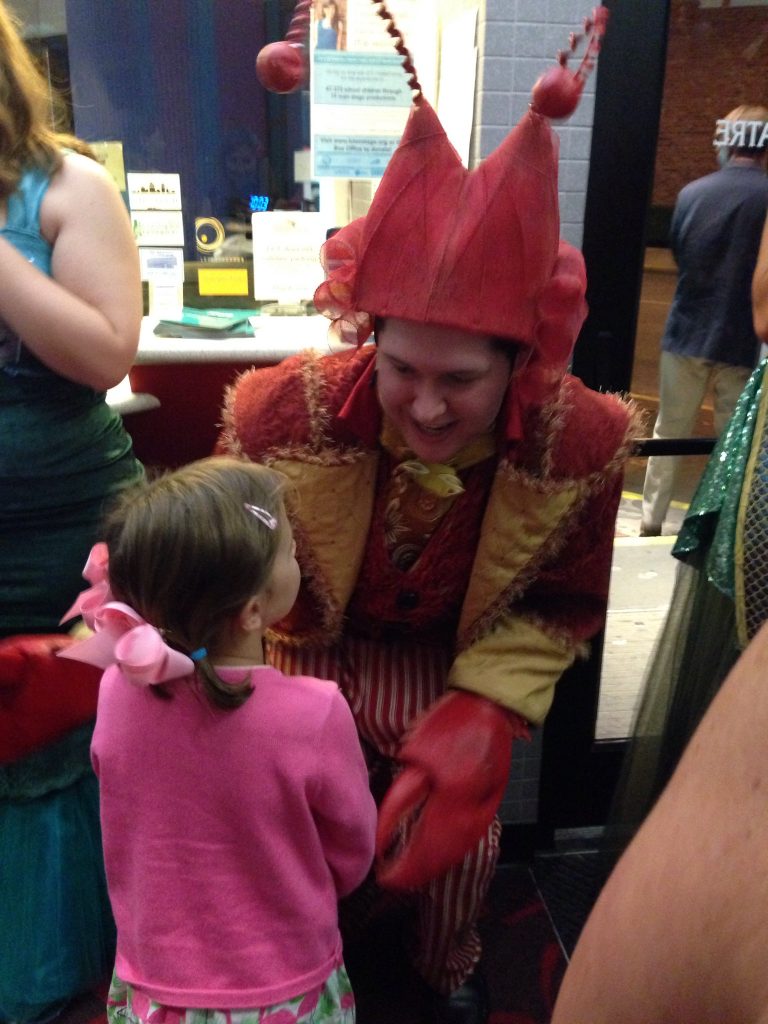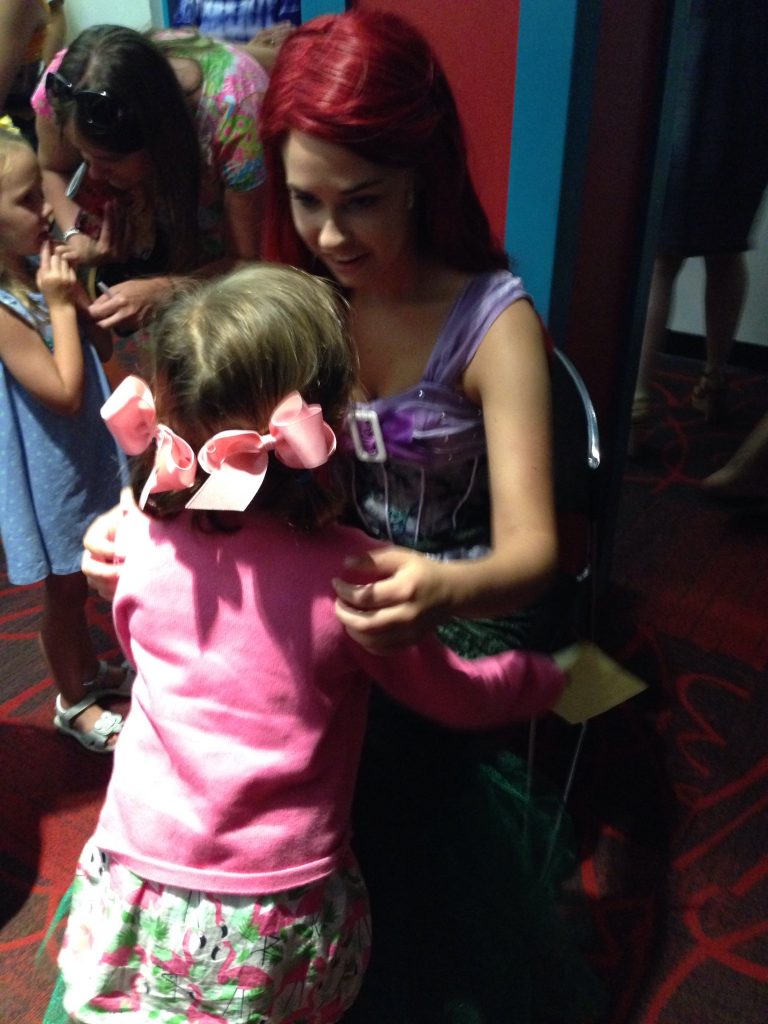 There are a few things to be aware of for younger children or children with sensory issues. As the house lights drop, it gets dark, but is not pitch black. During the storm sequence when Eric falls from his boat, it gets very dark and the lights flash in different colors while loud crashes of thunder boom. They do not use strobe lights, and the whole event lasts less than a minute. Similar effects are used when Ariel gets her legs and when Ursula is destroyed. Each of the three incidents is short and my child recovered quickly, but it's worth mentioning ahead of time to a child who is anxious in the dark or dislikes loud noises. There are also moments in the second act when Ariel has lost her voice, but sings her thoughts. Older children would likely understand this, but my daughter was a bit confused.
I was expecting about an hour performance which is typical for LCT. "The Little Mermaid" is two and a half hours long. It moves quickly and is extremely entertaining. However, because the show started at 7:30pm, we were well past bedtime by the end. Had I realized, I would have made sure my daughter napped that day. If you are taking a younger child, I suggest booking an afternoon performance if possible. In addition, food and drink are not allowed in the theatre. So, plan snacks accordingly. There is a 15 minute intermission and snacks are sold then.
Be sure to stop by after the show to meet the amazing cast and take some quick photos!  It will be a great way to remember the costumes and have your child light up when they meet their favorite characters.
We enjoyed this show tremendously and can't wait to return to LCT for "Fancy Nancy" in September!
Important Tips
• Doors open thirty minutes before the show.
• There is not a bad seat in the house. If you need handicap seating, just let the box office know. There are plenty of seats reserved, but most of the seats require climbing stairs.
• The theatre is VERY cold. Bring a sweater for you and your children and consider wearing pants.
• If your child needs a restroom during the show, you can exit to the top of the stairs and return during the show. After all, it's a children's theatre. They understand!
• This show is really long (2.5 hours). So, if you have younger children, plan accordingly for naps and snacks!
• There is a 15 minute intermission. Snacks and drinks are sold during this time.
• Merchandise is available in the lobby as you enter. It's a small booth and is easily avoidable if you aren't interested. However, the prices aren't outrageous if you feel like treating your little one to a memento.
-Lex Fun Contributor, Katie