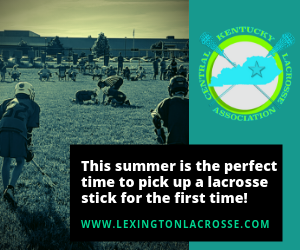 June – July '19 // Youth Boys' Rec League (Ages 6-12)
This summer a new, rec-league for the Lexington area is set to kick off for CKYL. Registration will open May 10.
DETAILS
Who: Boys age six (6) through 12 split into three divisions (U8, U10, U12)
When: Starting June 24th, Monday evenings, Saturday mornings for 7 weeks.
Where: Shillito Park
Cost: $100
LEAGUE FORMAT
Teams: Split up randomly and paired with a coach like most any rec league you may have participated in.
Mondays: Academy night for all kids in the program to get instruction from coaches. One hour per age group (U8, U10, U12)
Saturdays: Games in US Lacrosse format. (U8 – 4v4, U10 – 5v5, U12 – TBD)
Equipment needed: lacrosse helmet, lacrosse elbow pads, lacrosse gloves, lacrosse shoulder pads, and a boys lacrosse stick.
Your registration for the summer rec league will include: CKYL sublimated reversible pinnie/jersey, Monday night instructional times for an hour (7x), 7 games
GEAR
If you want to get ready for the season and it's your first time playing pick up your gear here: https://www.sportstop.com/mens-lacrosse/protective-gear/starter-sets
If you think you can't afford the gear we've got an option for you! Reach out to FOR KEEPS LACROSSE for help getting gear. Contact Brandon Marshall, President of For Keeps Lacrosse, Inc., at brandon_marshall@msn.com.
OTHER INFORMATION
US LACROSSE NUMBERS are required for each player at this level and can be acquired at the beginning of this registration.
We look forward to seeing you on the field soon! Registration or questions please contact Josh Stewart under the Board members tab by clicking here.
Please read through each page carefully to ensure that all information is provided accurately. 
---
May – July '19 // Brave Girls' Youth Lacrosse
Youth lacrosse for girls for the first time ever! Registration is open now. Click the button below. 
June 10-14, '19 // LCA Summer Camp