Still They Persist:
Touring exhibition of political posters aims to keep the voices and images of resistance from the women's mark circulating in the public sphere.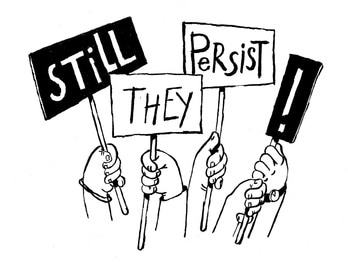 A recently formed group of socially minded members of the Cincinnati arts community calling themselves FemFour has launched a touring exhibition of politically charged signs from the internationally observed Women's March of 2017. Lexington Art League will host this private collection of ephemeral works from July 28 through August 13, celebrating the exhibition's opening on the 28th from 6-9pm with a reception.
With the aim of keeping the words and images made and deployed by human rights advocates who took to the streets of cities around the country this past January circulating within the public sphere, FemFour has put together a traveling archive of posters and placards, sculptures, textiles, and photo documentation from the day entitled Still They Persist: Protest Art of the 2017 Women's Marches.
As part of this project, FemFour will also document, in published form, these artworks made, held or worn as temporary objects of resistance by artists and amateurs alike. In doing so, the FemFour hopes that the artifacts included in Still They Persist might serve as an ongoing visual demonstration: a chorus of wavering yet insistent voices in the street that represent the plurality of postmodern feminism, and can speak to the varying facets of human rights injustices currently being debated in state and federal
legislatures around the country.
"Whereas one of the criticisms leveled at the Women's March on Washington was that the movement lacked a single issue and thus was too broad-based, we see this dynamism as a strength: a reflection of our expanded understanding of the various intersections related to issues of social injustice," said members of FemFour. This collection of powerful imagery and words speaks to the very essence of what true freedom might look like for every American. With that in mind, Still They Persist: Protest Art of the 2017 Women's Marches will be continually reframed and re-contextualized as it travels.
The exhibition is currently slated for stops at Wave Pool Gallery, (Cincinnati, Oh: May 20th – June 24th); Lexington Art League,
(Lexington, Ky: July 28th – August 13th); and the Contemporary Arts Center (Cincinnati, Oh: Oct. 9th – 22nd). More locations throughout the country are tentatively being scheduled.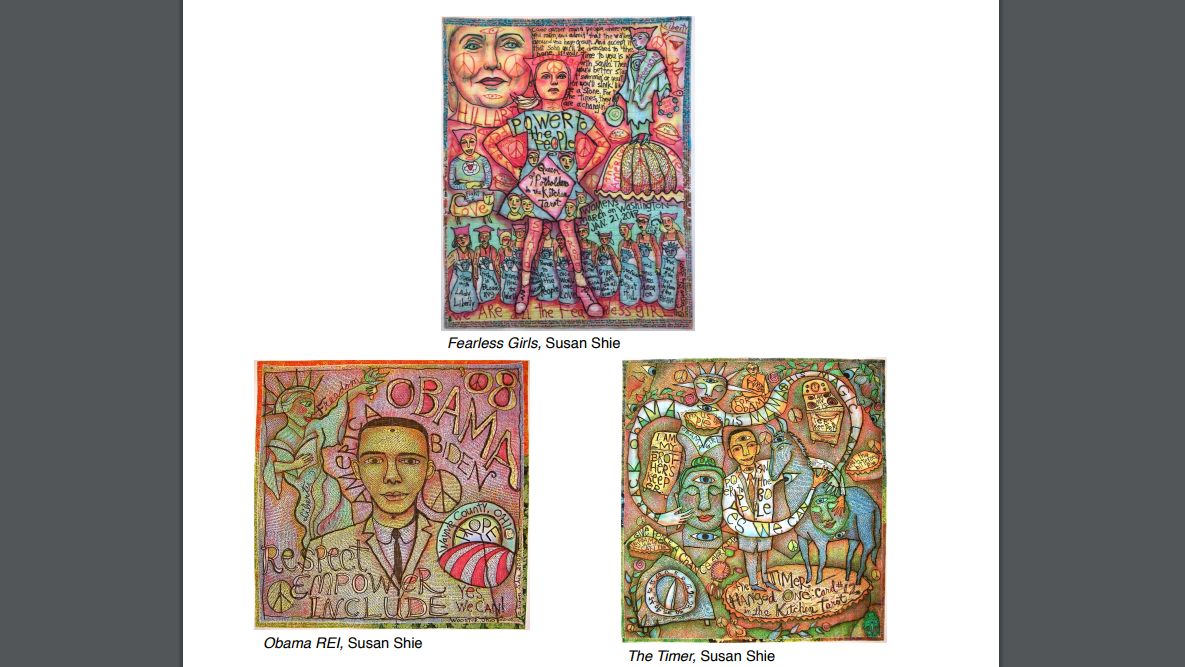 "LAL is honored to present this amazing collection of works created by incredible activists from across
the country," said LAL Executive Director Stephanie Harris. Contributing artists to Still They Persist include: Rebecca Allan, Inna Babaeva, Hannah Barnes, Colin C. Boyd, Carolyn Crump, Skylar Davis, Tracy Featherstone, Micol Hebron, Sylvia Hernandez, Tierney Davis Hogan, Lizzy DuQuette, Donelle Estey, Gigi Gatewood, Christine Dianne Guiyangco, Colleen Kelsey, Julie Mader-Meersman, Dr. Carolyn Mazloomi, Ayisha Kishili Miller, Ed Johnetta Miller, Suharu Ogawa, Melanie Oliva, Migiwa Orimo, Dakota Rais, Heather Lea Reid, Jacinda Russell, Susan Shie, Sara Sandman, Keer Tanchak, Wendy White, Felicia Young, & others.
Still They Persist will coincide with the opening of the inaugural year of Castlewood Downs on July 28th. Castlewood Downs, an outdoor sculptural exhibition in Castlewood Park co-presented by LFUCG Parks & Recreation, aims to establish a larger, community wide Public Art Program that will be a consistent source of creative discovery for the great Lexington region. This biennial call for artists will broaden the reach of LAL's mission by dissolving barriers of accessibility to art.
On July 29th, Susan Shie will conduct a full day drawing class from 10 am-4 pm. Susan is the recipient of numerous Awards of Excellence from the International Quilt Surface Design, presented by the Ohio Designer Craft Museum, Columbus, OH.
During the class students, will work with simple drawing tools and will begin the session making drawings that are easy to create. Students will be encouraged to love the individual look of their own drawing style and to abandon their need to draw perfectly or realistically. Susan's teaching style is deeply rooted in play, reminding students that creativity is a natural human instinct. To learn more about the artist, visit www.turtlemoon.com. Admission for the full day workshop is $75 and is limited to 20 participants; members of LAL receive a 10% discount on registration. Tickets available online at http://squ.re/2tlXf1U. Participants should plan to bring their own smart phone or tablet as well as personal photos. Lunch and refreshments will be provided. Shie will also be leading an online 4-week drawing class allowing participants the opportunity to engage
with Shie's unique way of teaching in an accessible, equally as interactive way. Registration for the event is available online at http://bit.ly/2sQSgTh.
About Susan Shie
Susan Shie lives in Wooster, Ohio with her husband Jimmy Acord. Shie, born in 1950, holds a Master of Fine Arts
degree from Kent State University School of Art [1986, painting] and a BA from The College of Wooster (1981,
painting, Phi Beta Kappa.) Her medium is quilted narrative paintings, a form of art quilts, which are time capsules
of current events and her own diary musings, often created within the context of her epic Kitchen Tarot project
(1998 to 2024.)
Shie has received two NEA Grants (1990-1 and 1994-5), four Ohio Arts Council Individual Artist Grants (most
recent in 1998) and Artist in Residences in New York City, China, Ireland, and Alfred University in Alfred, NY. Shie
received a $50,000. Major Artist Fellowship from The Ohio Arts Council and NEA in 1990-91. She won the "Best
of Show" award in 1987, at the first of her 13 Quilt National exhibitions. She was given the Teacher of the Year
2008 award by Professional Quilter Magazine.
About LAL
Lexington Art League is a visual arts organization who envisions a world where art, artists and art-making are
central to human inspiration, self-realization and meaning. Their mission is to challenge, educate, and engage
their community through visual art and the advancement of local artists. They present visual art exhibitions at the
Loudoun House gallery in Castlewood Park. They are deeply invested in supporting their North Lexington
neighbors by providing free and inclusive programming opportunities designed to remove barriers of access to
visual art for all members of the community.