Main Event Entertainment – Lexington the most FUN you can have under one roof. Main Event is THE dining and entertainment destination that offers more ways to have family FUN than you can pack into one visit!
No matter what your age, there's something for everyone at Main Event! Attractions include state-of-the-art bowling, multi-level laser tag, an arcade games gallery featuring more than 100 of the latest interactive video games and more!
Savor our chef-inspired casual dining experience – with delicious shareables like wings, loaded nachos or oven-baked artisan pizza in a full-service American-fare grill – or enjoy handcrafted cocktails, craft beers, expansive variety of wines in a high-energy bar surrounded by big screen TVs.
Check out the Grand Opening Celebrations planned!
---
Review of the NEW Lexington Main Event
Main Event packs in the fun all under one roof! My kids recently got to visit and get a sneak peek at all the exciting attractions offered at the Lexington Main Event! From bowling and games to laser tag and VR fun they had a blast! There is something for everyone even the grown ups!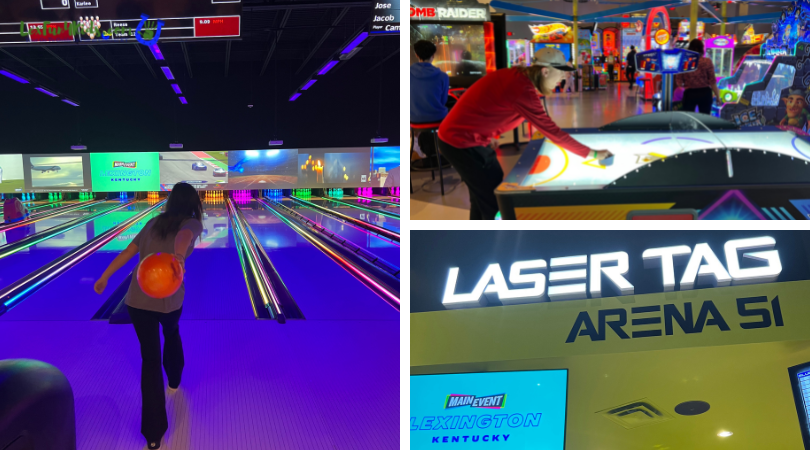 We kicked off our visit with a trip to the bowling lanes. There are multiple lanes with fun lights, tv screens, cool bowling balls that seem to glow in the lights as well as comfortable seating and tables for enjoying drinks or food. The bowling lanes feature touch screens that you can select from a variety of different fun bowling games. There's more than just your 'regular' bowling!
We then moved on to the arcade area where there are multiple air hockey tables as well as a Laser Tag Arena. The laser tag game lasted around 8 minutes and they had fun checking their score at the end. Kids do need to be 48″ to play laser tag.
Pro Tip! Laser Tag can get busy! Sign up for your laser tag time and then report back when it's time for your game.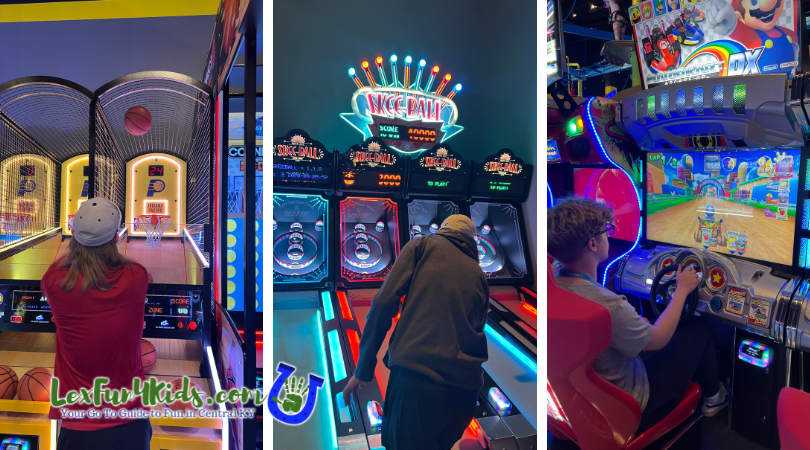 There are great arcade games to enjoy. Most games seem good for elementary kiddos and older (even adults!). There are the favorites like Skee Ball and Pop a Shot but also new ones like an axe throwing game (it's a plastic axe) and a baseball pitching game that tracks how fast you threw the ball. That was one of my teenage boys' favorites! They enjoyed lots of racing games, like Mario Kart, that you can compete with others on or have your own fun and play solo.
You can't miss the Gravity Ropes! They are bright blue and span the top of the arcade area. Kids of all ages and even grown ups can hook up and have some fun traversing the various challenging crossings and then finish with a zip across to the finish!
There's a great restaurant on site with a bar as well. The bar features multiple tvs as well as a great cocktail menu. The restaurant menu has burgers, pizza, salads, and even some cool family feast ideas. You can share these feasts with a family of 4-6 with a variety of options like nacho feast or a classic feast with pizza and boneless wings.