Mark Your Calendars!
The 2022 Her Knight father/daughter dance will be: Friday, February 4, 2022 and Saturday, February 5, 2022 at Keeneland's Keene Barn & Entertainment Center.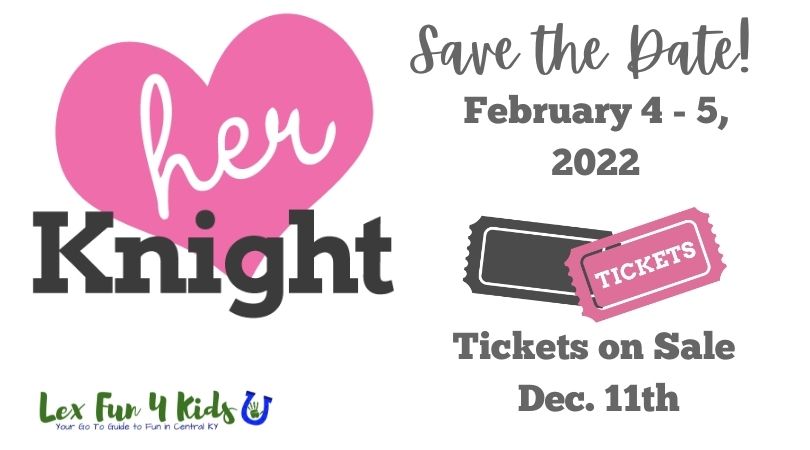 Ticket sales for the 2022 Her Knight Dance will begin at 10 AM on PINK SATURDAY – Saturday, Dec. 11, 2021! With the support of incredible sponsors, Her Knight is so excited for the opportunity to return to an in-person dance. You can expect a few modifications to adapt to Covid-19 safety protocols, but they're doing their best to provide the dance experience you've come to love.
Be sure to mark your calendar for Pink Saturday, Dec. 11th, and grab your tickets quickly! Once they're gone, they're gone! Tickets will be sold exclusively on the Her Knight website.

5 Dance Sessions to Choose From!
2022 Her Knight Dance Sessions:
Friday, Feb. 4 from 4:30-6 PM
Friday, Feb. 4 from 7:30-9 PM
Saturday, Feb. 5 from 1:30-3 PM
Saturday, Feb. 5 from 4:30-6 PM
Saturday, Feb. 5 from 7:30-9 PM
The early sessions are recommended for younger girls, but all sessions are open to girls age 4-12. If your daughter would have "aged out" last year, but still wants to attend, they encourage you to purchase a ticket and make for a special evening of celebration!
Ticket prices are $60 for one dad/knight and up to 2 daughters/princesses and $20 for each additional daughter/princess.

Pearls of Wisdom for PINK SATURDAY
They've put together a few tips that may be helpful in preparation for purchasing your tickets to the dance. You can read the full tips article here.
If you end up missing your chance for this year, you can join their mailing list and they'll let you know when tickets for the 2023 dance are available, and about future Her Knight events.
Please remember, Her Knight is run solely by volunteers. Thanks in advance for your patience!
Covid-19 Dance Protocols
The health and safety of Her Knight volunteers, staff and attendees is a top priority. With the continued presence of Covid-19, Her Knight is working closely with their partners to host the 2022 dance with a balance of care and caution. Capacity for each session has been reduced and the layout of the event has been modified to allow more spacing for attendees. Session times have been slightly modified to allow for additional sanitizing protocols utilizing electrostatic sanitation technology for high touch surfaces between sessions. Masks are recommended, but not required. Covid-19 event protocols for the 2022 Her Knight Dance are subject to change based on local and governmental guidelines and/or requirements.
Cart Smart: Extra Daughter Ticket Add-ons
Are you bringing more than 2 daughters to the dance? Their standard ticket includes one knight and up to two daughters/princesses, but the more the merrier! When you check out, you'll just need to add an Extra Daughter Dance Ticket ($20 each) for each additional princess to your cart (i.e. 4 daughters, add TWO Extra Daughter Dance Tickets).