Information about registration for the upcoming Fayette County school year.
Registration starts February 6th, 2018!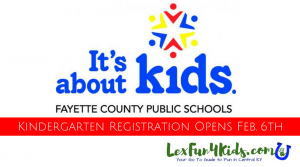 Kentucky law requires children between 6 and 18 years old to attend school, and the birthday cutoff for enrolling in kindergarten is age 5 on or before Aug. 1. Also, families may apply for preschool if their child turns 4 on or before Aug. 1 and is income-eligible. Three- and 4-year-olds who have a special need may also apply for preschool in the Fayette County program.
Sign up for 2018-19
To enroll a new, first-time student in grades K-12, families may begin the process online here. A parent or guardian may also go straight to the school their neighborhood is assigned to and fill out a registration packet. To determine your child's school, which is based on home address, use the SchoolSite Locator tool.
Registration windows: from 9 a.m. to 1 p.m. Feb. 6-23, April 10-27, June 7-8, and July 24 through Aug. 15 (first day of school). Evening sign-up from 5 to 7 p.m. is offered on Feb. 13 and April 17.
Note: The Fayette County Preschool Program has a separate application process; please visit fcps.net/preschool for details.
Please bring the following to registration:
Child's birth certificate or other reliable proof of identity (see below*)
Two proofs of residence, such as a property deed or current lease agreement in your name and a secondary document such as a current utility bill or a current tax bill or receipt
Proof of child's recent preventative health care exam **
Up-to-date Kentucky immunization certificate **
Proof of an eye exam (due by Jan. 1)
Proof of a dental exam (due by Jan. 1)
Court documents pertaining to your child, if applicable
** You may register without these two documents, but your child may not attend school until they are on file with FCPS.
* A legal copy of the child's birth certificate or another official document proving the child's identity and date of birth is required for school registration. Among the acceptable alternatives:
Adoption records;
Valid passport or other federal government identification like a Social Security card;
Military identification or immigration card;
Valid Kentucky driver's license or permit;
Prior school records (other than FCPS) identifying student by name and date of birth; or
Statement: "At this time, I am unable to provide the school with one of the acceptable forms of proof listed above. I understand that this constitutes written notice that Kentucky state law requires that I provide the certified birth certificate or one of the above-listed items to the school within 30 days of student enrollment. If I fail to do so, I understand that I will be reported to local law enforcement or the Kentucky State Police for investigation."
You can get a birth-certificate application from the assigned school or from the Fayette County Health Department, 650 Newtown Pike; call (859) 252-2371.
---
Web tip: The URL shortcut to this page is www.fcps.net/enrollment or www.fcps.net/registration