Many organizations and churches in Lexington and the Bluegrass offer Egg Hunts and other Easter events! If you have one to add please email lexfun4kids@gmail.com
Check back in frequently as more events are added! Click on an event for more information and it will link to their website.
Easter 2022 is on Sunday, April 17th.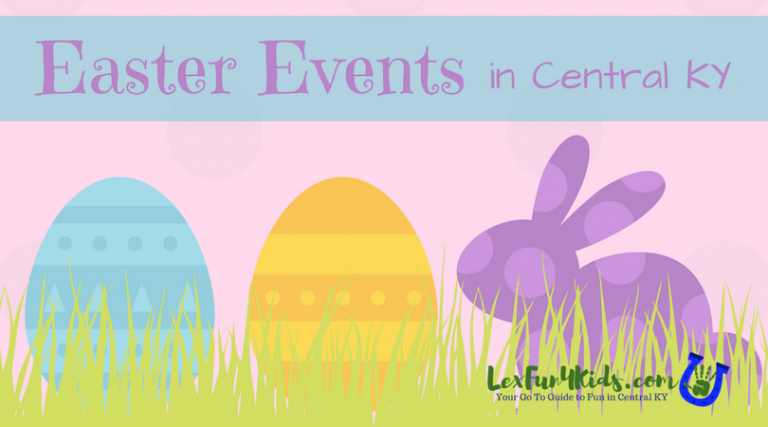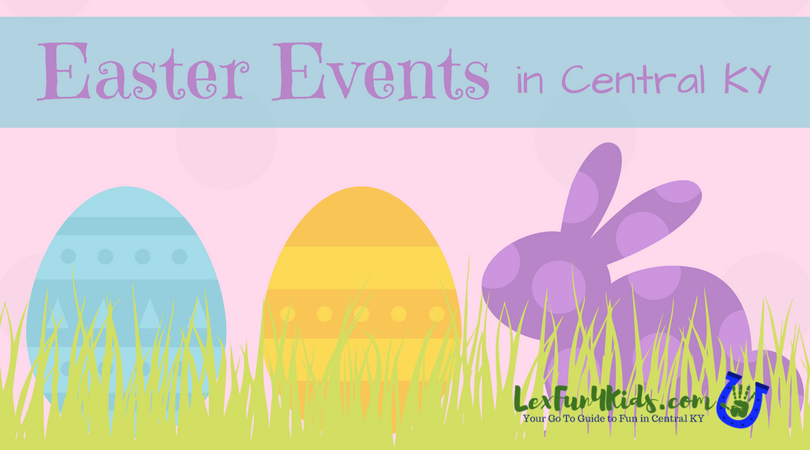 Visit the Easter Bunny
Where is the Bunny?
Dillard's Court

When is the Bunny visiting?
Peter Cottontail is on the move, and he's heading to Fayette Mall! Starting on Friday, March 18th, the Easter Bunny will be in his garden taking adorable pictures with our local families. The Bunny Garden is in the Dillard's Court Monday through Sunday during regular mall hours, from March 18th – April 20th. Please note that Fayette Mall is closed on Easter Sunday, April 17th.
But that's not all! The Bunny invites all his furry, feathered, and even scaly friends to join him for pictures. Pet Photo Nights will be held Monday evenings (Mar 28th & April 4th) during the Easter Bunny's visit, from 4 pm to 7 pm. All pets must be on a leash or in a carrier.
Fayette Mall will also host Bunny Cares, a sensory-friendly event for children with special needs and their families, on Sunday, April 3, 2022 from 9am – 11am. During this time, mall music and lights will be muted and dimmed to allow for a calm environment while visiting with the Easter Bunny. Reservations are required for Bunny Cares and can be made online at https://www.eventbrite.com/e/fayette-mall-bunny-cares-event-tickets-269711463247.
Kids young and old are invited to visit and take pictures at the Easter Bunny's Garden. There are several photo options to choose from and all bunny visitors will also receive a coloring sheet, that your little ones will love to decorate.
How do we visit the Bunny?
Although not required, we strongly encourage all who wish to visit the Easter Bunny to make a reservation, as time-slots are limited (Walk-up visits are available as space permits). Photo Package Pricing info can be found near the end of the page, and reservations can be made using the button below. Personal photography is not permitted.
We all know bunnies are fast, but sometimes you need to be faster!
Reserve a time via the button below:


For more information, visit https://www.shopfayette-mall.com/content/easter#Easter-Top

---
Travis Clark Photography offers Easter Bunny pictures with live bunnies!

April 8 – 16th, 2022
Check website before a visit – you can also book your appointment online!
Customer also manage their own bookings so if you check back often slots may open up as people cancel or move appointment times.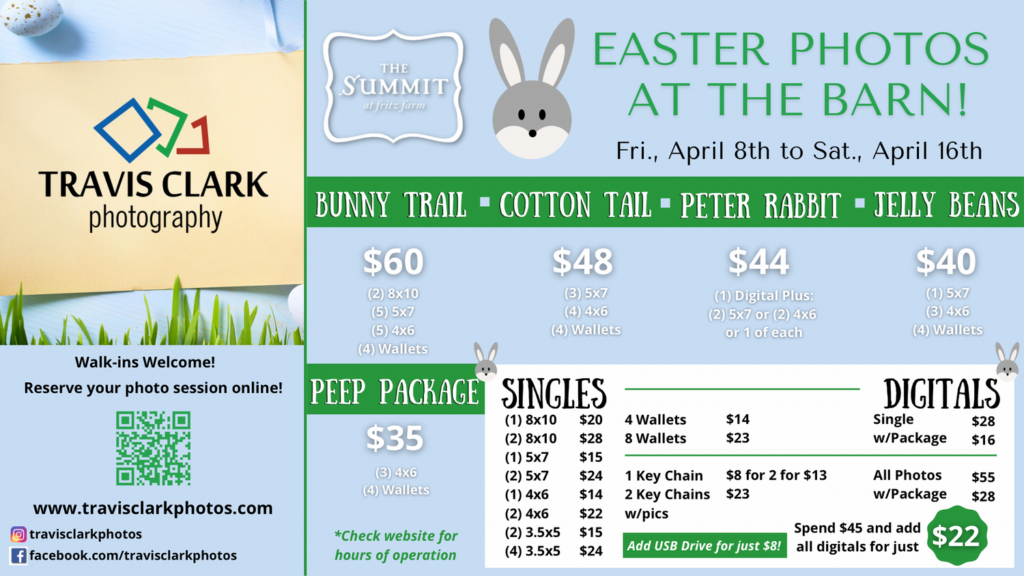 Special Easter Events
Easter Train Rides
Bluegrass Railway Museum
Easter Bunny Train Rides
April 16, 2022 2 pm
Join us for the 2022 Easter Bunny Train! The Saturday before Easter, April 16th, we have invited a furry friend of ours to join us on the train.
"All Aboard for fun!" Everyone enjoys taking turns getting bunny hugs and handshakes. There are plenty of smiles to go around as we head down the tracks this early in spring to see the fresh green leaves and lovely flowers blooming along the way. A treat for the adults, as well. Join us this year with your "some-bunny" special!
---
Kentucky Railroad Museum
Easter Eggspress Train Ride
April 16, 2022
2 pm
MEET THE EASTER BUNNY ABOARD THE EASTER EGGSPRESS!
All aboard the Easter Eggspress! Celebrate the Easter holiday with your family at the Kentucky Railway Museum. Take a fun train ride, enjoy the museum and model trains, learn about the history of the railroad, and best of all — meet the Easter Bunny! Weather permitting, children can enjoy an Easter egg hunt following the train excursion. It's a fun time for everyone in the family, especially the train lovers.

Egg Hunts & Bunny Visits
March 26, 2022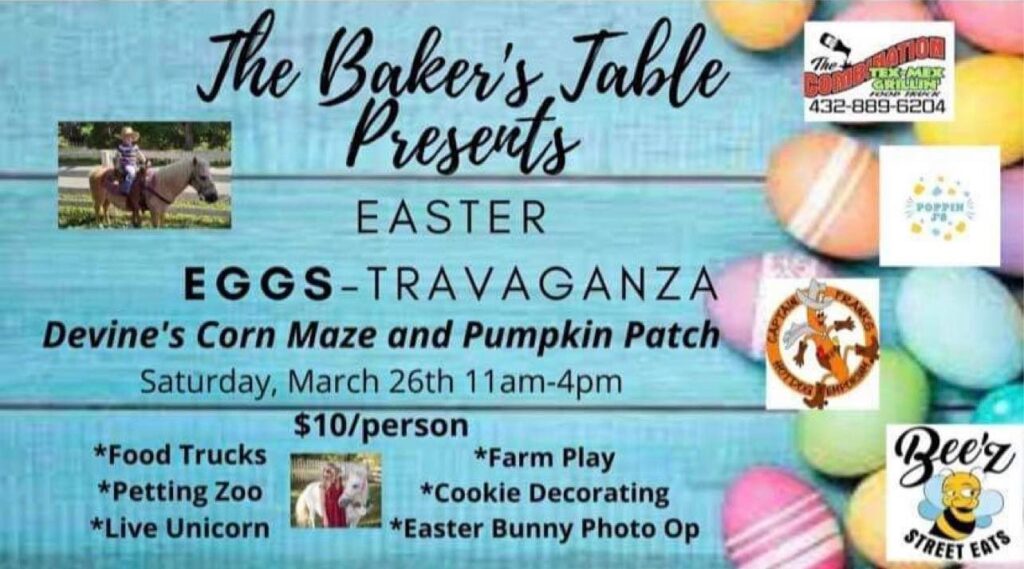 The Baker's Table
Easter Egg-stravaganza at Devine's Corn Maze (Harrodsburg)
Saturday, March 26, 2022
11 am – 4 pm $10
Come out for a day full of farm play! Farm will be open including petting zoo, pony rides and a live unicorn, cookie decorating and Easter bunny photo ops! Your local Food trucks will be on site all day also! Two and under are free! (NO Egg Hunt)
---
April 8 – 10, 2022
Fort Boonesborough State Park
"Eggciting" Easter Fest
Join us for a fun weekend of Easter activities. We will have scheduled times for games, Easter Egg Hunt, a visit with the Easter Bunny, Easter Parade, crafts and lots more. There will be a free continental breakfast of Sunday morning. This event is for registered campers only. For more information email jack.winburn@ky.gov.
---
April 9 – 10, 2022
Eckert's Orchard
Easter Egg-citement
April 9 – 10, 2022
Ticketed times throughout the day each day
Hop on down the bunny trail and fill your basket with fun! Eckert's Annual Egg Hunt, animals for petting, tractor ride around the farm, plant a seed to take home, ice a cookie, duck pond, gift from the bunny, and a free photo scene with the Easter Bunny. Join in on the fun & continue making memories at our farm. $15/child.
---
April 9, 2022
Wildside Winery (Versailles)
Thumper Run Easter Egg Hunt
April 9, 2022
2 pm
Hop on out to Wildside for Thumper Run! This free community Easter Egg Hunt will be fun for adults and littles alike AND provide a chance to visit with the Easter Bunny! Mr. Bunny will be helping us hide 1,000 toy filled eggs across the farm! We'll turn children loose to go find them promptly at 2pm.Our friends from T&Y Party Rentals are bringing out an inflatable for your kids to jump and enjoy as well! Bring your littles, grab a glass of wine and enjoy this day of family fun!
---
April 10, 2022
John Cropp Stadium
UK Softball Egg Hunt
April 10, 2022
1 pm
Fans can enjoy an egg hunt to celebrate the season around John Cropp Stadium as Kentucky hosts Ole Miss for the series finale at 1 p.m. ET.
---
April 12, 2022
Kenwick Community Center
Egg Hunt
April 12, 2022
Visit Kenwick Community Center on April 12 for a fun egg hunt! This free egg hunt is split into two age groups:
6 – 6:45 p.m. for ages 6 and under
7 – 7:45 p.m. for ages 7 through 12
---
April 14, 2022
Telford YMCA Community Center
1100 E. Main St. Richmond KY 40475
Happy Hoppy Easter Party
Thursday, April 14, 2022 5:30-7:30p
$12 Members $15 Non Members
Easter Bunny Pictures, Build Your Own Easter Basket, Easter Egg Hunt and More!!
Call 859-624-9356 to register.
April 15, 2022
Easter Bunny at Re-Kid
April 15, 2022
10 am – 2 pm
Free photos with the Easter Bunny
---
April 16, 2022
Lake Reba in Richmond
Easter Eggstravaganza
April 16, 2022
11 am – 1 pm
The 43rd Annual Easter Eggstravaganza will be on Saturday, April 16th, 2022 from 11am-1pm. The Easter Eggstravaganza will be at the Adult Softball Complex at Lake Reba Park (280 Lake Reba Drive.) The event is free and open to the public and intended for children ages 10 & under.
Activities Include:
Continuous Egg Hunts
Candy
Walk Around Characters
Games & Activities
Concessions
Inflatables
Entertainment & More!
Eckert's Orchard
Easter Egg-citement
April 16, 2022
Ticketed times throughout the day each day
Hop on down the bunny trail and fill your basket with fun! Eckert's Annual Egg Hunt, animals for petting, tractor ride around the farm, plant a seed to take home, ice a cookie, duck pond, gift from the bunny, and a free photo scene with the Easter Bunny. Join in on the fun & continue making memories at our farm. $15/child.
Shaker Village of Pleasant Hill
Easter Egg Hunts
April 16, 2022
10 am – 2 pm (Ticketed hunts from 11 am – 1 pm)
Celebrate spring with this egg-citing family event! Kids ages 12 and under are invited to hunt for eggs, meet the newest additions to the Farm family, make a craft, take a pony ride and much more! Return your eggs to candy stations to receive treats! In addition to our regular egg hunts, your family is invited to participate in the Village-wide golden egg hunt to win a fantastic gift basket! Food trucks will provide a variety of meal options and the Shaker Village bar will be open for adults in attendance. Tickets are limited per hunt time to ensure a good experience for all. The egg hunt field will be divided by age groups during each time. Please bring your own basket. Adult supervision required.
Hamburg Pavilion Event Space (Next to Altar'd State)
Alice in Wonderland and the White Rabbit Easter Tea Party
April 16, 2022
11 am – 2 pm
"It's always tea-time." Follow Alice and the White Rabbit into Wonderland for a tea party! Complimentary mini Crumbl Cookies and Ted's Montana Grill's tea & lemonade will be served at the tea party. There will also be fun, energetic movement techniques taught by Premier Martial Arts.
This is a free, children friendly community event where all ages are welcome. A professional photographer will be on site to take photographs for free of you with the White Rabbit and Alice. Photographs will be available after the event for you to have for free. Don't be late for this very important date!
Downtown Winchester
Easter Hop
April 16, 2022
11 am – 1 pm
Photos with the Easter Bunny, Easter Egg prize drawings, spring specials in downtown shops.
Gardenside Christian Church
Easter Egg Hunt
April 16, 2022
10 am
Open for Ages 2 through Grade 5. Please bring an egg carton, bag or basket for gathering.
Ashland Avenue Baptist Church
Resurrection Rally
April 16, 2022
10:30 am – 11:30 am
Gospel rally time followed by a massive egg hunt with over 5000 candy-filled eggs! Join us for this fun family event for kids up to 5th grade! We will begin with an exciting Gospel rally time in our worship center at 10:30 AM followed by three age-graded outside egg hunts!
Register ONLINE
Elevate Christian Church
Community Egg Hunt at Shillito Park
April 16, 2022
10:30 am
Happy Easter! Hop on over to Shillito Park on Saturday, April 16th and join us in an Easter Egg Hunt. We will be at the shelter next to the playground. Bring the whole family! Cookout to follow!
Broadway Baptist Church
Egg Hunt
April 16, 2022
11 am
12,000+ Eggs! All birth to 5th graders are invited to Broadway's Easter Egg Hunt! Bring your basket – find the winning Golden Egg!
-Petting Zoo
-Two Inflatable Slides
-Mister Softee Ice Cream Truck (for sale)
-Egg Hunting in Age Categories:
· Birth to 2 years old
· 3-5 years old
· 6-9 years old
· 10-12 years old
Bring your children and grandchildren – celebrate Easter Weekend at Broadway!

Parking at Commonwealth Urology
Crosswoods Baptist Church
Easter Trunk or Treat
Saturday, April 16, 2022
11 am – 1 pm
Easter Trunk of Treats at Crosswoods Baptist Church, 4991 Harrodsburg Rd, Nicholasville, on Saturday, April 16 from 11am-1pm. Bounce houses, food and lots of CANDY will be provided!!
College Park (Winchester)
Egg Hunt, Easter Bunny, Inflatables and more!
Saturday, April 16, 2022
12 pm – 4 pm
We are excited to announce an amazing event taking place on April 16th, 2022 at College Park in Winchester, Ky. This is a 100% totally free to the public Easter event. Bring the kids out to play on the inflatables, take pictures with the Easter Bunny, hunt some eggs and enjoy some delicious snowcones! Fun will begin at 12 and egg hunt at 2pm.
Dunbar Community Center
Egg Hunt
April 16, 2022
12:30 pm – 2:30 pm
Visit Dunbar Community Center for a fun egg hunt for children 12 and younger. There will be prizes for whoever finds the gold egg! FREE
Anderson County Extension Office
Easter at the Farm
April 16, 2022
Noon – 2 pm
Egg Hunt at 1 pm, Petting zoo, Easter Bunny photos
---