Many organizations and churches in Lexington and the Bluegrass offer Egg Hunts and other Easter events!  If you have one to add please email [email protected]
Check back in frequently as more events are added!  Click on an event for more information and it will link to their website.
Visit the Easter Bunny
Dillard's Court
Bunny Arrival Party
March 25, 2017  9 am – Noon
Put on your bunny ears and hop over to Fayette Mall to welcome the Easter Bunny in the Dillard's Court!   At 9:00am, enjoy a special storytime with the Bunny.  At 9:30am, kids will learn how to do the "Bunny Hop" along with the Bunny and other special guests including Big L from the Lexington Legends.  Plus, there will be free sugar cookie decorating with Great American Cookies!  This will be a sweet and special morning for kids and parents to celebrate together. We hope to see you there!
Big Blue Bunny Day
Sunday, April 2nd, 3pm – 5pm
Put on your big blue finest and have your picture taken with the Easter Bunny and the Kentucky Wildcat or Scratch
The Easter Bunny will be hopping in to take photos Saturday, March 25 through Saturday, April 15.
Hours
Monday – Saturday from 10am to 9pm
Sundays from 12pm to 6pm
Seeing the Easter Bunny is always free, but if you would like to make a lasting memory and share it with someone you care about click here to learn about the available photo packages.

We all know bunnies are fast, but sometimes you need to be faster. Click here to purchase your FAST PASS today!
April 6 – 15th
Hours
6: 11-7
7: 11-7
8: 10-8
9: 11-7
10: 11-7
11: 10-8
12: 3-8 (No Lunch Break)
13: 10-8
14: 10-8
15: 10-8
Hours subject to change.  Store will be closed from 2:30 -3:30 daily for lunch unless otherwise noted
Located inside The Mall at Lexington Green, on the upper level.   Check our Calendar for hours of operation during that time.  Feel free to book your appointment online by clicking below or contact us today at (859) 983-2630 and remember, walk-ins are always welcome.  

You can book your appointment online CLICK HERE

Bunny Visits
Breakfast with the Easter Bunny at the Bluegrass Army Depot
April 8th 9 am – 10:30 am
*See info on graphic for attendees regarding background checks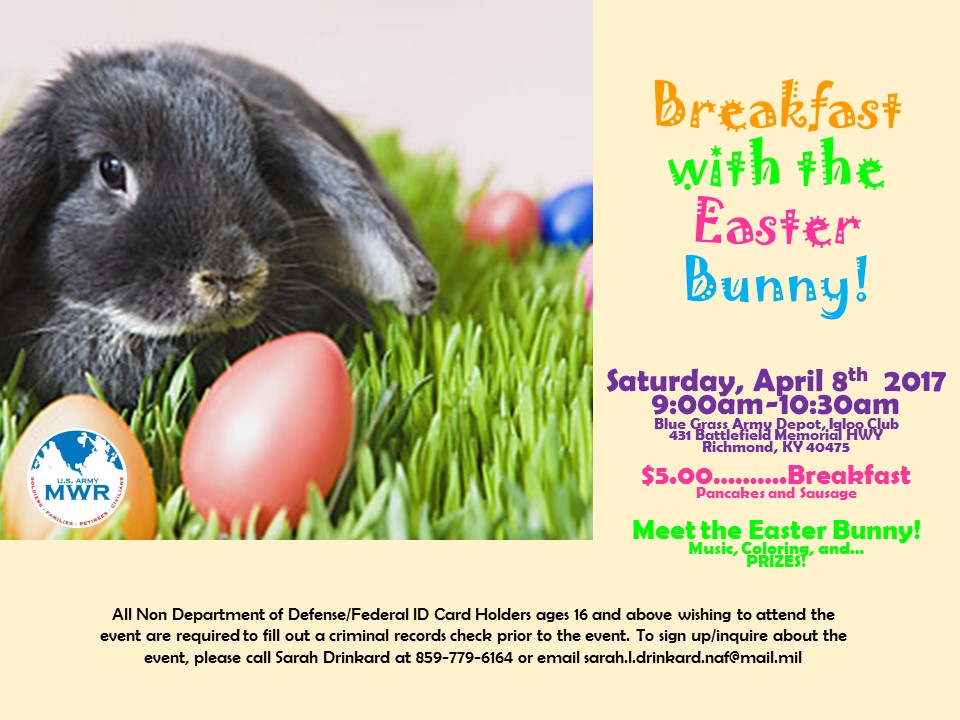 Easter Bunny Visit at J's Place in Nicholasville
April 8th  11 am – 1 pm
Bring your kiddos and join us for a FREE photo op and craft!
Toddler Time with the Easter Bunny at Sky Zone
April 11th 11 am – 12 pm
$10/jumper (Save $1 when you bring your Sky Socks)
Fresh Thyme Bunny Fun Event  11 am – 1 pm  FREE
Saturday, April 15th from 11:00 am – 1:00 pm
Meet the Easter Bunny!  We will also have egg decorating, coloring contest, Easter basket giveaway and samples!

Easter Train Rides
Bluegrass Railway Museum
Easter Bunny Train Rides
April 15, 2017  2 pm
Everyone enjoys taking turns getting bunny hugs and handshakes.
Kentucky Railroad Museum
Easter Eggspress Train Ride
April 15, 2017  1 pm

Ride along with the Easter Bunny as you enjoy a 90 minute train excursion.   Train departs at 1:00 pm.

Saturday, March 26, 2017
Hunt for Hope at Pleasant Ridge Park 1:30 – 3 pm
Join us to celebrate Aiden Zumwalt and raise overall awareness about congenital heart disease and at the same time raise money to support this family and other families with children affected by CHD.
The "Hunt for Hope" is for children of all ages. There will be games, face painting, pictures with the Easter bunny, food, and refreshments from 1:30-2:10 and the hunt will begin at 2:15. To help raise money we will be asking for a $15 donation for each child participating. All donations are tax deductible!
NEW THIS YEAR! Pre-order your tickets online through our website. Just use the DONATE button to purchase your tickets in advance thru paypal! If you cant make the event but still wish to make a donation may also do so through our website!
We are praying for GREAT weather and looking forward to seeing you all there!

Saturday, April 1, 2017
Star 103.7 Easter Egg Roll – Lakeview Park, Frankfort   10 am – Noon
The 2017 Easter Egg Roll is brought to by: Midas of Frankfort and Capital Plaza Hotel
Admission:
The Easter Egg Roll promotes literacy in Franklin County. We are asking that you donate a new or gently used book for admission. We will donate these books to the Reach Out and Read program.
*The first 300 kids will receive a free goody bag!
*Be sure to check in at the Star tent to get your wrist band for the egg roll.
Activities:
*The Easter Bunny will be taking pictures from 10am-11am
*The Egg Roll will be split into age groups 0-2, 3-5, 6-8, 9-12. The winner of each Egg Roll heat will win a small prize! The Egg Rolls will start at 11am.
*The Capital Plaza Hotel will have a coloring contest. Winners will get a free buffet
*Frankfort Y.M.C.A. Crayon Club will have free popcorn
*Lifehouse for Animals will have face painting
*Thorn Hill Education Center the FLIP (Families Leaning through Interaction Program) will be blowing up balloons for the children.
*Franklin County Humane Society will have adoptable pets and a coloring station
*Big Time Bounce will have inflatables
*Passport Radio will be running the egg dyeing station
*Woodford County Humane Society will have pet education

Sunday, April 2, 2017
Keeneland Kids Club Easter Egg Hunt   1 pm – 4 pm 
Keeneland Entertainment Center
Easter Egg Hunt starts at 2:30 p.m.
Enjoy Easter crafts, cookie decorating, games, face painting, pony rides and a petting zoo with baby animals from Shaker Village.
Don't miss the opportunity to have your photo made with the Easter Bunny and Buckles.  Don't forget to bring your own baskets as well as a canned food donation for God's Pantry.  RSVP Here  To join the Kids Club CLICK HERE

Friday, April 7 – Sunday, April 9th, 2017
Fort Boonesborough State Park
"Eggciting" Easter Fest
Fort Boonesborough State Park's campground will host this Easter celebration with lots of activities.  Bingo, Easter crafts, an Easter Egg Hunt with the Easter Bunny, free putt-putt and tours, camper decoration contest, and a whole lot more.  There is a free continental breakfast on Sunday.  This event is for registered campers only. For more information call 859-527-3454 or email [email protected].

Saturday, April 8, 2017
Easter Egg Treasure Hunt NorthEast Christian Church (990 Star Shoot Parkway) – 10 am
There will be lots of eggs, activities, and fun for the whole family.  A fun event for children, Birth through 3rd Grade
Enter through the East Wing doors  Rain or shine.  Please call the church at 859-299-1251 if you have any questions
Headley Whitney Museum Egg Hunt 12 pm – 1 pm
The Easter Bunny came early to the Headley-Whitney Museum. Bring the kiddos to scout the grounds and find all the treats left behind! This year Rosie's Petting Zoo will be on the grounds with some of the cutest animals.
$10 – Pre-register online
$15 – At the door.
Easter Bunny Visit and Egg Hunt at Morning Pointe  1 pm  – 3 pm
233 Ruccio Way, Lexington (off Reynolds Rd near Meijers)
This will be an exciting event for families and children of all ages! We will have food, music, games and a hunt for over 1,500 Easter eggs! Children will be in the running to win the grand prize by locating the golden egg, which will be hidden somewhere in our community!
The Easter Bunny will also be available for free pictures!  Please RSVP by phone or email 859-806-7556 or [email protected]
Buffalo Trace Easter Egg Hunt 1 pm
An egg-citing event for children and parents! Search for thousands of treat-filled eggs plus enjoy refreshments and pictures with the Easter Bunny. All activities are complimentary and begin at 1:00 p.m. Hunt times: Ages 0-2, 1:15; Ages 3-4, 1:35; Ages 5-8, 1:55; Ages 9-12, 2:15. No pets allowed, aside from service animals. Complimentary.

Sunday, April 9th, 2017
Centenary United Methodist Church   12:15 pm
Resurrection Egg Hunt
Second Presbyterian Church (Lexington)  12:15 p.m
460 E Main Street
On the church grounds for children through fifth grade
11:00 Palm Sunday Worship
12:00 Free Kid-Friendly Snack
12:30 Preschool Hunt
12:45 Elementary Hunt
Call the church office (254-7768) with questions.
Aqua – Tots Easter Egg Hunt  3 pm  – 5 pm
Aqua-Tots members and non-members are welcome. Entry to the event is just $5 per child. We will hunt for eggs in age groups, as follows:
3:15 pm: 2.5 years and younger
3:45 pm: 5 years and older (in the pool)
4:15 pm: 2.5 years to 4 years old
Open Swim until 5pm


Saturday, April 15, 2017
Pancake Breakfast and Easter Egg Hunt
Crestwood Christian Church, 1882 Bellefonte Drive, Lexington
Breakfast starts at 8:00 Egg Hunt at 9:00 for ages 2-12
Please bring a bag or basket.  This is a free event.
Pancake Breakfast and Egg Hunt
Hill N Dale Church, 371 Hill N Dale Rd, Lexington KY, 40503
Join us at 9 am for a free pancake breakfast and an egg hunt for the kids!
Shaker Village of Pleasant Hill 10 am – 4 pm
Celebrate spring with this egg-citing family event! Kids of all ages are invited to search for treat-filled eggs, meet the newest additions to the farm family, make a spring pinwheel, play games and much more! Please bring your own basket for the hunt.
Hunt Times – 11 am, 11:30 am, 12 pm + 12:30 pm
Tickets are limited per hunt time to ensure a good experience for all. Hunt field will be divided by age groups during all hunt times. Return your eggs to candy stations to receive treats! Please bring your own basket.
$10 ages 13+
$5 ages 6-12
Free ages 5 + under
Fee includes all Easter Egg Hunt activities and admission to the Village, which grants you access to The Historic Centre, The Farm and The Preserve, with a full day of self-guided and staff-led tours, talks, demonstrations, activities, farm experiences and more.
All children must be accompanied by a ticketed adult.    PURCHASE TICKETS
Easter Egg Hunt  10 am – Noon
American Legion Post 67, Versailles,KY
138 S Main St, Versailles, Kentucky 40383
Ashland Avenue Baptist Church Resurrection Rally and Egg Hunt  10:30 – 11:30 am
483 West Reynolds Road, Lexington, KY 40503
The event will start inside with a Gospel-centered rally time with energetic music and fun. There will also be a mystery guest at the rally. From there, kids and parents/guardians will go outside and enjoy an age-graded egg hunt with over 4,000 eggs! You will not want to miss this energetic and fun-filled event! So bring a friend and your bag or basket!
Richmond Parks and Rec Eggstravaganza at Lake Reba  11 am –  1 pm
This event is free and open to the public.
Festivities Include:
Egg Hunts: 12:00 pm Ages 3-4
12:15 pm Ages 5-6
12:30 pm Ages 7-8
12:45 pm Ages 9-10
*Ages 0-2 will have separate egg hunt area to visit during the event—located on activity field*
**Please note that empty eggs ONLY will be thrown on the field. Eggs will then be exchanged for candy at redemption tables.**
The Easter Bunny
Easter Activities
Inflatables
Petting Zoo with $4.00 Pony Rides
Games with Prizes
Vineyard Community Church "Eggstravaganza"   
Dixie Park (across the street from our Eastland Campus at 1881 Eastland Parkway). FREE Annual Festival. Eggstravaganza on April 15th at Dixie Park and April 16th at our Frankfort Campus!
Bethel Harvest Church Springfest  Noon (Nicholasville)
Free activities throughout the afternoon including Easter egg hunts scheduled by age groups, inflatables, face painting, balloon animals, games, live dj, dance demonstrations & more. Local restaurants and food trucks will offer a variety of food for purchase and arts & crafts vendors will be on hand to promote their goods and services. Our church only asks that those attending bring one canned good for admission to the event. Donated canned goods will go toward the Bethel Harvest food bank which provides meals to dozens of families in Jessamine and Fayette counties on a weekly basis.
The church will be supplying 2,000 eggs. Egg hunt times are as follows:
0 – 3 years            1 pm
4 – 7 years            2 pm
8 – 11 years          3 pm
Fort Harrod State Park    Noon  
Everyone is invited out to attend this celebration on the front lawn!  Sponsored by the Harrodsburg Kiwanis Club this event brings out hundreds of youngsters of all ages.  Games and booths and the Easter Bunny too.  Open 10 a.m. to 2 p.m. Candy Hunt at Noon.  This free event is sponsored by the Harrodsburg Kiwanis Club. Call 859-734-3314.
Victory Baptist Church Easter Egg Hunt and Lunch  1 pm
2261 Armstrong Mill Road, Lexington, KY 40515
Hotdogs and Refresments will start at 1pm and our Easter Egg Hunt will start at 2pm with Resurection Message, Face Painting, Bounce House, Slide, fun for the whole family.
Winchester Parks and Rec Underwater Egg Hunt 1 pm – 3 pm
We will have events for swimmers & non-swimmers who are 14 years old or younger. Some events will have objects on top of the water in the shallow pool, while others will require some deep water diving!  Prizes will be awarded!  After the event has concluded, participants are welcome to stay and swim.
Ages 6 years old and under- 1pm
Ages 7-14 years old- 2pm
What to bring: Swim suit, towel, & goggles if needed
Pre-Registration through April 13th
Cost: $5 for WCCPR members/$8 for non -members
After April 13th, registration is $12 for all participants.
This event has limited space due to safety concerns.
Bedford Acres Glow in the Dark Egg Hunt  6:30 – 8:30 pm
5414 Lexington Rd, Paris, Kentucky 40361
Free food, petting zoo, face painting, games, crafts, and a glow hunt!