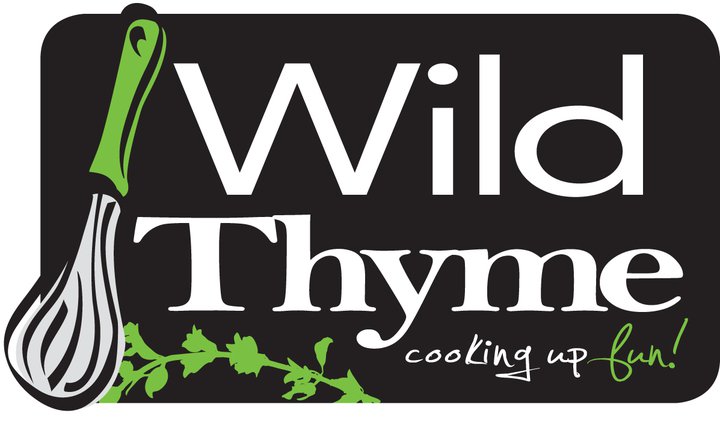 My kids and I love to cook – they help me in the kitchen when the recipe is something I feel confident they will have a few little jobs to do.  They love to help us grow veggies in our garden and it's fun to involve them in creating something with them.  I wanted them to get a chance to enjoy a real cooking class too!  So we headed to local kitchen, Wild Thyme!!
We had an awesome time at our first Wild Thyme cooking class!  They offer cooking classes for adults, teens, and children.  There are a variety of classes and the schedule changes monthly so if there isn't anything offered currently that might interest your kids be sure to check back!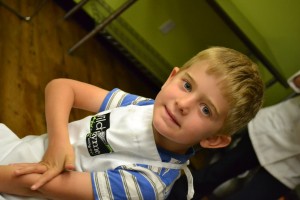 The kids "Curious Chef" kitchen is the perfect place to introduce your little ones to a whole new world of food and where their creativity ignites. Social & math skills are put to the test, and these "little chefs" can whip, mix, knead, sift, & measure to their hearts content.
Our menu included homemade banana ice cream, fresh triple berry shortcake and fresh whipped cream!
Peeling and smooshing our bananas for our ice cream – a great task for my little guys!  They did a great job of making sure everyone had a turn and that the job given was something on their level
Cooking always lends itself well to math instruction!  Measuring ingredients is a great way to teach new skills.
The MeSsY part was one of our favorites!  They loved getting their hands dirty, then rolling out the dough and cutting circles for our shortbread.
Some expert tips from Ms. Allison!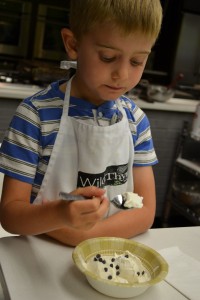 Now we get to enjoy!!!  It was super yummy and we all got copies of the recipes to take home so we can try it again with our family!