Be our guest this summer for Disney's Beauty and the Beast on LCT's Main Stage! This fun-filled production for all ages will feature singing, dancing, and certainly much more than this provincial life. When a misunderstood monster takes an independent young woman prisoner, they both must learn to look closer and discover more about each other if they are to have any hope of finding their happily ever after before the last petal falls. The show runs approximately 2.5 hours with a 15 minute intermission.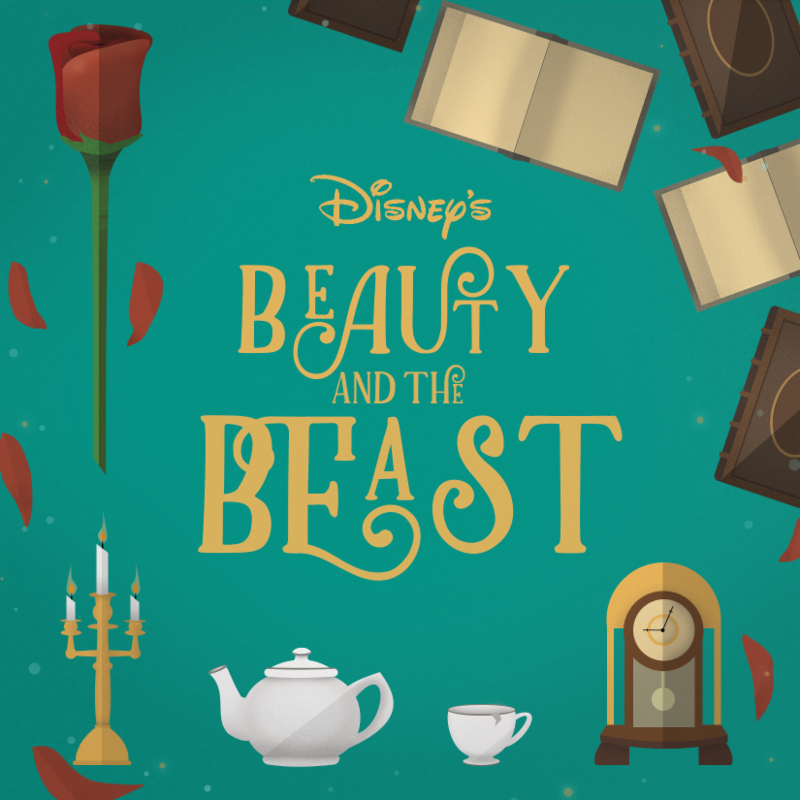 Thursday, July 13 – 7:30pm
Friday, July 14 – 7:30pm
Saturday, July 15 – 2:00pm
Sunday, July 16 – 2:00pm and 6:30pm
Thursday, July 20 – 7:30pm
Friday, July 21 – 7:30pm
Saturday, July 22 – 2:00pm
Sunday, July 23 – 2:00pm and 6:30pm
For all ages
$20 adults, $18 children
---
Review
Tale as old as time. Song as old as rhyme. This weekend and next, Lexington Children's Theatre presents Disney's Beauty and the Beast. In the words of Mrs. Potts, "Trust me!!" you don't want to miss it! My six year old daughter, three year old son, and I were lucky to attend the performance on opening night and we didn't want it to end! If you watch one show this month, skip the movies, turn off the TV, and get downtown for two and half hours of perfection!
This version of "Beauty and the Beast" is based on the Disney animated film which makes it familiar to many children and adults who grew up with Belle, Beast, Lumiere, and Cogsworth. You'll hear familiar songs like "Be Our Guest", "Beauty and the Beast," and "Something There" along with others that help tell the beloved tale. The voices of this cast are impressive and simply beautiful. I was blown away by their talent.
The cast is outstanding. Cassidy Mullins is amazing as she brings Belle to life on stage. Her voice, her mannerisms, her kind nature that transforms the beast, and her quick rebuttals to Gaston totally fulfill the role. If you have a child who loves Belle, they will absolutely believe that she is the REAL Belle in the flesh! Gaston (Michael Preacely) almost steals the show from the moment he makes his entrance. His voice is unbelievable, but his comedic timing had the whole audience roaring with laughter. He is truly the bigger than life Gaston that we love to hate. Lumiere (Jason Whitaker), Cogsworth (Cavan Hendron), Babette (Emma Becker), Madame De La Grande Bouche (Vanessa Becker Wieg), and Mrs. Potts (Kellie Sherwood) are a dream team. They bring their characters to life in such a believable way. They kept us laughing and on the edge of our seats the entire show. Mrs. Potts absolutely nails the iconic song "Beauty and the Beast." The Beast (Jackson Becker) is perfectly awful – in the best way. He is grumpy, rude, and horrible for the first half of the show. Obviously, he softens in the second act and becomes absolutely loveable. However, if you have very young children that are sensitive to yelling, pull them close as he comes onto the stage. His loud, booming voice is perfect for his part, but gave my three year old a bit of a scare.
The costumes must be seen to be believed! Lumiere's fingers are his candles and his hair lights up which amazed my six year old. I loved how Madame De La Grande Bouche pulls Belle's dress form her drawers and how Cogsworth was the most believable clock I've ever seen. In this version of the story, the characters are slowly turning into objects as the rose loses its petals. This may be worth mentioning to children who are familiar with the Disney movie as it is a slight change in the storyline.
My two favorite scenes were Gaston's Tavern and "Be Our Guest." My foot was tapping. I was singing along, and loved hearing my kids point and squeal with delight. "Look Mommy, those kids are salt and pepper shakers!" My daughter LOVED the dancing napkins! The choreography was excellent.
There are a few things to be aware of for younger children or children with sensory issues.  As Maurice heads into the woods, he is attacked by wolves. There are lots of flashing lights and it's a bit scary, but lasts for less than a minute. This happens again at the beginning of Act Two.
This show is two and a half hours long (not LCT's typical sixty minute show). It moves quickly and is extremely entertaining. However, because the show started at 7:30pm, we were well past bedtime by the end. If you are taking a younger child, I suggest booking an afternoon performance if possible. In addition, food and drink are not allowed in the theatre. So, plan snacks accordingly. There is a 15 minute intermission and snacks are sold then.
We've enjoyed many of LCT's productions over the last year, but this may be our favorite so far. It is a must see! We're looking forward to "Junie B. Jones" in September.
Important Tips
Doors open thirty minutes before the show.
There is not a bad seat in the house. If you need handicap seating, just let the box office know. There are plenty of seats reserved, but most of the seats require climbing stairs.
The theatre is cool. Bring a sweater for you and your children and consider wearing pants.
If your child needs a restroom during the show, you can exit to the top of the stairs and return during the show. After all, it's a children's theatre. They understand!
This show is really long (2.5 hours). So, if you have younger children, plan accordingly for naps and snacks!
There is a 15 minute intermission. Snacks and drinks are sold during this time.
Merchandise is available in the lobby as you enter. It's a small booth and is easily avoidable if you aren't interested. However, the prices aren't outrageous if you feel like treating your little one to a memento.