WOODLAND PARK
August 3-6, 2017
8:00pm  Preshow, Madeline's Trip to Paris
9:00pm  Main Curtain
Purchase tickets at the gate: $5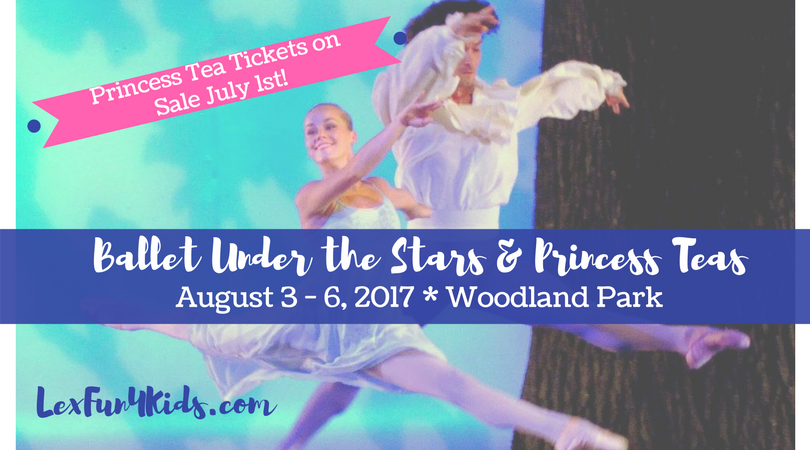 Come see the 27th annual Ballet Under the Stars. The youth pre-show, Tinkerbell and the Pirates, begins at 8pm. Lexington Ballet students will be joining the stage with others from dance schools through-out central Kentucky.
Bring a picnic and enjoy an evening under the trees with family and friends. Seating areas are marked for blankets or lawn chairs and local vendors will have concessions available.
About Ballet Under the Stars
At this unique event, audiences enjoy the beauty and grandeur of a professional ballet in the casual setting of the park.
Presented by Lexington Parks & Recreation, the Ballet Under the Stars Volunteer Committee and Don Jacobs Honda/BMW/Volkswagen.
Ballet Under the Stars Preshow
This year's preshow production will be Madeline's Trip to Paris. The preshow is a wonderful chance for young dancers from all area dance schools to come together in Kentucky's premier outdoor ballet event.  This is truly a community production and an excellent opportunity to showcase the young talent and quality dance instruction of central Kentucky.
Friday, August 4, Saturday, August 5 or Sunday, August 6, 2017
6 – 7 p.m.
Woodland Park
Admission: $15 per child (no charge for guardian)
Ballet Under the Stars Tea Party Registration
C'est magnifique! In honor of Ballet Under the Stars, Lexington Parks and Recreation hosts a special tea party before the evening's performance begins. Little ones may don their most glamorous outfit and join in for a très chic, fun-filled event. This year's tea parties honor the Ballet Under the Stars Preshow theme, Madeline Visits Paris. Participating Parisians will learn a special dance and enjoy fancy foods, party favors, face painting and a special live performance. Attendees may also bring their camera to take a picture with characters from the Ballet Under the Stars preshow. Tickets will be available for purchase on July 1 and also cover child's admission to Ballet Under the Stars.