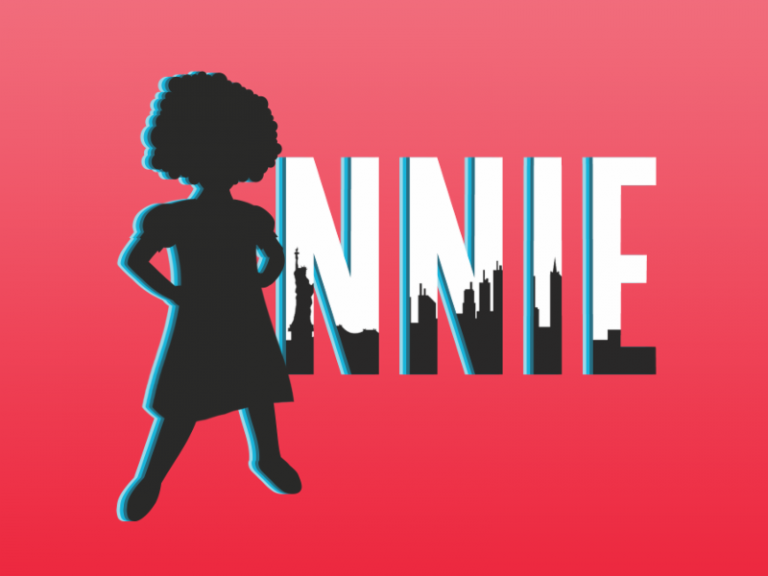 "When I'm stuck with a day that's gray and lonely, I just stick up my chin and grin and say…"

It's time for LCT's 18th Annual Summer Family Musical – Annie! Our heroine might be small – but don't let her stature fool you, she's got might and moxie to spare. With her trusty sidekick Sandy and a roster (or Rooster!) of your favorite songs like "It's a Hard Knock Life" and "You're Never Fully Dressed Without a Smile" – Annie is here to prove that when you've got great friends in your corner, a dance in your shoes, and hope in your heart, the sun will most certainly come out tomorrow.
Performed on the LCT Main Stage.
Public Performances:
Thursday, July 18 @ 7:30pm
Friday, July 19 @ 7:30pm
Saturday, July 20 @ 2:00pm
Sunday, July 21 @ 2:00pm
Thursday, July 25 @ 7:30pm
Friday, July 26 @ 7:30pm
Saturday, July 27 @ 2:00pm
Sunday, July 28 @ 2:00pm and 6:30pm
Best enjoyed by all ages.
You'll like this play if you like stories about: Strong female characters, friendship, musicals, nostalgia..
Performed on the LCT Main Stage
Approximately 2.5 hours long with a 15-minute intermission

REVIEW!
Lex Fun 4 Kids Writer, Kelly, enjoyed opening night and has a review of all the fun for your family at this summer's family musical at the Lexington Children's Theatre!
Before seeing the play, I did not have time to go over the storyline with my kiddos. Depending on the ages of your children, you may want to consider discussing some things ahead of time. My daughter (aged 5) struggled to understand the orphanage and why the kids were so unhappy. I would also suggest that if you have younger children picking an earlier showtime as this production is quite long! For us, it started at 7:30 and were able to leave by a little after 10. The good news is our evening flew by making it worth moving a little slower the next morning!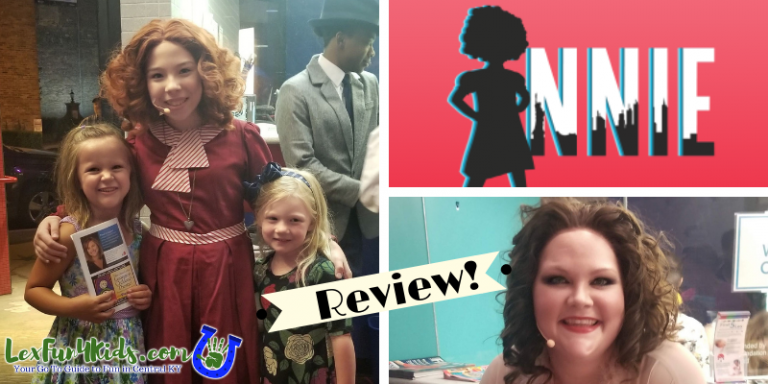 As most of us know, Annie (Clementine Connell) is an orphan living in an orphanage run by Miss Hannigan (Kellie Sherwood). Annie is ever hopeful that her birth parents will return to claim her. She has a note and half a locket given by her birth parents that she always has with her. Things start to get interesting when Oliver Warbucks (David Scholl) sends his secretary Grace Farrell (Kate Salsman) to bring an orphan stay in his home for the holidays.
In this play, Annie (Clementine) is terrific! Her voice and her acting are both beautifully done. We also love Kellie Sherwood's portrayal of Miss Hannigan. She is delightfully and hilariously evil, so you can't help but love her! One performer in this show stood out from the others with his fluffy tail, sweet face and bravery (stages can be scary for dogs!) and that's Ryder who portrays Sandy in the play! When he shows up every kid (and some adults) instantly fell in love!
If you are looking for a fun activity that will appeal to kids of all ages I highly recommend seeing this production of Annie! Once they got their initial questions out, my kids were mesmerized! Throughout the play, the messages of hope and optimism come up repeatedly and each time Annie does not give up. She always knows the sun will come again tomorrow. This is such a great message for kids of all ages! If you loved the music in the original you will not be disappointed. Annie (Clementine) is stellar in her performance. Her voice is beautiful and her acting is superb.
I really enjoyed seeing a classic from my childhood while my kids enjoyed the story for the first time. We plan to watch the movie this weekend. I recommend seeing the play first as it was really fun to see it live and in person!
Some things to know before you go:
Bring cash if you plan to snack at intermission. Snacks are reasonably priced at $1 each and they have bottled water as well as a variety of cookies, crackers and even a little candy!

Bring a sweater if you or your kiddos get cold easily. Even in this hot weather, the theater is slightly (and delightfully!) chilly!

The play itself is 2.5 hours long with a 15-minute intermission keep that in mind when planning your evening!

Have a pen handy if you want to get autographs after!