Memories are born in wide-eyed wonder and winterland whimsy at this annual tradition at the Museum Center!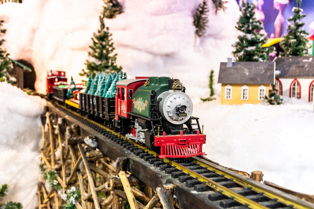 Holiday Junction featuring the Duke Energy Holiday Trains brings out the wide-eyed wonder in kids of all ages. From the child with their eyes peeled for visitors from the North Pole to the teen counting every LEGO brick to the grandparent watching model trains zip through a mini metropolis, our signature holiday experience brings families together in ageless joy.
The Duke Energy Holiday Trains have been a Cincinnati holiday staple for over 70 years, delighting generations since they first debuted downtown in 1946. Track-level views reveal intricate details of the display, where over 300 rail cars and 60 locomotives steam past anxious passengers waiting to board, cars sit with snow to their hubcaps and the perfect trees strapped to their roofs and a visitor from the North Pole circles the chimney tops.
November 13, 2020 through January 3, 2021 from 10 a.m. to 4 p.m.
Returning once again is Brickopolis, a blizzard of LEGO bricks crafted into fantastical scenes from the magical worlds of Disney, Marvel, DC Comics and Harry Potter. The whimsical display is a seek and find treat surrounding a stunning LEGO metropolis complete with running trains, active seashores and hijinks by the local residents.
Tower A, Union Terminal's historic control tower, will also be open during the holiday season, delighting guests with a unique view of the active railyard. Tower A is currently closed and will have limited availability during the holiday season. Please call ahead at (513) 287-7001 to check the status before your visit.
Of course, no holiday is complete without a visit to Santa. Santa makes his grand arrival on Friday, November 27. Although guests will not be able to sit with Santa to make sure he hears their wish list this year, they will be able to speak with the jolly elf in the Public Landing adjacent to Holiday Junction. Santa will be busy preparing for the big day but will happily pause to speak with guests through a plexiglass barrier.
Also returning this year is the OMNIMAX film Rocky Mountain Express, where guests can immerse themselves in the rugged beauty of the Canadian Rockies aboard a historic steam locomotive.
Museum Hours
Open Thursday – Monday
10 a.m. to 4 p.m.
Closed Tuesday and Wednesday
Closed Thanksgiving Day and Christmas Day