Bluegrass Youth Ballet presents:
March 30 at 7 pm


March 31 at 11 am & 2 pm
(VERY LIMITED number of tix available at the door for the 2 pm performance) 
Lexington Opera House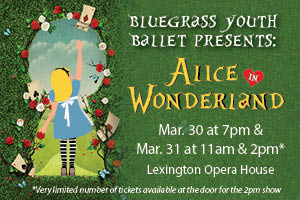 Take a whimsical trip to Wonderland this Spring when Bluegrass Youth Ballet (BYB) of Lexington, Kentucky presents Alice in Wonderland on March 30 at 7:00 pm and March 31 at 11:00 am and 2:00 pm at the Lexington Opera House. Tickets are $17-$20 and available at www.ticketmaster.com or by phone at (859) 233-3535. Group tickets are available at a discount.
New to the BYB repertoire, this ballet offers a modern day twist to the children's classic based on Lewis Carroll's beloved story. Fall down the rabbit hole with Alice and land in a fantasy world of beloved peculiar characters and curiously strange adventures. All roles are performed by BYB students, including leading roles by pre-professional students who annually get accepted into prestigious Summer Intensive Programs such as American Ballet Theatre, Pittsburgh Ballet, Cincinnati Ballet, Pacific Northwest Ballet and many others.
Led by director Adalhi Aranda, the ballet features five dance choreographers, professional lighting and projection designers, original costume design, set and prop designers and art collaboration. The performance will be one of BYB's largest yet — purposely designed to incorporate a wide range of characters for the growing number of students in the school.
"It's easy to imagine Alice in Wonderland in our BYB repertoire. Our ballets always include educational and cultural elements and Alice will fit right in our list of signature productions," says Aranda. "I'm really excited to be able to collaborate with so many amazing artists to share this production with our community. BYB's Alice will include modern elements, as well as the classic moments, always with a touch of humor and creativity."
ticketmaster.com
(859) 233-3535
Tea Party:
Join BYB 'down the rabbit hole' immediately following the Saturday performance for the Mad Hatter's Tea Party on the lower level of the Opera House. Attendees will meet Alice and members of the cast for autographs and photos and enjoy tea party drinks, snacks and crafts in a Wonderland setting. Tickets are $9/person. Seating is limited. Tea party tickets are available online at www.ticketmaster.com or by phone at (859) 233-3535.