Lots of family fun events this weekend in Central KY!  Here are some top picks – the ENTIRE, AWESOME, Lex Fun 4 Kids calendar with even MORE fun is available HERE!

September 8
LEGO Batman Outdoor Movie – Richmond Kids Fest (Activities 6 pm, Movie at Dusk) FREE
Roots and Heritage Festival (Runs through Sunday)  FREE
Festival of the Horse (Georgetown) Runs Through Sunday, September 10  FREE
Parent's Survival Night at The Little Gym 6 pm
Create Art + Play Pizza and Painting Night (Unicorn) 5:30 pm – 8 pm
September 9
Bi-Water Farm AutumnFest kicks off for the season!
Doggie Paddle at Woodland Park 9 am – 3:30 pm
Outdoor Skills at Raven Run 9 am *Call to register
Free Airplane Rides for Kids (Pendleton County) 10 am – 2 pm
Japan Summer Festival in Downtown Lexington 11 am – 6 pm
Princess in Black Mysterious Storytime at Joseph Beth 11 am
How to Catch a Monster Storytime at Barnes and Noble 11 am
Kids Fest (Richmond) 11 am – 5 pm
Grandparents Day Event at Toys R Us 2 pm –  3 pm
Serpent Saturday at Salato Wildlife Education Center 2:30 pm
Roots and Heritage Parade  3 pm
September 10
Fall Arts Festival at Josephine Sculpture Park in Frankfort 11 am – 6 pm ($5 parking)
Cantabile's Annual Pops Concert at the Central Library 2 pm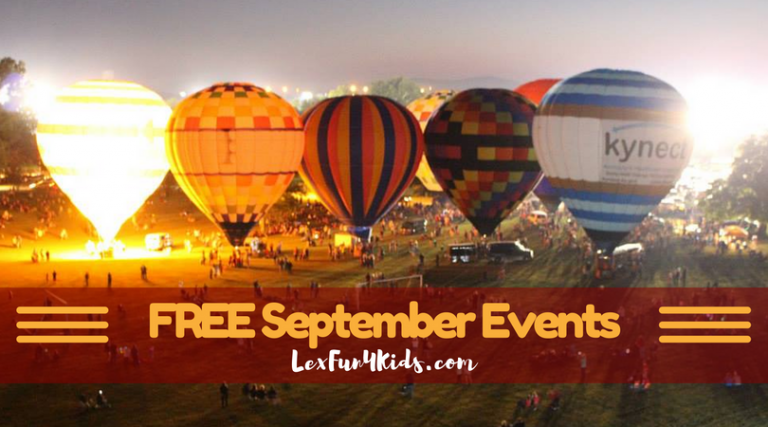 Check out more fun on Lex Fun 4 Kids!  The FALL Fun Guides are HERE!