Lots of family fun events this weekend in Central KY!  Here are some top picks – the ENTIRE, AWESOME, Lex Fun 4 Kids calendar with even MORE fun is available HERE!

September 15
Kentucky Children's Garden Activities (10:30 am, 1 pm & 3 pm)
Spoonbread Festival (Runs through Sunday, September 17, 2017)  Balloon Glow at 7 pm Friday  FREE
Christ the King Oktoberfest (Runs through Saturday, September 16, 2017)  FREE
Festival de Latino in Downtown Lexington 5 pm – 11 pm
Gallery Hop (throughout Lexington) 5 pm – 8 pm
Parent's Night Out at the Explorium 6 pm – 10 pm
Insect Safari at the Arboretum 7 pm  $1
UK Volleyball Vs Louisville 7 pm  $1 Gen Admission
Outdoor Movie Night at Good Foods Co-op (Ratatouille) 9 pm  FREE
September 16
How to Speak Basic Computer: A Regular Person's Introduction to Coding at the Central Library 9:30 pm *Register online
Junior Naturalist "National Wildlife Day" at McConnell Springs 10 am *Call to register
Drag Queen Story Hour at Wild Fig Book Store 10 am
Museum Go Round at Triangle Park 10 am – 4 pm
Junie B Jones is Not a Crook Preview at Joseph Beth  11 am
Princesses Wear Pants Storytime at Barnes and Noble 11 am
Introduction to Photoshop at the Central Library  1:30 pm *Register online
Kids Open Mic at Joseph Beth at 2 pm
LEGO Ninjago Party at the Beaumont Library  2:30 pm
Stargazing at Raven Run  8 pm
September 17
Baby and Me Storytime at Joseph Beth 11:30 am
Junie B Jones is Not a Crook at the Lexington Children's Theatre 2 pm & 4:30 pm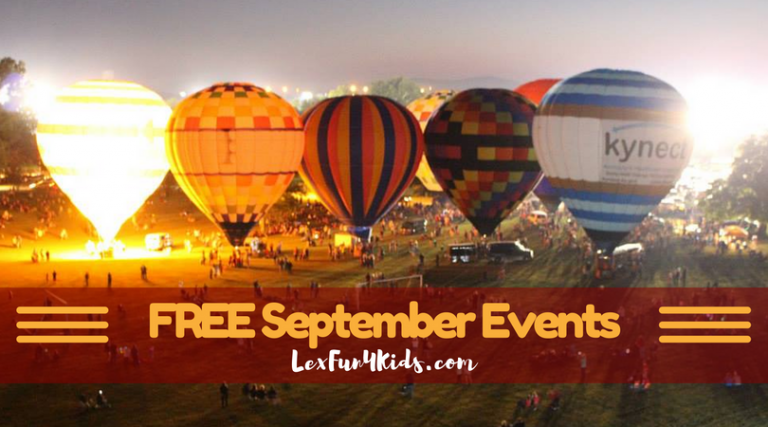 Check out more fun on Lex Fun 4 Kids!  The FALL Fun Guides are HERE!