2016 Baseball Season!
SEASON TICKETS
Reserved Seating – $55 each
General Admission Seating – $35 each
SINGLE-GAME TICKETS
PRICES
Single-game tickets will go on sale Monday, February 15 at 9 AM through Ticketmaster or by calling the UK Ticket Office at (800) 928-2287. Prices are as follows:
General Admission (Adult): $5
General Admission (18 & under/65+): $2
Children ages 5 and under are admitted free of charge in general admission areas, based on availability.
Special Fireworks Mini Package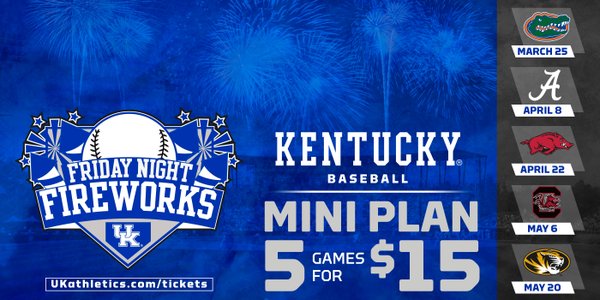 UK FACULTY/STAFF ADMISSION
University of Kentucky faculty and staff members are able to show their UK Faculty/Staff ID card to gain free admission for the themselves and one guest for single-games, in the general admission areas, based on availability. Free admission does not apply for postseason, conference, or NCAA events.
UK STUDENTS
During regular-season gamedays, full time UK students with fees paid may show their student ID at Cliff Hagan Stadium to gain free admission, in the general admission areas, based on availability. For more information about student tickets, visit UKStudentTix.com.
GROUP SALES
The Kentucky baseball program welcomes groups of all types to any home game during the 2016 season, especially our exciting SEC conference match-ups! Groups of 20 or more are eligible for special ticket rates at the ballpark! From corporate groups to youth teams, we offer family friendly fun and top-notch SEC Baseball! To order group tickets, contact the UK Ticket Office at (800) 928-2287.
OUTFIELD DECK
Right field deck is an observation deck only and is free of charge for all spectators.  The desk is standing room only, and is first come, first served.  The following items are prohibited on the deck:  open containers, glass, cans, ice chests/coolers, grills, stools/chairs, tables, smoking and pets (with the exception of service dogs).
CLIFF CREW*
Bring your youth team to The Cliff and help get the Wildcats ready to play ball at one of our home games this season! As part of the Cliff Crew, your team will experience:
Standing with the team for the national anthem
Being inside the huddle before the Wildcats take the field
Free general admission tickets for your team and coaching staff (additional family tickets can be purchased in advance at a group rate
Register your team early and receive a Kentucky baseball gift
BIRTHDAY PARTIES*
Want to celebrate your child's birthday party with the Kentucky baseball team at The Cliff? For more information and to schedule your child's birthday with the Wildcats, contact Greg Herbert at (859) 218-6226.
*Due to NCAA regulations, birthday parties and Cliff Crew participants must be in 8th grade or below.
NEW CONCESSIONS
University of Kentucky baseball fans have some new snacks to try at home games at Cliff Hagan Stadium, 700 Jerry Claiborne Way. Debuting this year: the "AJ Reed Nachos"honoring the UK great and his passion for nachos as a ballpark snack. That's 85 ounces of nachos for $18 (AJ Reed's number at UK) or get them in an actual UK batting helmet (that you get to keep) for $60 … tortilla chips, nacho cheese, chili, rice, green peppers, chives, corn, black beans, pinto beans, shredded chicken, diced tomato, jalapenos, black olives, shredded lettuce, diced onion, salsa, sour cream, and guacamole.
There also will be daily ballpark specials, including Taco Tuesdays, Wing Wednesdays, 2 Buck Thursdays ($2 tickets & $2 drinks), $1 Hot Dog Fridays, Cheese steak Saturdays and Sundae Sundays.   Read more here: http://www.kentucky.com/living/article66152042.html#storylink=cpy
SEATING TYPES
HOW IT WORKS
Reserved Seating is located in Section A (rows 1-11), Section B (rows 1-17), and Section C (rows 1-11). In order to maintain the integrity of reserved seating, stadium ushers will control these areas for the first thirty minutes of each game. Rows 1-3 of Sections A, B, and C will be controlled for the duration of each contest. Please understand that on occasion (Louisville/SEC games) it may become necessary to open the upper-level reserved seating areas prior to thirty minutes after first pitch, depending on crowd size. Please contact the nearest event staff for assistance.
General Admission consists of bleacher seating in Sections A & C (rows 12-19), Section H (third-base bleachers), and standing room along the third base line. All general admission areas are first-come, first-serve. Wildcat Sports Passes are valid in general admission seating areas. UK students and faculty/staff receive free admission for the general admission areas with a valid ID card. We highly recommend arriving early to ensure the best seating location possible. Purchasing a general admission ticket does not necessarily guarantee a seat in the stadium. General admission also includes standing room areas.
Accessible Seating is located at the bottom of Section A & C (accessible via the ramps on the 1st/3rd base sides) and at the top of Section B (accessible via the elevator behind home plate – Level 2).
02/19/16  5:00 PM Kentucky vs. Wofford
02/20/16  12:00 PM  George Mason vs. Kentucky Wofford, Spartanburg, S.C.
02/21/16  11:00 AM  Kentucky vs. Dayton
02/26/16  4:00 PM  Kentucky vs. UC Santa Barbara
02/27/16  TBA  Kentucky vs. TBD
02/28/16  TBA TBD vs. Kentucky
03/04/16  4:00 PM  Buffalo vs. Kentucky
03/05/16  2:00 PM  Buffalo vs. Kentucky
03/06/16  1:00 PM  Buffalo vs. Kentucky
03/08/16  4:00 PM  Cincinnati vs. Kentucky
03/09/16  4:00 PM  Murray State vs. Kentucky
03/11/16  4:00 PM USC-Upstate vs. Kentucky
03/12/16  2:00 PM  USC-Upstate vs. Kentucky
03/13/16  1:00 PM  USC-Upstate vs. Kentucky
03/15/16  4:00 PM  WKU vs. Kentucky
03/16/16  4:00 PM  Dayton vs. Kentucky
03/18/16  7:00 PM  Kentucky vs. Georgia
03/19/16  2:00 PM  Kentucky vs. Georgia
03/20/16  1:00 PM  Kentucky vs. Georgia
03/22/16  6:30 PM  Morehead State vs. Kentucky
03/25/16  6:30 PM  Florida vs. Kentucky
03/26/16  2:00 PM  Florida vs. Kentucky
03/27/16  1:00 PM  Florida vs. Kentucky
03/29/16  6:30 PM  NKU vs. Kentucky
03/30/16  6:30 PM  Xavier vs. Kentucky
04/01/16  6:00 PM  Kentucky vs. Tennessee
04/02/16  4:00 PM  Kentucky vs. Tennessee
04/03/16  2:00 PM  Kentucky vs. Tennessee
04/06/16  7:30 PM  Louisville vs. Kentucky
04/08/16  6:30 PM  Alabama vs. Kentucky
04/09/16  2:00 PM  Alabama vs. Kentucky
04/10/16  1:00 PM  Alabama vs. Kentucky
04/12/16  6:30 PM  E. Kentucky vs. Kentucky
04/15/16 7:30 PM  Kentucky vs. Vanderbilt
04/16/16  3:00 PM  Kentucky vs. Vanderbilt
04/17/16  2:00 PM  Kentucky vs. Vanderbilt
04/19/16  6:00 PM  Kentucky vs. Louisville
04/21/16  7:00 PM  Arkansas vs. Kentucky
04/22/16  7:30 PM  Arkansas vs. Kentucky
04/23/16  1:00 PM  Arkansas vs. Kentucky
04/27/16  6:30 PM  Miami (OH) vs. Kentucky
04/29/16  7:00 PM  Kentucky vs. Auburn
04/30/16  7:00 PM  Kentucky vs. Auburn
05/01/16  2:00 PM  Kentucky vs. Auburn
05/06/16  6:30 PM  South Carolina vs. Kentucky
05/07/16  6:30 PM  South Carolina vs. Kentucky
05/08/16  3:00 PM  South Carolina vs. Kentucky
05/10/16  4:00 PM  Kentucky vs. Indiana
05/12/16  7:30 PM  Kentucky vs. Ole Miss
05/13/16  7:30 PM  Kentucky vs. Ole Miss
05/14/16  5:00 PM  Kentucky vs. Ole Miss
05/17/16  7:00 AM  Kentucky vs. Murray State
05/19/16  6:30 PM  Mizzou vs. Kentucky
05/20/16  6:30 PM  Mizzou vs. Kentucky
05/21/16  1:00 PM  Mizzou vs. Kentucky