Lets celebrate National Astronomy Day together on Saturday, September 30th!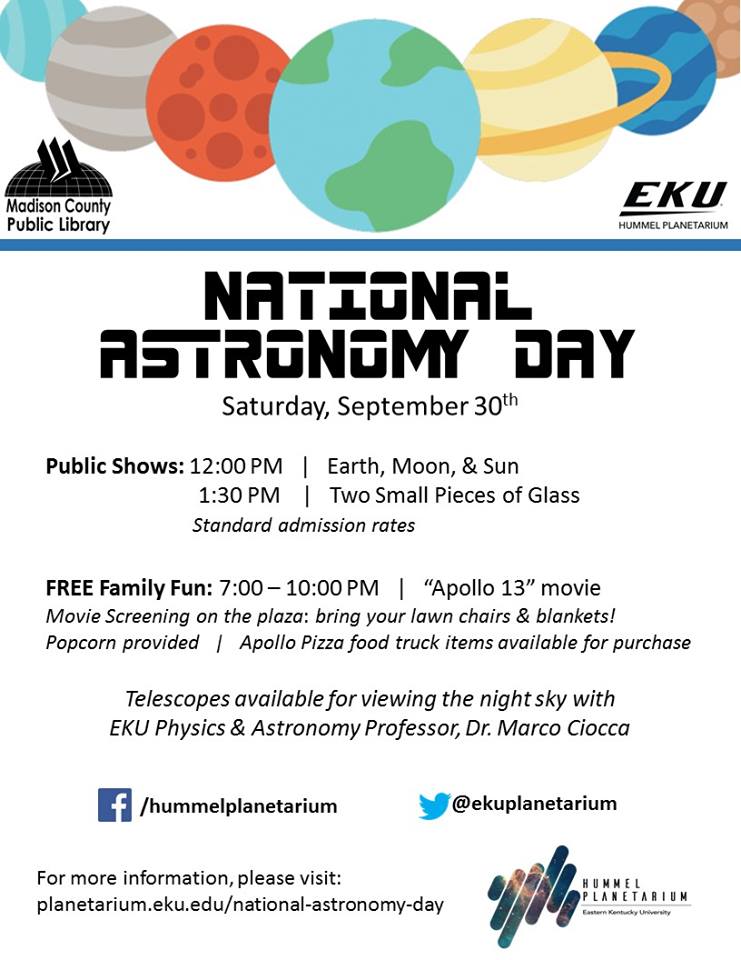 Join us for our regular shows at 12:00 pm (Earth, Moon & Sun) to learn more how the Earth, Moon & Sun work together. Then, at 1:30 pm see  (Two Small Pieces of Glass) to learn how the telescope came to be and how they are used now! After each show, see what you can find in the night sky and fly out to the planets that can be seen that night! Standard admission rates apply.
From 7 pm to 10 pm, we will have some Free Family Fun! 
Come join us on the Perkins Plaza (outside the planetarium) for an outdoor viewing of Apollo 13! This showing is brought to you in part by Madison County Public Library. There will be free popcorn to enjoy with the movie, brought to you in part by EKU Housing. Apollo Pizza will have their food truck with items for sale. Bring your blankets, chairs and other snacks too. After sunset, Dr. Marco Ciocca (EKU Physics & Astronomy Professor) will have a telescope out for viewings, weather permitting.
If the weather isn't favorable for the movie outside, the movie viewing will be moved to the planetarium theater.
Parking will be available in the Perkins Lot.