Celebrating Kentucky's Signature Industry – FREE Event!
Hats Off to Kentucky's Horse Industry Day is a celebration of the horse and its impact on the state of Kentucky. The day offers fun family activities including arts and crafts for children,  horse and pony rides for children and adults, interactive educational booths and a thrilling equestrian competition, and it's all free! Hats Off Day is the only day of the year an entire family can enjoy the Kentucky Horse Park and all it has to offer, at no cost!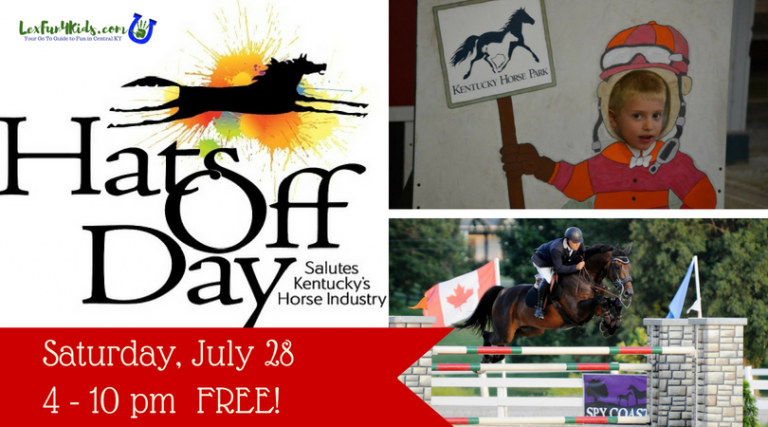 Hats Off to Kentucky's Horse Industry Day is a day to celebrate and promote Kentucky's Horse Industry – and it's FREE!!
The horse industry in Kentucky generates 80,000 – 100,000 in direct and indirect jobs, and impacts our economy by an estimated 8 billion dollars!
In celebration of the horse, Kentuckians flock to the Kentucky Horse Park on Hats Off Day  for a free day of family fun and an opportunity to learn more about horses and the amazing things they do for our great state!
Events include children's activities, free pony rides, educational booths, interactive equine stations, Grand Prix Show Jumping, and much more!
The Rood & Riddle Kentucky Grand Prix, a challenging show jumping competition between top international horses and riders, is the featured evening entertainment of Hats Off Day and is taking place in the beautiful outdoor Rolex Stadium!
2018 promises to be very exciting!  There's something for everyone — competition, a terrific book fair, great amenities and fantastic entertainment for the whole family!
4:00 p.m. 
Line up for free souvenir hats while supplies last!
4:00 – 8:00 p.m. 
Free horse and pony rides, picture on a pony, inflatable games, art and crafts, music, contests, prizes and more!
7:00 p.m. 
Spectacular equine exhibitions and Opening Ceremonies for the $50,000 Rood & Riddle Kentucky Grand Prix
7:30 p.m. 
$50,000 Rood and Riddle Kentucky Grand Prix Show Jumping Competition begins!