Throughout the month Explorium of Lexington has great events planned!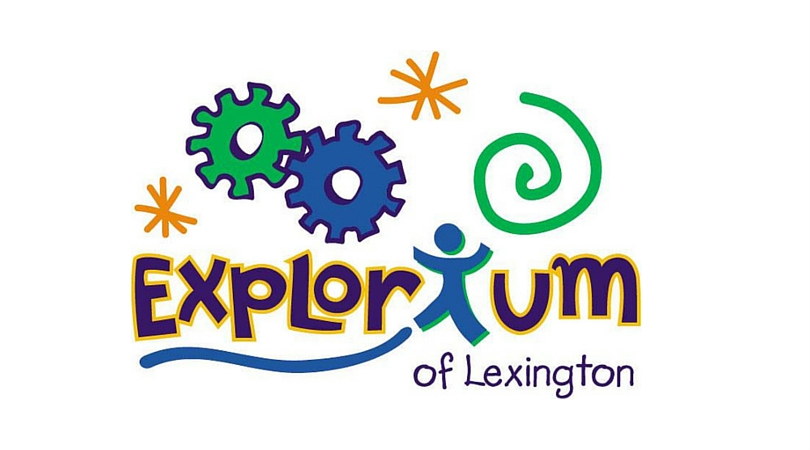 Hours:
Tuesday – Saturday 10-5
Sunday 1-5
Admission $8
---
September Programs at the Explorium!
The Explorium will be CLOSED from
September 5 – 8 for cleaning week.
---
Special Events
Parent's Night Out
September 1st, 15th, & 29th (must be potty trained) $15 Members; $18 Non-Members
Reservations required 258-3253 or [email protected]
September 16 – Museum Go Round 10:00-4:00
The fun free family festival will bouncy houses, tinker take apart table, trivia, insects, art projects, hands-on science activities, and more! There is also an Artists Alley for children 18 and under to sell their creations. Registration ($20) is required for Artists Alley. If interested in participating in Artists Alley, register online at www.explorium.com or call us at 859-258-3253 to register. Museum Go Round is sponsored by Central Bank and Trust Company.
---
Baby Explorers
Ages 9 mo. – 2 years Tuesdays 10:30-11:15 Free with general admission
September 12: Food Color Paint
Help us mix up our own paint!
September 19: Bugs Galore!
Have your little one meet some creepy critters!
September 26: Balance Bonanza
Practice balance on our special balance beam!
SMASH Club
Ages 2-5 Wednesdays 10:30-11:30 Free with general admission
September 13: M is for Math: Tangram Tango
Explore geometry with rubber bands and tangrams!
September 20: A is for Art: Skittle Splat
Use candy in this art/science experience!
September 27: S is for Social Studies: International Instruments
Travel the world by exploring some African instruments.
Mini Da Vincis
Ages 2–4 years Thursdays 10:30-11:30 Free with general admission
September 14: Rolling Art
Use balls, bells and other objects as we use gravity for art.
September 21: Bubble Craft
Use bubble wrap as we explore art!
September 28: Explorium Man Magnets
Create a magnet to take home with you!
Leaping Littles
Ages 2-5 years Fridays 10:30-11:00 Free with general admission
September 1: Juggling 101
Start with the basics as we learn juggling!
September 15: ZAP!
Play this fun movement game with us!
September 22: Balloon Tennis
Blow some balloons up and play a game!
September 29: Memory Movement
Remember the steps to this fun game!
Imagination Station
Ages: K-5 Saturday 12:30-2 Free with general admission
September 2 Puffy Paint Caramel Apples
Create yummy looking caramel apples out of our special (nonedible) puffy paint recipe! They'll look good enough to eat!
September 9 Autumn Beats
Move and groove with fun autumn music and make your own tambourine to help you feel the beat!
September 16 Cranberry Crate
Explore with this cranberry themed sensory tub and even discover how to make homemade paint.
September 23 Leaf Creatures
Explore nature indoors as we create critters out of natural materials!
September 30 Play Sands
Learn our two favorite secret sand recipes (moon sand and kinetic sand) that you can take home with you!
Super Saturdays
Ages:K-5 Saturday 11:00-12:00 Free with general admission
September 2 Fruit and Veggie Stampin
What delicious foods can you use to create art?
September 9 Spinner Art
Combine science and art with this awesome snap circuit spinner art!
September 16 Foil Printing
How can we create a landscape picture using science and foil?
September 23 Fall Marble Painting
Color beautiful decorations with an unusual tool…a marble!
September 30 Speedy Tie Dye Leaves
Learn to tie dye in seconds with this fun technique you can use to make beautiful fall leaves.