Throughout the month Explorium of Lexington has great events planned!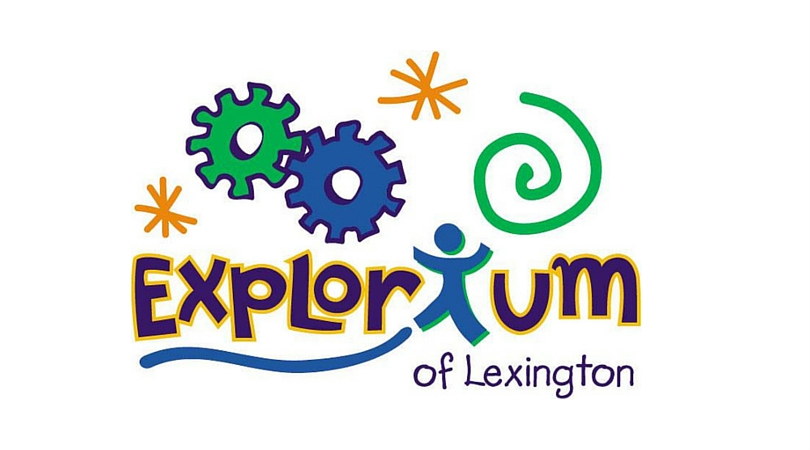 Museum Hours                                                        Admission      
Monday-Saturday   10 am – 5 pm                        $8 per person
Sunday                         1 pm – 5 pm
---
Special Events:
Museum Go Round is September 16th, which is just around the corner! We are calling all young artists who are
interested in selling their creation to participate in our Artist's Alley!
Cost is $20 per artist and includes a table, two chairs, table cloth and pizza for lunch. To register, visit our website
at explorium.com or email Catie Fulcher at [email protected]
*Artist must age 18 years or younger
---
Summer Camps:
July 31 – August 4: Fancy Fossils
August 7 – August 11: Sneaking Sleuthing
To Register or to find out more information about our camps please visit our website at Explorium.com and click
on "CAMPS", give us a call at (859)258–3253, or visit our front desk today!
Each summer camper will receive two FREE tickets to a Lexington Legends home game!
2017 Summer Camps are sponsored by: The Lexington Legends
Scholarships provided by: Sleep Outfitters
*Full or half day options. For ages 3years—5th grade (all campers must be able to use the restroom independently).
**single day registration opens one week prior to desired camp
***Payment options available for multi-week registration! Please call to arrange!
---
Parent's Night Out (6-10pm)
August 4th & 18th
Enjoy a night out on the town and we'll keep the kids! Children will play in the Explorium and enjoy snacks all
under our staff's supervision! Children must be potty-trained. Call for reservations (859) 258-3253.
Rates: $18 – Non-members | $15 – Members
440 West Short Street, Lexington, KY 859-258-3253 www.explorium.com
---
Baby Explorers – Tuesdays 10:30-11:00am
Ages 9 mo. – 2 years Free with general admission
August 1: Sensational Sense
Use all of your senses as we learn about the world around us!
August 8: Balloon Bonanza
Use balloons to play fun games!
August 15: Sensory Balls
Make a take-home craft that also allows your little one to explore new textures!
August 22: Bubble Wrap Run
Get your energy out as we play with bubble wrap in new ways!
August 29: Fancy Finger Painters
Use fingers and other objects to create phenomenal new pieces of art.
---
S.M.A.S.H. Club- Wednesdays 10:30-11:30am
Ages 2-5 years Free with general admission
S.M.A.S.H. represents Science, Math, Arts, Social Studies, and Health! Join us each week as we cover each area with
fun hands-on activities!
August 9: H is for Health – Germs Galore!
Use special lights to find all of the germs on your hands and learn about the importance of washing!
August 16: S is for Science – Explosive Science
Learn what makes soap explode and more!
August 23: M is for Math – Tangram Tango
Use tangrams and rubber band boards to learn about geometry!
August 30: A is for Art – Pipe Cleaner Disguise
Use craft materials to make your own secret identity!
---
Mini Da Vincis -Thursdays 10:30-11:00am
Ages 2–4 years Free with general admission
August 3: Skelton Scares!
Make a fake skeleton for any animal you choose!
August 10: Fingerprint Fun
Learn more about fingerprints while making art!
August 17: Candy Art
Let's make a delicious artwork!
August 24: Water Bead Wonders
Combine chemistry and art as we make colorful displays!
August 31: Tambourine Together
Make and decorate your own instrument!
---
Leaping Littles – Friday 10:30-11:00am
Ages 2-5 years Free with general admission
Fun movement classes where we dance, jump, and work on our motor skills!
August 4: Scarf Juggler
Learn how to juggle with us!
August 11: Bubble Wrap Runner
Make a pop with this fun game!
August 18: Awesome Aerodynamics
Make a ball with new shapes and see how far it travels!
August 25: Vision Simulator
Learn what life would be like without sight and how animals help!
---
Super Saturdays-11:00am-12:00pm
Suggested ages: K-5th Free with general admission
August 5: Sugar Painting
Turn sugar into art with delicious homemade paint.
August 12: Ooey Gooey
Create slimes that ooze and doughs to shape in this awesome workshop!
August 19: Penny Science
Can you turn a penny green? Or make it shiny? Play with pennies using the magic of science!
August 26: Bleeding Markers
Why do some markers bleed and some don't? Learn the answer while we explore color mixing and tie dye!
---
Imagination Station – Saturday 12:30pm-2:00pm
Suggested ages: K-5th Free with general admission
August 5: Watermelon Music
Work on your fine motor skills with this fun, musical piece of art!
August 12: Minute to Win It
Race against the clock to complete an exciting challenge card in under one minute! Do you have the speed it takes?
August 19: Painting with Yarn
Dip yarn in paint to discover how to capture movement in a piece of art!
August 26: Make a Fossil
Take home a piece of history while we learn how fossils form!