Date/Time
Date(s) - 10/29/2021
10:00 am - 12:00 pm
Cost: Included with admission
NOTE THIS EVENT HAS ALREADY OCCURRED
Location
Kentucky Children's Garden
Categories
Programming will run from 10 am – 12 noon
One group at a time may participate
Each program aims to deliver a fun and engaging way for children and their families to get to know the children's garden better. On weekdays, our programs focus on topics such as 'Trees of the Garden' or 'Pond Life'. On weekends, we garden!  Weekday programs may include a variety of activities such as exploring the garden, reading a book, or working on a craft, to name a few. Weekend gardening programs typically begin with a hands-on planting project, followed by harvesting and tasting produce, and end with planting a seed to take home.
Recommended for ages 3+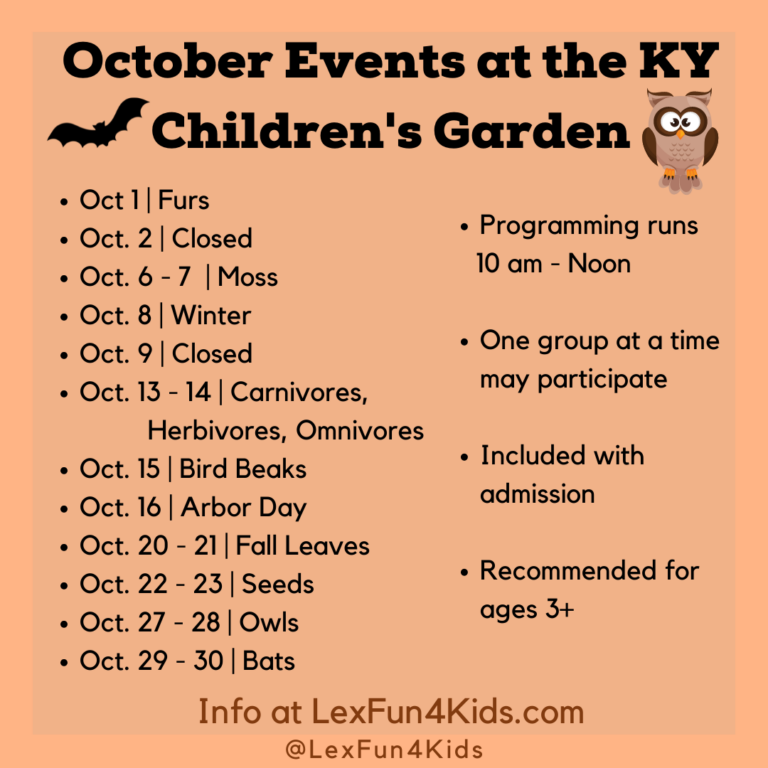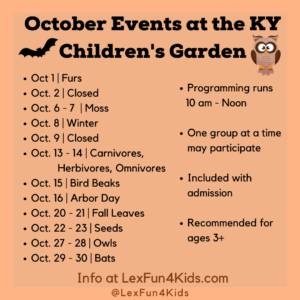 Event Website
Event Website:
https://lexfun4kids.com/kentucky-childrens-garden-review/
Download the event (.ics format) to your event calendar at this link: iCal
Add this event to your Google Calendar at this link:
Disclaimer: Please double check event information with the event organizer as events can be cancelled, details can change after they are added to our calendar, or we can make mistakes.