Date/Time
Date(s) - 12/13/2019
7:30 pm - 8:30 pm
Cost: $15 - $25
NOTE THIS EVENT HAS ALREADY OCCURRED
Location
Pam Miller Downtown Arts Center
Categories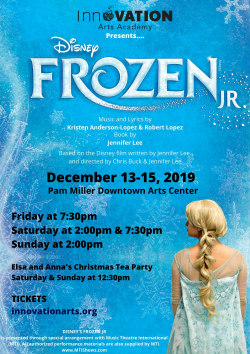 Frozen JR. is based on the 2018 Broadway musical, and brings Elsa, Anna, and the magical land of Arendelle to life, onstage.  A story of true love and acceptance between sisters, Frozen JR. expands upon the journeys shared by Princesses Anna and Elsa. When faced with danger, the two discover their hidden potential and the powerful bond of sisterhood. With a cast of beloved characters and loaded with magic, adventure, and plenty of humor, Frozen JR. is sure to thaw even the coldest heart!
Pre-show at 12:30pm before Saturday and Sunday matinees
on
December 14th and 15th
Dress up in your favorite costume and become a citizen of Arendelle for one day!  Join Anna, Olaf, and Elsa for warm cider and scrumptious themed treats, and make a magical craft with your favorite
Frozen
characters.  There's always time for pictures too!  Make your
Frozen
experience extra special at
the
Christmas tea party!
Friday, December 13th at 7:30PM
Saturday, December 14th at 2:00PM
Saturday, December 14th at 7:30PM
Sunday, December 15th at 2:00PM
Event Website
Event Website:
https://tickets.vendini.com/ticket-software.html?t=tix&e=0892bd3ad1662d2f22c4bc765836f8c4&fbclid=IwAR3cAwQ6MOiOHL2DfSPtG8X_7iafEwCAoKFCFqKFR0uhExLQpf8-qjlxYxI&vqitq=51a73344-ad4d-4296-9e90-5c44f9877020&vqitp=4a299a09-9c96-4ee1-8936-439a40990638&vqitts=1575573838&vqitc=vendini&vqite=itl&vqitrt=Safetynet&vqith=26b484e43256ea51df2573005f8bde41
Download the event (.ics format) to your event calendar at this link: iCal
Add this event to your Google Calendar at this link:
Disclaimer: Please double check event information with the event organizer as events can be cancelled, details can change after they are added to our calendar, or we can make mistakes.