Date/Time
Date(s) - 08/24/2019
10:00 am - 2:00 pm
Cost: $4
NOTE THIS EVENT HAS ALREADY OCCURRED
Location
The Living Arts and Science Center
Categories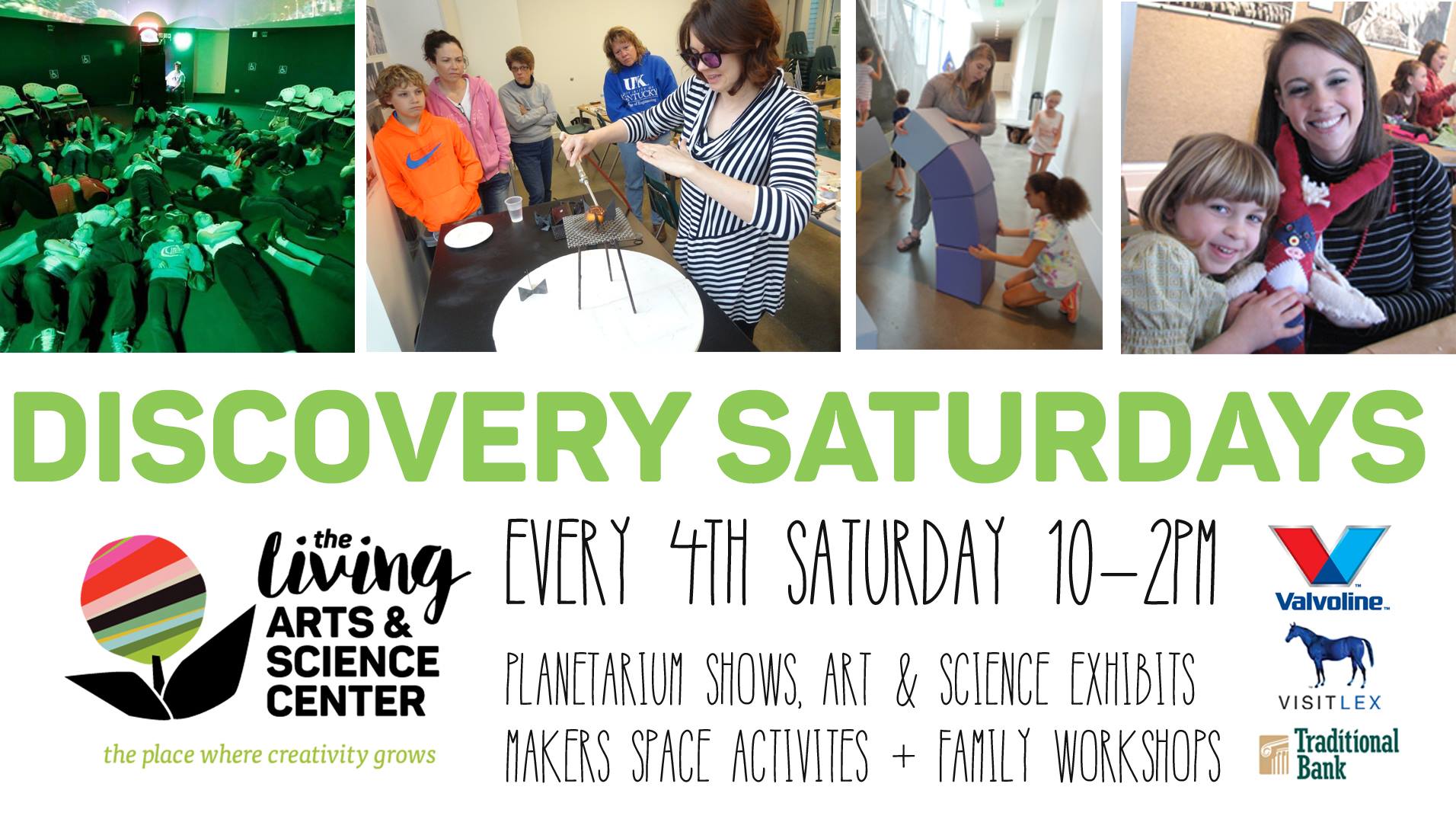 Discover something new at Discovery Saturdays!
Included with $4 admission…
Art Exhibitions | Rules & Play 2019 in the Kinkead Gallery; Roy Livingston's X-Ray Visions: Robots 3D in the Glo Gallery; LASC Summer Arts Camp Exhibition in the Atrium Gallery
Moosnick Maker's Space | Under Pressure: This will be explosive! Experience different air pressures, experiment with hydraulic pressure lifts and rockets, and discover pressure made through chemistry. These hands-on experiments will amaze.
Farish Planetarium | 11:00 AM: One World, One Sky with Big Bird & Friends; 12:15 PM + 1:15 PM: Ring World
Add a Family Workshop ($10 per person, includes admission)
These workshops are designed to be enjoyed together with friends and family of all ages. The fourth Saturday of every month, a 90 minute workshop will focus on topics such as comic drawing, trying you hand at the pottery wheel and much more. Workshops are led by our teaching artists or science educators and offer a great introduction to the LASC or a unique way entertain family and friends. Drop-ins welcome if space allows. Come early or stay late for a planetarium show and take in our art exhibits to complete the day.
Family Workshop | 10:30 AM – Noon | Screen Printing Sensation | REGISTER HERE
Screen Printing is a popular way to apply a pattern or design to a t-shirt or tote bag. We have a ton of fantastic designs to choose from, this is sure to be fun for the whole family! One t-shirt or tote is included in the class fee, please feel welcome to bring additional t-shirts.
Event Website
Event Website:
https://lasclex.org/event/discovery-saturday-family-workshop/
Download the event (.ics format) to your event calendar at this link: iCal
Add this event to your Google Calendar at this link:
Disclaimer: Please double check event information with the event organizer as events can be cancelled, details can change after they are added to our calendar, or we can make mistakes.