The Summit is the new development at the corner of Man O' War and Nicholasville Rd.  It's rather close to our house so I am excited to see all the new things popping up over there.  There are a few places that have opened like Shake Shack, Steel City Pops, some shops and the new Edley's BBQ Restaurant.  My oldest loves pulled pork BBQ so we thought we'd check Edley's out for lunch one day.
Update Fall 2020 – The Summit location of Edley's has closed.
Edley's is a chain BBQ place with locations in Nashville and now Lexington.  The restaurant has a rustic, casual atmosphere and a fun patio that faces the play area at The Summit.  If you're going with small kids it's perfect to hang out on the patio and let your kids play for a bit.  Keep in mind there is sand in the play area and there can be puddles so your kiddo may end up messy if you're not watching closely.  (See below for more info about the play area)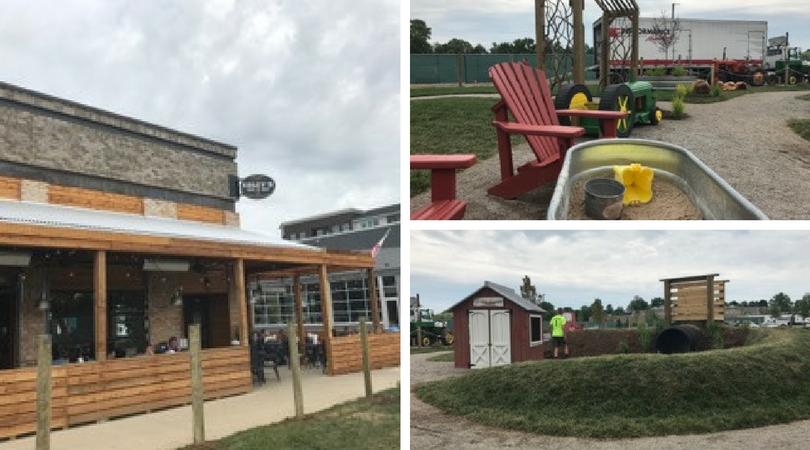 We sat inside and my kids loved the TVs around the room.  My oldest was super excited they had one tuned on bass fishing. When you enter you are greeted by a staffer (probably because it's new and they're helping us learn the ropes) who will get you a menu and show you the line.  There is a line to order food then they will bring it to your table.  The menu is available online but there is also a board with daily sides you can check while you're there.  They have a large bar with lots of things on tap as well.
We tried the basket of fries for an appetizer, I had the burgoo (if you're from KY you know all about burgoo, plus I had to compare it to Keeneland's), my youngest had the chicken tenders and mac n cheese from the kids menu, and my oldest had the pork sandwich and a side of skillet corn from the kid's menu.
The basket of fries ($4) was plenty to share and my kids loved that they were skinny, shoestring fries with seasonings.  (My kids love fries with seasoning all over them so if you prefer plain you may not enjoy them)
The kids meals were very reasonably priced starting at $4 (meal includes a side and a drink) and my kids had plenty for lunch.  If it had been dinner my 11 year old would probably have been better ordering the adult pulled pork sandwich (I looked around and spied some and they are big!)
The chicken tenders were regular tenders – nothing hand breaded or fresh – but he liked them.  His mac n cheese had a kick to it and he didn't like the extra flavors so I finished it off for him.  I enjoyed a twist on regular mac.
The pulled pork sandwich my oldest had with skillet corn was great.  He loves BBQ and he enjoyed their sauce as well.  There are extra bottles for you on the table too.
The burgoo was hearty and full of veggies.  It's a different taste from Keeneland's but it was still very good and very filling for a small lunch cup.
We will be back again I'm sure.  We've already talked to lots of other folks who have tried it and everyone seems to be in agreement that it's a good new spot to enjoy!
Play Area Review
After lunch we checked out the play area The Summit has for kids.  It's a 'farm' theme so there were all sorts of things to check out including real tractors to look at, pretend tractors to sit on, a cute barn to go in and play in, as well as lots of sand for digging.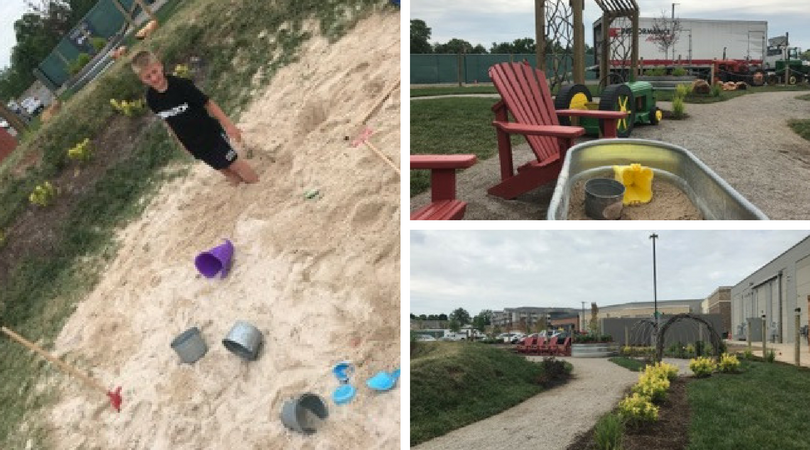 There are toys for digging but some had already been broken.  We will have to go back and see how well they maintain this area with new toys.  My youngest got super covered in sand – which he's very good at.  Luckily we had already eaten and were heading back home so he could clean up.  I didn't see any place to wash off sand so if you allow your kids to get in and get messy be prepared!  It's cool to have a place like this right in a shopping center – I've seen some of the slides and climbing gyms at outlet shops but this was a little different and fun for kids to explore.  There were plenty of chairs to sit back and relax in but I'm sure this will be a crowded area on a summer night!  We'll be back again soon and I'll continue to add more reviews and info about this new shopping center.  Get out and have some fun!!
-Betsy, Reviewed June 2017