FREE Apollo Celebration Day at The Living Arts and Science Center!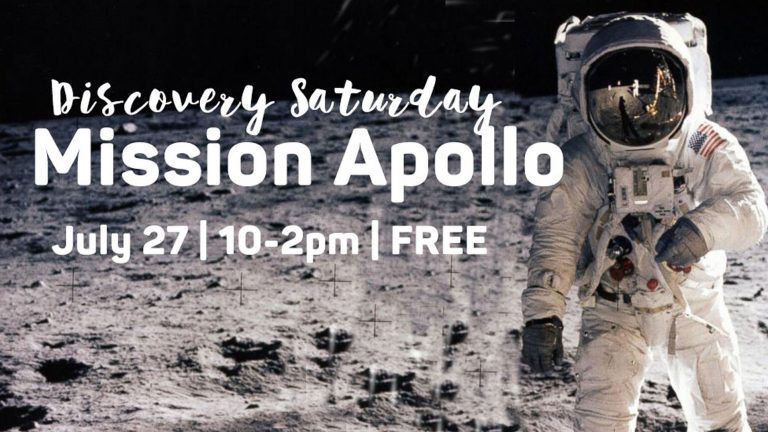 Celebrate the 50th anniversary of the Apollo Moon Landing at this fun-filled day of hands-on activities. Learn about the Apollo missions and the history of space travel in the Farish planetarium. Rocket launches by the Aviation Museum of Kentucky, larger-than-life sized hero puppets with Squallis Puppeteers. Take a ride on the SPINtron from Newton's Attic and create your own moon alien in the Maker Space.
Also included with FREE admission…
Marksbury Discovery Exhibit | Catching the Wind: the Nature + Science of Flight
Art Exhibitions | Rules & Play 2019 in the Kinkead Gallery; Roy Livingston's X-Ray Visions: Robots 3D in the Glo Gallery; LASC Summer Arts Camp Exhibition in the Atrium Gallery
Moosnick Maker's Space | Alien Invasion: If the first Apollo astronauts had found life on the moon, what would it have looked like? Use your imagination and a collection of found objects to create your own aliens to take home.
Farish Planetarium | 11:00 AM: Earth, Moon, Sun; 12:15 PM + 1:15 PM: We Choose Space!
Free Squallis Puppeteer's Presentation: Art & Science Heroes | 10:00 AM – Noon
Squallis Puppeteers teamed up with campers in June to create larger-than-life Heroes of Science & Art using repurposed and recycled materials. See these amazing puppets come to life and have all your puppeteering questions answered.
Add a Family Workshop ($7 per person, includes admission)
These workshops are designed to be enjoyed together with friends and family of all ages. The fourth Saturday of every month, a 90 minute workshop will focus on topics such as comic drawing, trying your hand at the pottery wheel and much more. Workshops are led by our teaching artists or science educators and offer a great introduction to the LASC or a unique way to entertain family and friends. Drop-ins welcome if space allows. Come early or stay late for a planetarium show and take in our art exhibits to complete the day.
Family Workshop | 10:30 AM – Noon | Astro-Fun | REGISTER HERE
Explore the different challenges astronauts face when living in the International Space Station. Observe real life astronauts while navigating through the NASA website and astro-cams. Then prepare your own astronaut snack by hydrating and dehydrating different foods. Finally, craft your own astronaut space gear and you'll be ready to launch into outer space!