The Galt House in Louisville welcomes guests back for a 5th year of Christmas at the Galt House.  The event runs until January 1st and includes KaLightoscope Christmas, The Pam Tillis Dinner Show, Christmas Village, Dancing Bellman and more!
Christmas at the Galt House is a great experience unique to Kentucky.  There are special events planned throughout the event including breakfast with Santa, Christmas Tea with the Snow Fairy Princess, and the Pam Tillis Dinner Show.  Tickets for KaLightoscope and other special events are available for purchase online (Click Here).  You can also purchase a package and spend the night at the hotel for a great local stay-cation!
KaLightoscope is all new this year and features the story A Christmas Carol by Charles Dickens.  KaLightoscope features larger-than-life handcrafted luminaries, made with silk and wrapped around new LED lighting.
In previous years there have been a variety of Christmas and winter themed lights but this year they have introduced a whole new A Christmas Carol themed event.  My kids are 6 and 8 and haven't seen any Christmas Carol movies so the event wasn't something they understood.  There are speakers that tell the story as you walk through but you need to go slow so you can listen and follow along.  My kiddos aren't great at taking their time with anything so stopping to listen wasn't easy.  I ended up just trying to explain the luminaries as we went along.  I recommend a viewing of A Christmas Carol (Muppet version, Disney version, or the George C. Scott classic) before going depending on the age of your children.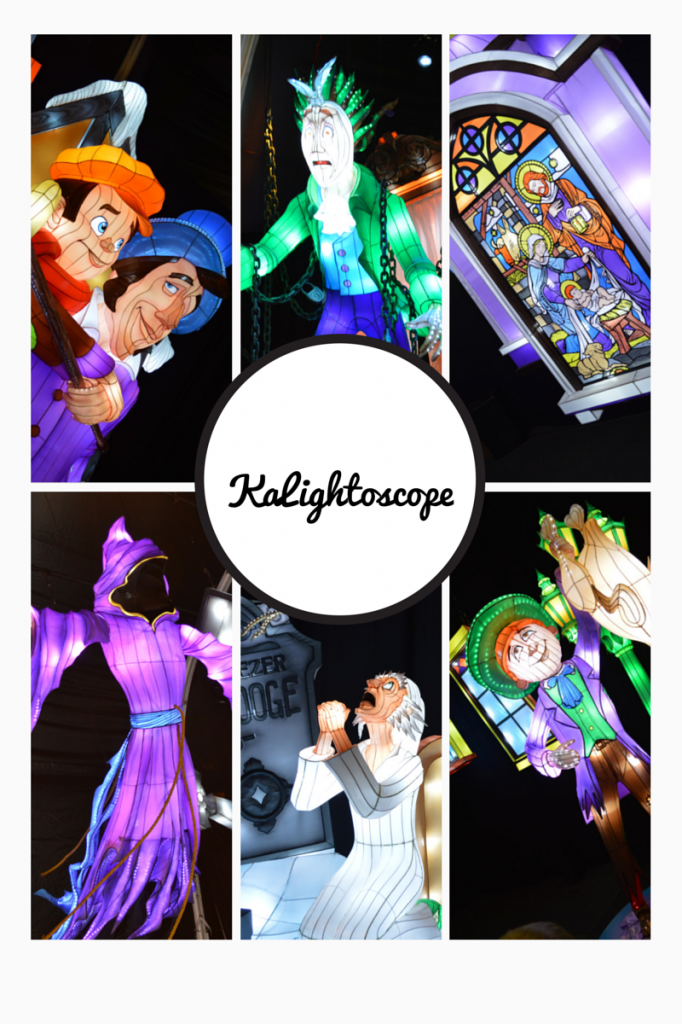 Of course the story of A Christmas Carol has ghosts, death, and Scrooge.  A traditional story but not always an easy one for small children to understand.  The luminaries do include all of these scenes so seeing headstones is a bit dark for a holiday event.  Be mindful of what your kids may or may not understand or be frightened of.  We only spent about 15 minutes walking through and I left missing the colorful, cute luminaries of years past.  My personal favorite was the one nativity luminary at the end.  My husband loved the luminaries and thought it was better since it told a story and wasn't random Christmas and winter scenes.  They are beautifully made and fun to see so check it out and see what you and your family think.
We headed to the Christmas Village next which did offer a great variety of new and fun things for the kids to enjoy.
When we entered the Christmas Village area after viewing the luminaries we were greeted by a fun, interactive elf show.  Many kids are picked from the audience to participate in quiz games, dancing, and games.  Then the elves put on a holiday dance show for everyone to enjoy.  They loved getting an 'elfie' after the show!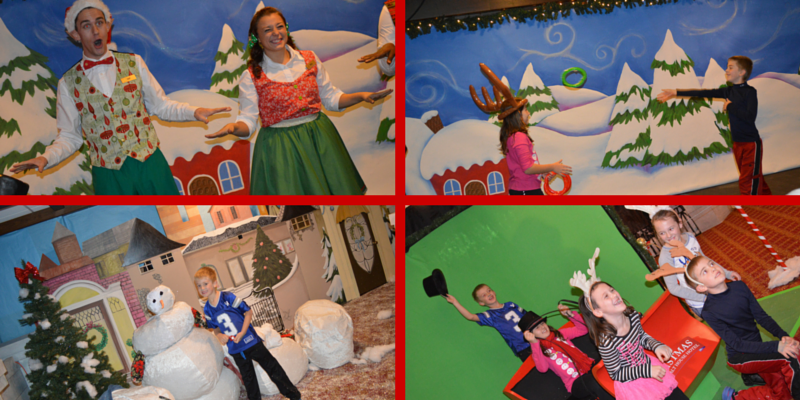 After the dancing we took time to write a special letter to Santa!  There are lots of seats and small tables perfect for little ones.  Kids can even mail their letter at the post office.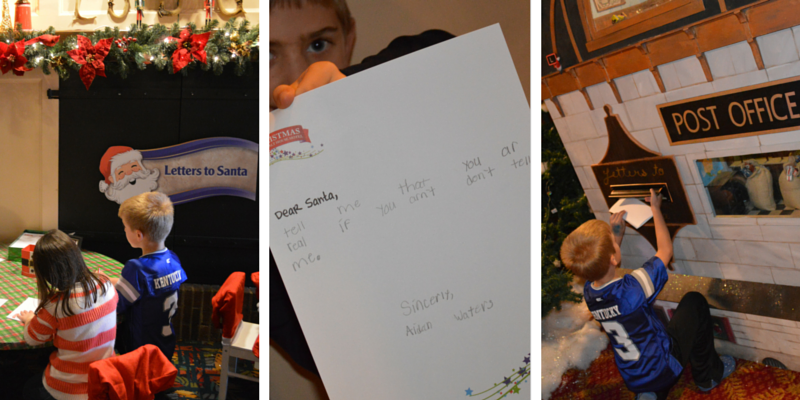 Once you finish your letter head in and see the village.  There are all sorts of buildings that make you feel like you're in an old English village.  Take time to peek in windows and look at all the tiny details included.
Don't forget to stop and create your own Santa's sleigh video using the props, sleigh and green screen.  The host at the station will help you so you can have your video sent to you via email for you to enjoy.  My kids loved dressing up and making multiple videos.
There is a huge gingerbread house and many other small houses there as part of a contest.  It's fun to see the creativity people have in making some very yummy houses.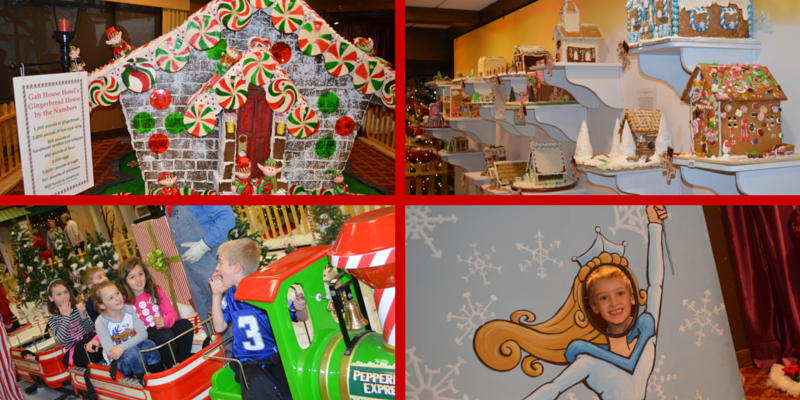 After the fun of the village stop off and ride the Peppermint Express once or twice.  Or as much as you like!  My kids went around lots of times.
Be sure to bring your camera for all the fun and of course for Santa and the Princess.  I love visiting this Santa because the elf helper will take your picture and email it to you.  No need to bring $100 for photos!  You can also take some yourself!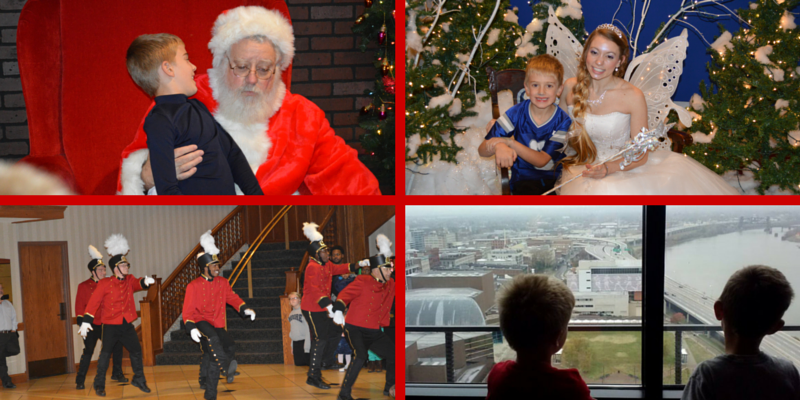 While in the hotel find out when the Dancing Bellman will be doing their performance!  These are the real hotel bellmen and they put on quite a show!

If you want to make the trip a fun 'stay-cation' for your family check out the packages offered by the Galt House Hotel.  You can spend the night and get admission deals.  My boys really liked seeing the river from way up in the room.  We had a suite during our visit which allowed the kids a chance to get to bed earlier and we could stay up and enjoy talking, tv, or a book in the other room.
There are restaurants at the hotel or you can enjoy dining in downtown Louisville.  My kids thought the breakfast buffet and dinner at the top of the hotel were pretty awesome!  We also loved being within walking distance of the Louisville Slugger Museum and the Kentucky Science Center.  It makes for a great weekend trip!