Camp CREATE was developed by two art teachers to provide arts enrichment and learning activities for children ages 4-12. Our unique camp is full of playful experimentation of art processes and materials. We encourage individual expression and imginative exploration of each child's artistic ideas. Please join us for a fun-filled summer!
Enrollment
Summer Camp enrollment is first come, first served. Each session is limited to a small number of campers to maximize individual attention and provide the highest quality arts experience. You may sign up for as many sessions as you like as long as space is available.
To reserve your child's spot please return: the registration form and the 50% non-refundable deposit (this amount will be deducted from the total amount of tuition due). A separate 50% deposit is required for each session to hold your child's spot.
We will notify each applicant regarding enrollment status as soon as possible. Once your camper is enrolled, we will send you a confirmation email.
Half Day: 9:00 am – 12:00 pm or 1:00 pm – 4:00 pm
Full Day: 9:00 am – 4:00 pm
Extended day options:
Early drop off 8:00 am – 9:00 am: $10 per day
Supervised lunch to add to Half Day Option 12:00 pm – 1:00 pm (must bring lunch): $10 per day
Late pick-up 4:00 pm – 5:00 pm: $10 per day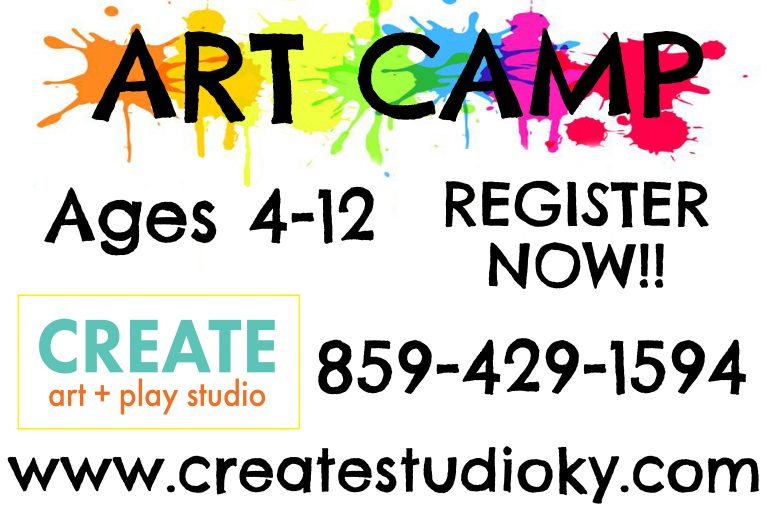 Location
We are located at 193 Kentucky Ave, Lexington, Ky 40502. (Across from Woodland Park.)
When to show up and what to bring
Camp Creativity provides all the necessary materials and equipment. Campers should bring a snack and/or sack lunch every day and wear comfortable clothing suitable for making art. Campers will get messy! Please note that if you choose to bring electronic devices from home, the camp cannot be responsible if it is lost or damaged.
Refunds
The policy of the Camp Creativity is to follow the schedule below when refunding any portion of tuition that you paid toward attending our programs, excluding the 50% non-refundable deposit. The non-refundable deposit and any payments made may be applied to future camp, as long as there is an open spot.
Time until the program's first day:
                                Camper gets:   Camp keeps:
4+ weeks                 100%                  0%
3 weeks                     75%                 25%
2 weeks                     50%                 50%
1 week                       25%                 75%
Less than one week    0%                100%
Session 1: Fairies and Unicorns
June 4th – 8th
Do you believe in magic? Come celebrate all things magical during this camp! Come journey with us as we explore the enchanted world of fairies, we'll make our own fairy wings to fly with our fairy friends, build fairy houses, and plant fairy gardens to make sure the fairies have a place to frolic and play. We'll also leap over to the land of unicorns to make unicorn dream catchers and rainbow paintings.
Session 2: DIY Designer Room/Fashion
June 11th – 15th
Calling all aspiring designers! Do you want to decorate your bedroom with awesome projects that you made? From lanterns to wall hangings, pillows, name banners and more, you'll design personalized accessories to customize your space. In the afternoon, we'll focus on fashion design. We'll create mood boards, dress your mini-mannequin, and customize your own clothing.
Session 3: Dollhouse Camp
June 18th – 22nd
Ever wanted to make miniature versions of everyday objects? Join us for a week of making everything you can think of for your very own dollhouse. We will work on painting it, creating wallpaper, works of art, furniture, miniature foods, dolls, and more!
Session 4: EcoArts
June 25th -29th
Artists have been inspired by nature for hundreds of years…but can nature be used to make art? Yes! Learn to make art from, or inspired by nature. We will explore nearby Woodland Park to observe the natural world closely and source materials. We will also talk about sustainability and make art from recycled materials.
Session 5: Sew Much Fun
July 9th – 13th
Follow a common thread with us to learn the basics of hand sewing to create your own monster plushie and pizza pillow! We will also explore other fiber art techniques such as felting, weaving, knitting, and string art. We know you will "weave" happy!
Session 6: Mixed Media Mania
July 16th – 20th
Cut, paste, print, sculpt, and more! Discover how to combine a variety of art media to create one-of-a-kind works of art. Projects this week include sculpture made from "found objects" and plaster gauze masks.
Session 7: Art Lab
July 23rd – 27th
Get ready to get messy! Channel your inner mad scientist and discover unusual techniques to create wild and crazy artwork. Experiment with ingredients to make fizzy potions and super slime.