A Bricks 4 Kidz birthday party makes planning a breeze and brings LEGO fun right to your door!  My son had his birthday party with Bricks 4 Kidz and he and his friends had a great time.
We chose Bricks 4 Kidz because he loves LEGO and it's a great way to spend a bit less money by having a party at home but still have someone else plan the fun.
Our party host arrived about 30 minutes before the party to set up.  She needed a few tables for the kids to use for the activities and a space for her to leave a big open pile of LEGO bricks for the kids for free play.  There are different themes you can choose for your party based on what your child may be interested in.  We were into Ninjago at the time so kids got to find out their own ninja name, create a quick art project by creating a moving contraption built with LEGO bricks, and they made a spinning LEGO creation as well.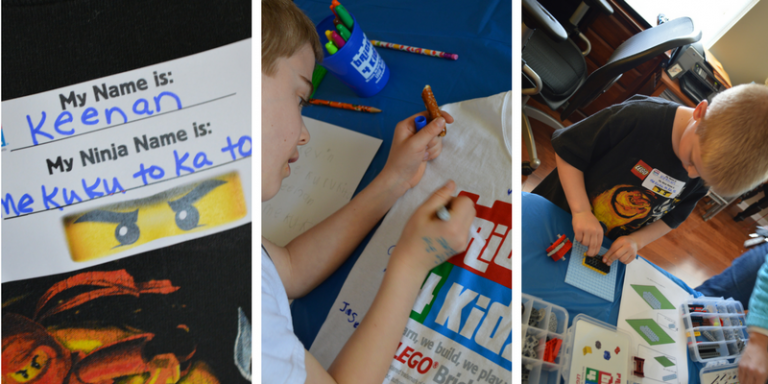 The party fun lasted around 45 minutes and that included free play time.  We had time for cake and presents as well and if you have any additional activities you can plan accordingly when you schedule your time.  Each child got to make a spinning art plate to take home.  My son got a keepsake t shirt as part of the party package and all his friends signed it at the party.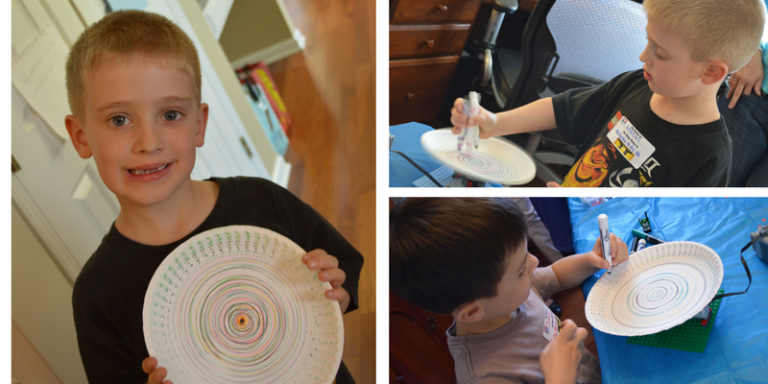 It was great to still have a party at home which brought back great memories of my own childhood when we had almost all our parties at home.  It was easy since someone else was in charge of planning the fun – we assisted with the creation of some of the contraptions but the kids did a great job working on things themselves and helping each other.
If you're interested in learning more about Bricks 4 Kidz birthday parties, no school day camps, spring/summer break camps, etc. CLICK HERE.