It's the 4th annual Bluegrass Birding Festival!  Central Kentucky has great opportunities for birding with over 350 documented species.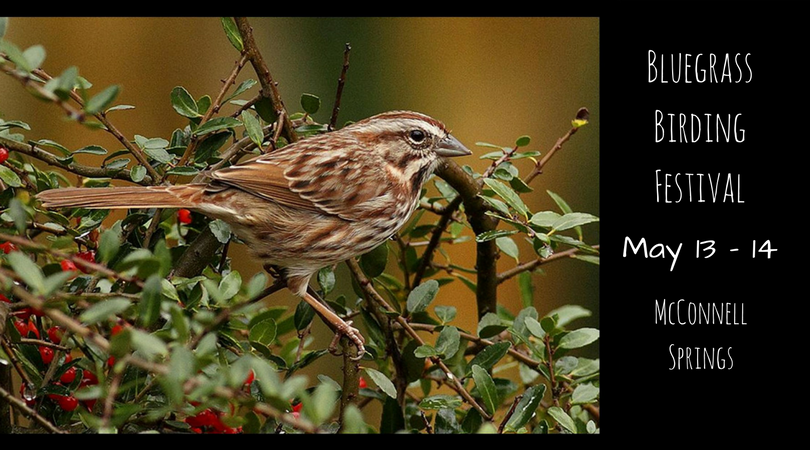 Entrance to the festival will be FREE and open to the public.  The goals for this festival are to expose as many as possible to the hobby of bird watching and to educate on topics of wildlife and conservation.
Naturalist, wildlife photographer and writer Stan Tekiela is the originator of the popular state-specific field guides such as Birds of (state name) Field Guide, Wildflowers of (state name), and Trees of (state name). Over the past three decades Stan has authored more than 130 field guides, nature appreciation books and wildlife audio CDs for nearly every state in the nation, presenting many species of birds, mammals, reptiles and amphibians, trees, wildflowers and cacti.
 SCHEDULE SUBJECT TO CHANGE
Lexington bird watching areas, hours of operation:
Lexington Cemetery: Daily 8a – 5p
McConnell Springs: Daily dawn to dusk
UK Arboretum: Daily dawn to dusk
Raven Run: 9a – 5p, trails close at 4:30p
Jacobson Park: Daily dawn to dusk
Saturday May 13th
Guided Bird Watching Opportunities
8a – 11a    Raven Run (Call Park to register 859-272-6105)
8a – 11a    Lexington Cemetery (Please park around the first right turn after coming in the main gate. DO NOT park in the gatehouse spaces)
9a – 11a    Bird Walk at McConnell Springs
11a – 1p    Bird Walk at McConnell Springs
12p – 1p    Kids Walk at McConnell Springs
2p – 3p      Kids Walk at McConnell Springs
Talks
9:30a   Beginners Guide to Bird Identification
Learn the do's and dont's of birdwatching focusing on techniques to better identify birds in the field.
11a      Bird Nests: Amazingly Ingenious and Intricate
Bird nests are among most amazing dwelling places in the entire animal kingdom. Few creatures craft such brilliant and involved homes as birds do. From holes drilled into trees to intricately woven cups, these magnificent structures are worthy of our admiration. This talk is full of fun details told with Stan's great sense of humor.
1:30p   Nine Years With Kentucky Barn Owls
This presentation will provide information gathered during nine years of close observation of barn owls in central Kentucky. Topics include general behavior, breeding, owlet development, and conservation.
3p        Keynote Speaker: Stan Tekiela –   Uncommon Facts about Common Birds
This is a fun and entertaining talk presenting fascinating facts and tidbits about some of the birds that people love to hate along with some of the more common birds in our yard. Stan will challenge your preconceived ideas about some common birds such as the European Starling, the American Crow and much, much more. You will never look at these birds the same way ever again. This talk wraps up with a message of conservation and understanding.
Other Featured Activities
9a – 4p       Face Painting
11p – 3p     Birds of Prey Display
Sunday May 14th
Guided Bird Watching Opportunities
8a – 11a    Spindletop (Meet by 8am at the McDonald's on Newton Pike & I-64 in the overflow parking area on the far side of the building)
10a – 12p  Bird Walk at McConnell Springs
12p – 1p    Kids Walk at McConnell Springs
2p – 3p      Kids Walk at McConnell Springs
Talks
11:00a   Learning About Bees
This presentation will show how to identify native bees along with information concerning bee life cycles, conservation and enhancing pollinator habitat. The talk will also include honey bees, basic beekeeping, and using bee products.
1:00p    Bluebirds…Your Backyard's Best Friend
Bluebirds are one of the most-adored birds in Kentucky, yet most people understand very little about this iconic American bird.  They have an important history, interesting and unique habits, and a delightful voice.  Wild Bill will guide you in a "nature detective" approach to learning the secrets of this fascinating backyard neighbor.  We will be discussing ways to attract and keep Bluebirds in your neighborhood, feeding and housing tips about this people-friendly bird.
Other Featured Activities
10a – 3p       Face Painting
11p – 3p     Birds of Prey Display